SABATON shares never-before-heard cover of MOTÖRHEAD's '1916'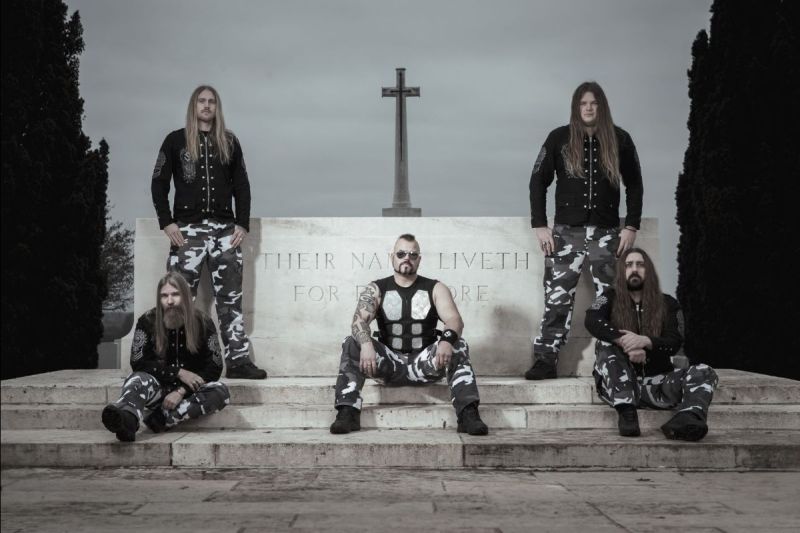 SABATON's last EP in the "Echoes Of The Great War" EP trilogy, "Stories From The Western Front", is now officially available on all platforms and features a never-heard-before cover of MOTÖRHEAD's well-known track "1916".
In celebration of this final EP, the band has also unleashed a brand new music video for "1916" filmed in Birmingham and at the famous Black Country Living Museum. The music video features an overload of historical characters from the SABATON lore, a headbanging metal army from Birmingham and even a cameo from the living members of MOTÖRHEAD, Mikkey Dee and Phil Campbell.
Watch '1916' below.
Watch 'The First Soldier' below.
Remarking on the concept of the new EP, Pär Sundstrom says: "Those involved in conflict and war push themselves beyond their limits, both physically and psychologically, and often achieve extraordinary things. They have no choice but to be brave and have no option but to do everything they can to protect what they are fighting for. Humans are programmed for survival, and some of these heroes' tales that we write about are jaw dropping. This EP is our tribute to them and our way of ensuring that these stories are not forgotten and get the recognition they deserve."
Referring to the new track, 'The First Soldier', Pär adds: "We are really excited to be releasing a new song with this EP and we are eager to see how people respond to the incredible story behind it. The song is about Albert Severin Roche, a World War I hero who believed he was destined for great things. And despite the doubts of his peers and the odds being stacked against him, he achieved the unbelievable."
Albert Severin Roche was born in France and his father was a farmer. Roche signed up for the French Army at the age of 18. To his very core, he knew he was destined for great things, but standing only 1.58-metres tall, he wasn't what the army was looking for, and he was rejected. Despite this, he eventually managed to enlist and was assigned to the 30th Battalion of Chasseurs. To begin with, Albert was not a model recruit and his fellow recruits and officers did not respect him. A fighter at heart with a fire for war burning inside him, he proved them all wrong. He was assigned to the 27th Battalion of Chasseurs Alpins (known by the Germans as "Blue Devil") and became known as The First Soldier of France for his heroism and his successful missions.
By the end of WW1, Albert had been wounded 9 times and had captured over 1,180 prisoners.
Joakim Broden says: "It's amazing to hear these World War I stories about how individuals who are often doubted and looked down on end up becoming some of the most celebrated and respected heroes in military history. The story of "The First Soldier" is a lesson to never judge a book by its cover. People are capable of incredible things, and Albert Severin Roche's determination and heroism are admirable. We hope people feel the same way we felt when we first heard his story." SABATON announced the re-scheduled dates for the European leg of their tour, known as "The Tour To End All Tours", as well as an extension of  "The Great Sweden Tour" with 20 additional shows in 20 more cities taking place in early 2023. Check out the whole tour calendar below.

Den Stora Sverigeturen 2023
27.01. SE Övertorneå, Sporthallen (A-Hallen) 
28.01. SE Kiruna, Arena Arctica 
31.01. SE Mora, Idre Fjäll Arena 
02.02. SE Visby, ICA Maxi Arena 
04.02. SE Lindesberg, Lindesberg Arena 
05.02. SE Uddevalla, Agnebergshallen 
06.02. SE Arvika, Parkhallen Folkets Hus 
09.02. SE Nyköping, Rosvalla Arena (A-Hallen) 
10.02. SE Alingsås, Estrad 
11.02. SE Västerås, Västerås Arena 
13.02. SE Karlskrona, Brinova Arena 
14.02. SE Trelleborg, Söderslättshallen 
15.02. SE Vara, Sparbanken Blackbox 
17.02. SE Kungsbacka, Tjolöholms Slott 
18.02. SE Motala, Lokverkstan 
19.02. SE Göteborg, Gothenburg Film Studios 
21.02. SE Växjö, Fortnox Arena 
23.02. SE Ystad, Ystad Arena 
24.02. SE Eksjö, Olsbergs Aren 
25.02. SE Lund, Sparbanken Skåne Arena 

The Tour To End All Tours 2023 
presented by Cobra Agency
14.04. UK Leeds – First Direct Arena 
15.04 UK London – OVO Arena Wembley 
16.04. UK Cardiff – Motorpoint Arena 
18.04. UK Glasgow – OVO Hydro 
21.04. FR Paris – Zenith 
22.04. DE Frankfurt – Festhalle 
24.04. DE Hamburg – Barclays Arena 
25.04. LU Esch / Alzette – Rockhal 
28.04. SE Stockholm – Avicii Arena 
29.04. NO Oslo – Spektrum 
30.04. DK Copenhagen – Royal Arena 
02.05. DE Hannover – ZAG Arena 
03.05. NL Amsterdam – Ziggo Dome 
05.05. DE Berlin – Mercedes Benz Arena  
06.05. DE Leipzig – Quarterback Immobilien Arena 
07.05. AT Vienna – Stadthalle 
09.05. PL Lodz – Atlas Arena 
10.05. CZ Ostrava – Arena Ostrava 
12.05. DE Cologne – Lanxess Arena
13.05. BE Antwerp – Sportpaleis 
15.05. DE Munich – Olympiahalle 
18.05. EE Tallinn – Saku Arena 
19.05. FI Helsinki – Ice Hall 
20.05. FI Kuopio – Kuopio Hall 

Tickets can be bought here:
https://www.sabaton.net/tour/