VOLBEAT Guitarist On Belfast Concert Cancelation: 'We Had No Choice'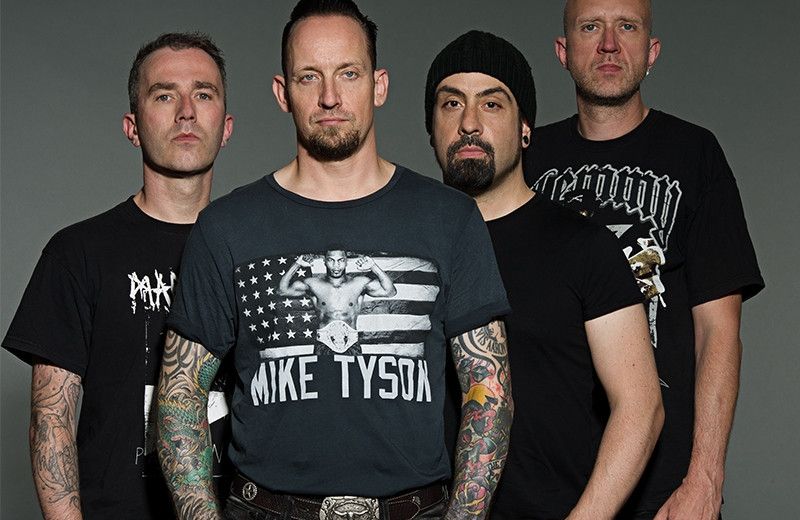 VOLBEAT Guitarist On Belfast Concert Cancelation: 'We Had No Choice'
VOLBEAT have explained why they abandoned a concert after playing half of one song last Thursday (October 2) at Belfast, Ireland's Ulster Hall. The band launched into set opener "Pelvis On Fire", only for frontman Michael Poulsen to walk off the stage a couple of minutes into the track. He came back out and told the crowd: "We're having technical issues with the guitars and I can't really hear what's going on, which means I can't play. But we're going to give it a shot, okay?" But after launching briefly into the song again, Poulsen stopped and left the stage a second time, saying, "Sorry, sorry. It's not going to work."
In a brand new interview with France's Loud TV, guitarist Rob Caggiano said that Poulsen "didn't lose his voice. The problem was we had technical issues. If he had continued singing with those technical issues, he would have blown his voice out — that's the problem," Rob said (see video link below). "And then we would have been canceling other shows, which would have been a nightmare; that would have been a real nightmare. Obviously, it sucked, but I really don't think this situation is unique to VOLBEAT. I mean, it happens. It was beyond our control. Obviously, it sucks. We love Ireland. We wanna go back and make that right. But at that given time, we had no choice, really — we had no choice."
Caggiano continued:
"The crazy thing is the next show, in Dublin, I had the crazy sound in my ear — it was absolutely terrible. But I continued the show. I wasn't singing. If I was singing, it would have been very bad. So I feel his pain — I understand what he was going through and what happened. And to make it even more funny, the Belfast show, the sound for me in my ears was probably the best it's been in the last year and a half. I was so excited to play the show, and then, 30 seconds later, we stopped. (Laughs)"
Asked if they can understand why some of VOLBEAT's fans were upset at having the show canceled in such a way, drummer Jon Larsen said:
"Of course. It's a natural thing. People, of course, get frustrated and get upset. They maybe have been looking forward to the show for a couple of months, or whatever, and wanna see the band play, and then, all of a sudden, the band can't play. So, of course, we get it. And they're disappointed. We've all probably gone to shows when we were kids where the band canceled an hour before, or the day before. You do get bummed out, like, 'Ah, really? Why?' But it happens. I mean, whole tours get canceled. It's not like this is the first time in music history that a band has canceled a show. Unfortunately, sometimes it happens. And we are just as sad and upset as everybody else. But it was, like Rob said, beyond our control."
The aborted performance came just days after VOLBEAT were forced to cancel a show in Bristol "due to illness," but the band is continuing with the rest of its European trek for now.
Check out the interview AT THIS LOCATION.

Source: Blabbermouth

Check de onderstaande socials voor meer informatie over deze band.