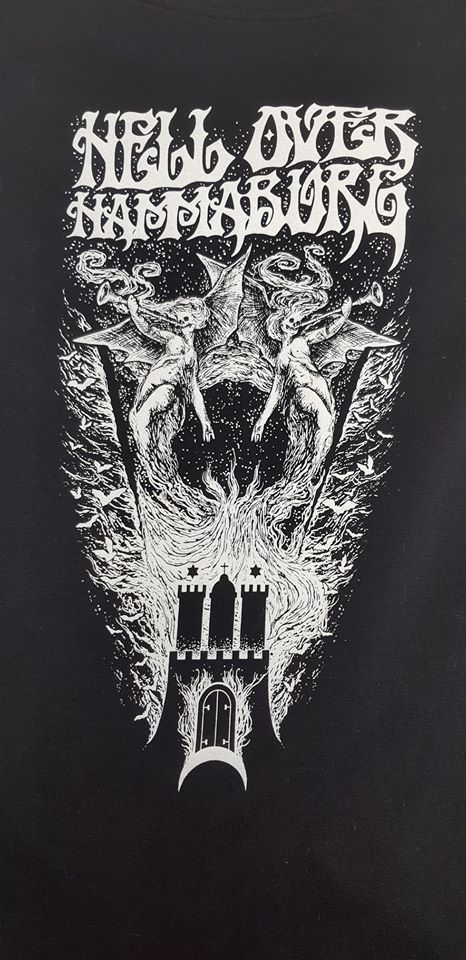 HELL OVER HAMMABURG 2021
NOW CONFIRMED:
STYGIAN CROWN (USA)
The best of both worlds: The American newcomers combine classic and epic doom metal by Candlemass and Solitude Aeturnus with the voluminous death metal primal force of Bolt Thrower – and thus we have as a result: Candlethrower. The band was founded in 2018 by former Morgion and current Gravehill drummer Rhett Davis, and the classically trained singer Melissa Pinion shines at the microphone. The debut album "Stygian Crown" will be released at the end of June by the gourmet label Cruz Del Sur and will certainly be named in numerous annual best lists. DOOM UPON YOU ALL!
THE COMMITTEE (International)
With "Utopian Deception", the international collaboration headquartered in Belgium has released a real heavyweight, on which the doom influences of the two previous albums have been pushed back a bit, in favor of massive black metal chasms. From a musical point of view, the band has navigated into the international top group, and live is one of the most exciting in the scene anyway.
www.facebook.com/The-Committee-band-318797984907360/
THE HAWKINS (S)
A bit of queen, a bit of The Darkness and a lot of Swedish classic rock and hard rock – so you could describe the quartet from Swedish Arboga in a nutshell. September sees the release of the second and brilliant album "Silence Is A Bomb", and anyone who knows the previously released single "Roomer" knows what to expect: Rock'n"Roll at its best!
https://de-de.facebook.com/thehawkinsswe
HEXENBRETT (International)
With their debut EP "First Summon" the anonymous international band was able to stir up a lot of dust, and with the now released album "Second Summon: A Child to Kill" the number of supporters is likely to increase massively: The band mixes traditional black metal with heavy metal, hard rock and goth elements – and at the same time reminds of Mercyful Fate or freaky stuff such like Malokarpatan. What works on record in an excellent and original way is now brought to the stage. We're looking forward to it!
https://hexenbrett.bandcamp.com
KARLOFF (D)
The trio from Oldenburg is is like one shot of booze too much in the pub…. Raw metal punk meets Celtic Frost, Darkthrone and Motörhead, always straight in your face, no place for progressive bullshit. Attention: Headbanging at your own risk!
https://de-de.facebook.com/karloffpunk
The BILLING so far…
STYGIAN CROWN (USA)
THE COMMITTEE (International)
www.facebook.com/The-Committee-band-318797984907360/
HIGH SPIRITS (USA)
www.facebook.com/highenergyrock
MORNE (USA)
SOLSTICE (UK)
www.facebook.com/Solstice.Englander
CAUCHEMAR (CAN)
www.facebook.com/cauchemarmetal
DROWNED (D)
www.facebook.com/drowned.death.metal
HADOPELAGYAL (D)
https://hadopelagyal.bandcamp.com/releases
YXXAN (S)
https://nuclearwarnowproductions.bandcamp.com/album/satanic-fortification-overbalance
THE HAWKINS (S)
https://de-de.facebook.com/thehawkinsswe
HEXENBRETT (International)
https://hexenbrett.bandcamp.com
KARLOFF (D)
https://de-de.facebook.com/karloffpunk