DESTRUCTION - announce "Thrash Alliance Tour 2020"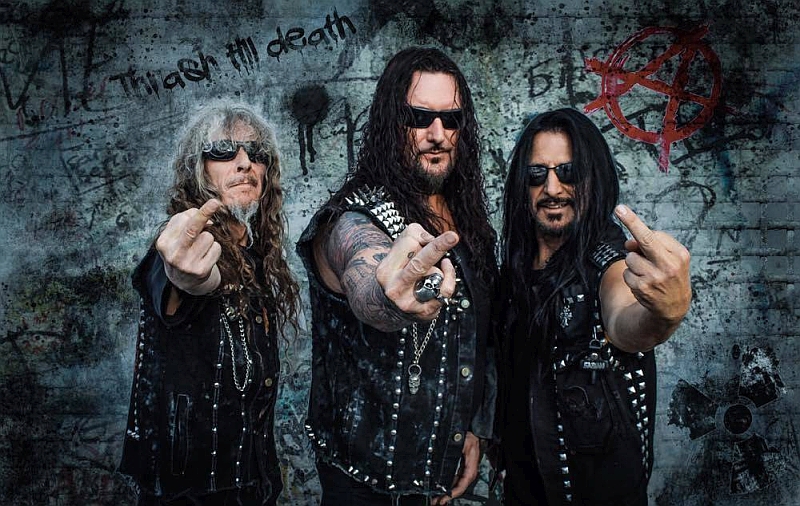 DESTRUCTION – announce "Thrash Alliance Tour 2020" with Legion Of The Damned
DESTRUCTION released their 17th studio album »Born To Perish« on August 9th via Nuclear Blast, earning the band impressive chart positions worldwide. After the »Killfest Tour« with their label mates OVERKILL, the band have now announced the »Thrash Alliance Tour 2020«.
In spring 2020, DESTRUCTION will be joining forces with Dutch death/thrash monsters LEGION OF THE DAMNED, Greek thrash metal maniacs SUICIDAL ANGELS and German death-thrashers FINAL BREATH to tour Europe.
DESTRUCTION singer & bassist Schmier comments:
"Yeah – the »Thrash Alliance« is back with a BANG! We are delighted to headline this strong billing of blistering steel! All the bands have put out really forceful records lately and are right down our alley, when it comes to uniqueness, live power & cool lads! DESTRUCTION will present a remarkable new setlist with classics & of course some of the brand-new slashers from »Born To Perish«! Come out & THRASH with us maniacs!"
Maurice of LEGION OF THE DAMNED adds:
"We are absolutely thrilled to hit the clubs again and we are also talking about a special setlist, playing songs we have not played before or haven't been played in a long time, so be prepared – LEGION OF THE DAMNED is ready to rumble."
SUICIDAL ANGELS singer Nick comments:
"With the release of our new album, »Years Of Aggression« and as we promised, we return with more news, exciting news. Thrashing to the bone news! We are really pleased to join forces with German titans DESTRUCTION, Holland's finest, LEGION OF THE DAMNED, and the killer FINAL BREATH for a seriously in your face package that will kick ass! Just check out the poster with all the dates and cities, find the one closest to you and join us for a thrash metal inferno! Do not miss this by any fuckin' chance!"
Heiko from FINAL BREATH says:
"Last year, after a long 14-year period of silence, we finally came back with »Of Death And Sin«. We had no idea what would happen, but we were overwhelmed by the reactions of fans and press. And now we're just proud to continue with our story and hit the road with such a great thrash metal command: DESTRUCTION, LEGION OF THE DAMNED, SUICIDAL ANGELS… How cool is that? It's like a dream come true for us!"
»Thrash Alliance Tour 2020«
DESTRUCTION
with LEGION OF THE DAMNED, SUICIDAL ANGELS, FINAL BREATH
13.02. A Dornbirn – Conrad Sohm
14.02. D Leipzig – Felsenkeller
15.02. D Bochum – Matrix
16.02. D Trier – Mergener Hof
17.02. D Cologne – Essigfabrik
18.02. NL Tilburg – 013
19.02. NL Enschede – Metropool
20.02. B Roeselare – TRAX
21.02. D Hamburg – Kultur Palast
22.02. D Geiselwind – Eventzentrum
23.02. D Mannheim – MS Connexion Complex
25.02. D Hanover – MusikZentrum
26.02. CZ Uherské Hradiště – Klub Mír
27.02. CZ Pilsen – Šeříkovka
28.02. D Munich – Backstage
29.02. CH Aarau – KIFF
01.03. I Milan – Legend Club
More DESTRUCTION dates:
2019:
25.10. F Sélestat – Rock Your Brain Fest
08.11. FIN Helsinki – SteelChaos
09.11. D Weissenhäusser Strand/Ostsee – Metal Hammer Paradise
03.12. A Salzburg – Rockhouse
04.12. SK Bratislava – Randal club
05.12. CZ Ostrava – Barrak
06.12. CZ Chrudim – R-klub
07.12. D Balingen – Crazy X-Mas
2020:
11. – 13.06. D Büßfeld – M.I.S.E. Open Air
01. – 04.07. D Ballenstedt – Rockharz Open Air
06. – 11.07. H Dunaújváros – Rockmaraton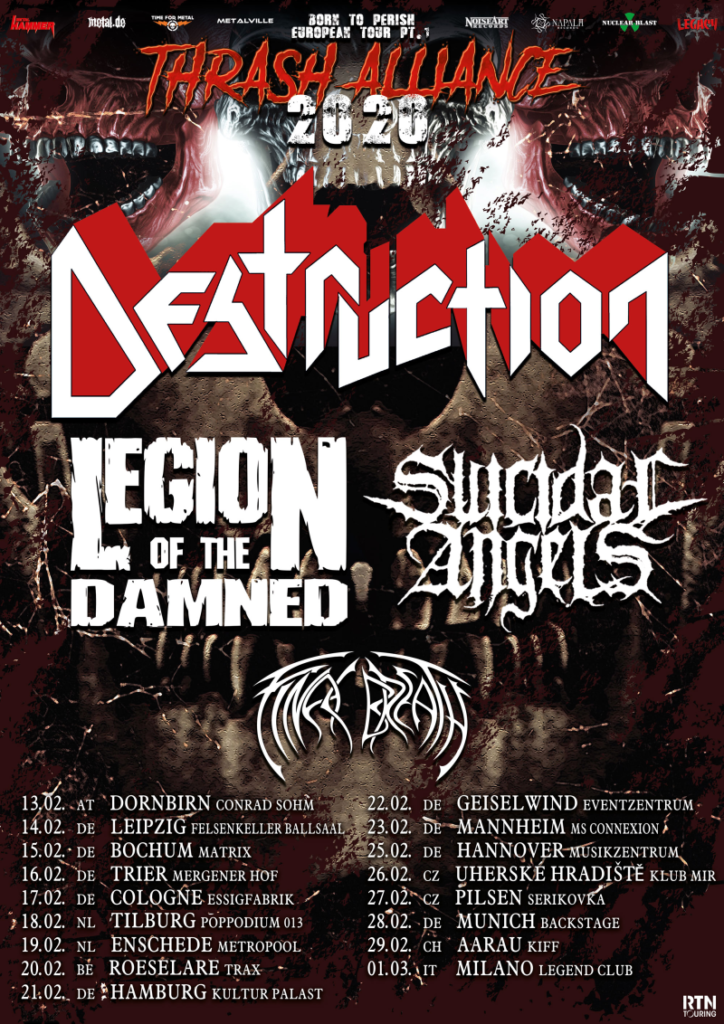 Check de onderstaande socials voor meer informatie over deze band.