RAMMSTEIN announces 'Sehnsucht' anniversary edition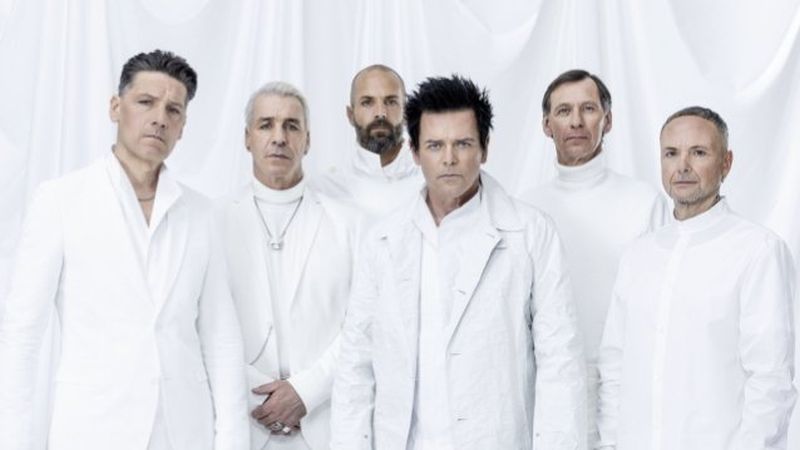 German industrial metallers RAMMSTEIN will release a special "anniversary edition" of their second album, "Sehnsucht", on June 9. The iconic 1997 LP will be made available for the first time in remastered HD sound. In addition to the singles "Du Hast" and "Engel", the album exclusively includes a new mix version of the track "Spiel Mit Mir". The elaborately reworked packaging was designed by the original artwork designer Dirk Rudolph. The CD comes in a Blu-ray-sized eight-panel digipak with a 40-page booklet and an embossed silver foil slipcase. The 40-page booklet features numerous unpublished and re-edited portrait photographs by artist Gottfried Helnwein.
Following the release of their debut album "Herzeleid" ("Heartbreak") as a "limited anniversary edition", it is time to revisit "Sehnsucht" ("Longing"),originally released in August 1997, effectively announced the arrival of the six onto the global stage. "Sehnsucht" peaked at No. 1 on the German and Austrian charts, also going Top 50 in the U.S. (it stands as the only fully German album to be certified platinum Stateside). 26 years and a new century on, it's clear that "Sehnsucht" — another 11-tracker like "Herzeleid" — indeed like all of the studio outings has lost none of its initial power. From opener, "Sehnsucht" itself, to the aforementioned "Du Hast" or the follow-up "Engel", through to closing number "Küss Mich (Fellfrosch)" ("Kiss Me (Fur Frog))", RAMMSTEIN's sophomore release sees the founding members spectacularly hitting their stride, making greater use of electronics and samples, as well as the melodic side of Till Lindemann's considerable vocal range.
That signature RAMMSTEIN sound has been given an added boost now — remastered in HD sound for the first time on CD for the "anniversary edition" of an album that can rightfully be termed "iconic". This 2023 version exclusively includes a new mix of the track "Spiel Mit Mir", and comes in a selection of exclusive, elaborately packaged formats: CD, MC, digital, plus a pair of double LPs, one black vinyl, the other white.
To millions heroes, to others villains, there's no question that "Sehnsucht" — the band's first official release in the U.S. — was the album that fully shaped who RAMMSTEIN were, what they sounded like and what they stood for. "Sehnsucht" underlined in red pen just how intriguing, and singular, they really were, and just where that collective mind was prepared to go, starting with the sleeve itself.
"Sehnsucht" anniversary edition track listing:
01. Sehnsucht
02. Engel
03. Tier
04. Bestrafe Mich
05. Du Hast
06. Bück Dich
07. Spiel Mit Mir
08. Klavier
09. Alter Mann
10. Eifersucht
11. Küss Mich (Fellfrosch)
12. Spiel Mit Mir(2023 mix)
RAMMSTEIN have previously announced the 2023 European leg of the band's stadium tour.
Tour dates:
May 22 – Lithuania, Vilnius, Vingio Parkas
May 27 – Finland, Helsinki, Olympiastadion
May 28 – Finland, Helsinki, Olympiastadion
Jun. 02 – Denmark, Odense, Dyrskueplads
Jun. 07 – Germany, Munich, Olympiastadion
Jun. 08 – Germany, Munich, Olympiastadion
Jun. 14 – Slovakia, Trenčín, Trenčín Airport
Jun. 17 – Switzerland, Bern, Stadion Wankdorf
Jun. 18 – Switzerland, Bern, Stadion Wankdorf
Jun. 23 – Spain, Madrid, Estadio Cívitas Metropolitano
Jun. 26 – Portugal, Lisbon, Estádio Da Luz
Jul. 01 – Italy, Padova, Stadio Euganeo
Jul. 06 – Netherlands, Groningen, Stadspark
Jul. 11 – Hungary, Budapest, Puskás Aréna
Jul. 15 – Germany, Berlin, Olympiastadion
Jul. 16 – Germany, Berlin, Olympiastadion
Jul. 22 – France, Paris, Stade de France
Jul. 26 – Austria, Vienna, Ernst-Happel-Stadion
Jul. 30 – Poland, Chorzów, Stadion Śląski
Aug. 04 – Belgium, Brussels, King Baudouin Stadium
One of the most revered metal groups of all time, RAMMSTEIN is renowned for its electrifying live shows often involving spectacular pyrotechnics.
Last fall, RAMMSTEIN's pyrotechnician revealed how much fuel it takes to bring the band's flaming stage show to life. Speaking with Ultimate Guitar, Nikolai Sabottka said RAMMSTEIN's current stadium setup, "uses roughly 1000 liters."
Sabottka went on to say that he and the members of RAMMSTEIN are continuously in search of new technologies that can take their fiery stage show to new heights. He explained: "In the prep of a tour, we sit and exchange all the different ideas before we go and actually test what has been prototyped and built beforehand. After the initial test, there are endless changes to be implemented, and sometimes it simply does not work the way we imagined it and effects get pushed back to research and development while others get aed and are produced on a larger scale." RAMMSTEIN's latest album, "Zeit", arrived on April 29. The band has thusfar released three videos from the album. 
Watch the video for "Angst" below.
Watch the previously released title track for "Zick Zack" and the video for "Zeit" below.
Till Lindemann (vocals), Paul Landers (guitar), Richard Z. Kruspe (guitar), Flake (keyboards), Oliver Riedel (bass) and Christoph Schneider (drums) spent two years working on the eleven songs on the new album. They were once again assisted by Berlin producer Olsen Involtini. "Zeit" was recorded at La Fabrique Studios in St. Rémy de Provence, France.
Bryan Adams managed to get a special scoop for the cover of the new album. The Canadian musician and photographer took the shot of RAMMSTEIN on the steps of the Trudelturm in Berlin Adlershof, an imposing monument to aerial research in the city's Aerodynamic Park.
Today the title track first single is released as a 10-inch gatefold black vinyl, on CD digipack and in digital format.
RAMMSTEIN fans can look forward to multiple "Zeit" formats. The new album will be released as a standard CD in a digipack with a 20-page booklet, a special edition CD in a 6-panel digipack with a 56-page booklet including slipcase, and as a double 180g vinyl LP with a 20-page large-format booklet, as well as in the usual digital formats.
RAMMSTEIN is scheduled to kick off the European leg of the band's 2022 tour on May 15 in Prague, Czech Republic. A North American stadium run will begin on August 21 in Montreal and end on October 4 in Mexico City.