Peter Pan Speed Rock keert terug op HELLDORADO 2021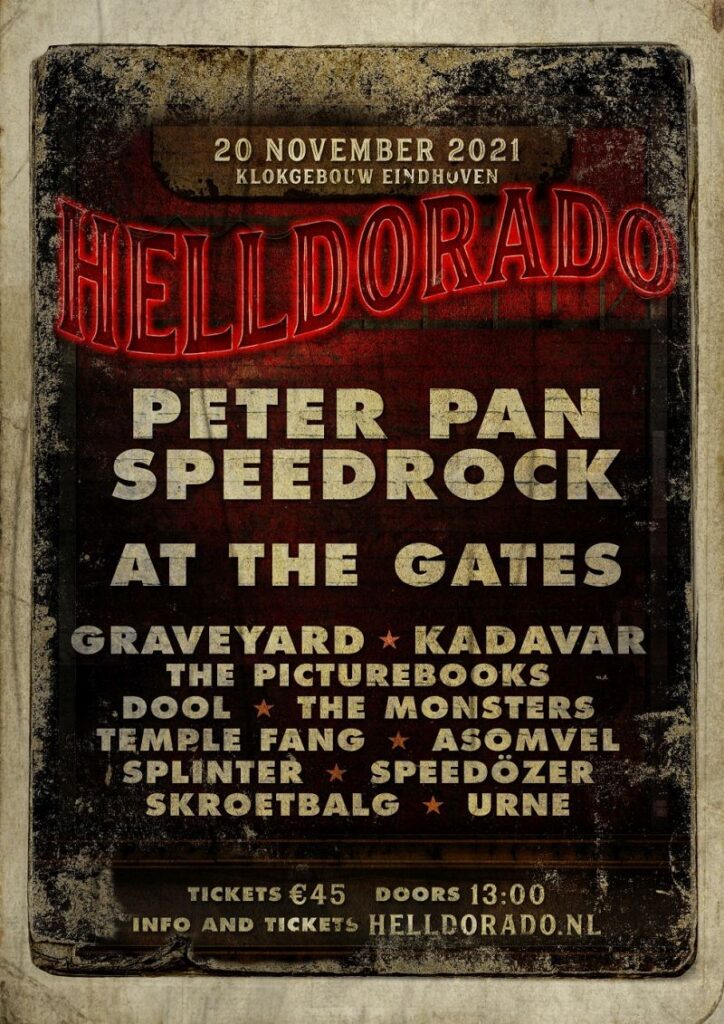 De rode lampen gaan binnenkort weer aan in Eindhoven Rockcity. Want met toevoeging van de vier bands Graveyard (SWE), The Monsters (CH), Splinter (NL) en Speedözer (BE) is de 3e editie van rockfestival HELLDORADO op zaterdag 20 november a.s. van 13:00-1:00 uur compleet! Van heinde en verre zullen rock(-'n'-roll) discipelen die dag naar het Klokgebouw in Eindhoven pelgrimeren om hun HELLDORADO hoogmis eindelijk weer bij te kunnen wonen.  
De volledige line-up is grootmacht Peter Pan Speedrock (unieke NL reünieshow!!), At The Gates (SWE), Graveyard (SWE), KADAVAR (DE), The Picturebooks (DE), DOOL (NL), The Monsters (CH), Temple Fang (NL), ASOMVEL (UK), Splinter (NL), Urne (UK), Speedözer (BE) en Skroetbalg (NL).
Early Bird tickets zijn inmiddels uitverkocht; reguliere tickets a €45,- zijn nog verkrijgbaar via de website. Let op!: ticketverkoop gaat hard.