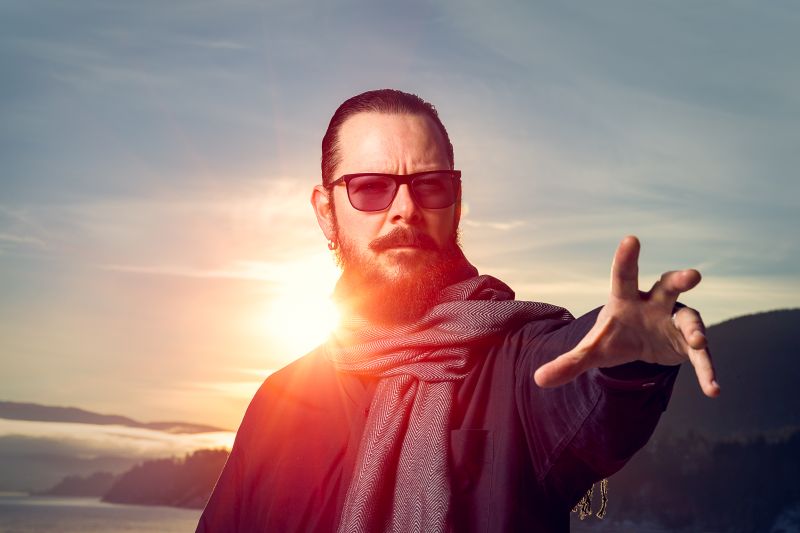 Musikmesse Artist Spotlight: Ihsahn
"That´s the kind of "generic" I can appreciate"
Ihsahn was at the forefront of the growth spurt of the Norwegian black metal scene in the early nineties, with his band Emperor. But as time moved on, so did Ihsahn, who since then chose a path of his own, of which his last solo work the 'Telemark EP' from 2020 testifies and which gained him lots of praises, especially among peers. His weapon of choice comes from Dutch guitar manufacturer Aristides Guitars, where high-end guitars are built with a composite, which fully mimics the acoustic properties of wood to perfection. Ihsahn is a known connoisseur of guitars and his choice for such a deviant concept is therefore far from obvious. We talked to him about why he came to which choices and how he exposes the soul in his machine and how at times very unexpected artists can inspire him every day.
By: Ramon van Hengel Ι 14 May 2020
Specs overview
Main guitar:
Aristides 060 North Custom
Tunings:
Standard
Pickups:
BareKnucklePickups Custom
Bridge:
Hipshot
Tuners:
Hipshot
Scale:
25.5"
Strings:
Dunlop
Gauges:
10-46
Special features:
Composite Arium Construction, Push pull coil split and carved graphics
Other guitars:
Aristides 010, 020, 060, 070, 070s, 080, 080s, T/0
Tunings:
Standard, Drop D and Drop A
Pickups:
BKP Customs, Seymour Duncan, Fishman
Bridge:
Hipshot, Evertune
Tuners:
Hipshot
Scale:
24 9/16″, 25.5", 26.5", 27", 25.7"-27", 26.5"-28"
Strings:
Dunlop
Gauges:
10-46, 10-56, 10-74, 10-74 Custom Sets
Special features:
Custom Graphics, Carved Graphics, two of these are Multiscale
Amps & Cabinets:
Longtime Kemper user, but I have a collection of amps and cabinets.
Blackstar, Engl, Marshall and Orange with matching cabs, preferably with Vintage30s.
Effects: The core of my sound is basically amp distortion and the occasional delay for leads. However, I do have a huge drawer full of pedals. Some favorites from MXR and Way Huge, Rodenberg TB Drive, vintage Big Muff, and some crazy stuff from EHX and Dr.Scientist.
Picks:
Dunlop Ultex Sharp 1mm Welcome to Arrow Lords of Metal! We invited you to talk about your very special range of guitars at Aristides Guitars. I know the answer to this one already, but for our readers, could you tell us what make them so different from any other guitar?
Many thanks. I´m excited to be talking mostly gear for a change.
So, there are really two main factors to Aristides Instruments.
Firstly, the technical bit; they make high-end composite guitars, made predominantly from Arium, designed to resonate like perfect wood. They are molded in an ever-growing range of models and fully customizable beyond that point. The nature of the material makes for instruments with extreme consistency of tone through the entire frequency range, and consistency of playability, as the material will not be affected by temperature and humidity like traditional guitars. Hence, they are perfect for both touring and studio work.
Secondly, the way Aristides is run! There are really no "stock" guitars. When you order a guitar, it is made specifically for you and you get updated through the entire process. The attention to detail and quality control is beyond anything I´ve ever seen (and I´ve had the pleasure of visiting the factory twice) and I know for a fact that nothing that is not perfect ever leaves the building!
I could also add that, as an artist representative for Aristides, it´s reassuring to know that anyone who orders a guitar gets exactly the same communication, updates and quality. Put simply, if you´ve seen or perhaps tried out an Aristides that you really liked, the consistency of the material and building process would allow you to order the same specs, and get a guitar, that not only looks like it, but that is made from the same mold, and will play and sound EXACTLY the same!
Wow, that is unusual indeed. How did you first bump into this unusual guitar brand?
It was my friend Mark Holcomb (Periphery), who is a remarkable guitarist, that first told me about Aristides and later introduced me to Pascal (the marketing and sales manager or Aristides. R-ALOM).  I was intrigued by the concept and curious of something seemingly very radical to the world of guitars, so Pascal was kind enough to send me an 080 to try out. I was totally blown away!
Was it love at first sight, for you?
Absolutely!  I´d been playing an Ibanez LA Custom 8 string for a while, that I´d been very happy with. However, the tightness, playability and consistency of tone from the Aristides 080 was just in a different league.
You have a couple of guitars from Aristides. The guys at Aristides gave you every opportunity to create a guitar with everything you desire. Did that trigger you to try something new, or did you want to see how the familiar was brought to life by them first?
I definitely went for the familiar. For me, it was really about getting the best setup and parts for what I use ALL the time, and cut out all the stuff that might get in the way, like Floyd style floating bridges, string locks, tone knob etc.  So, a fixed bridge, Humbuckers, 3-way toggle and a Volume knob…however, the volume knob is a push pull for coil splits, as I really like to get that single coil tone for some parts.  What really was new and spectacular, were of course the amazing carved graphics for my 060 and 070;)
Why did you choose the specs you chose, as mentioned above?
For 98% of what I do, my needs are really simple and especially for live performances. I need something reliable and nothing to get in the way. So, for my first 060 and 070 we really paid attention to live needs, like measuring with my hand exactly where to put the volume knob and pickup switch, excluding the tone knob, as I never use that, Hipshot hardware with fixed bridge etcetera to keep setups and traveling as fool proof as possible. I play my guitars more or less EVERY day, whether on the road or in the studio, so having instruments that do everything I need them to do, and reliably, is just crucial to my workflow.
Does your guitar allow you to play on intuition, you would say, or do you still feel you have to work on it?
I know there are some guitarists that like the idea of "fighting" their instrument to get that energy going, as for me I´m totally opposite. I need guitars that I can pick up at any point and trust that they will sound and play great for whatever I´m doing. Nothing kills creativity like technical trouble, bad intonation, bad frets etcetera. Honestly, my Aristides guitars have solved all that for me.
The discerning factor of Aristides is that every guitar is of the same level, as the material is always exactly the same, unlike with wood, where there is always a bit of character in the guitar you have to identify with. Like you said, when you have to fight the guitar a bit. Doesn't that make the sound too generic, when all guitars are identical, provided the specs are the same?
One would think so, but I´ve not found that to be the case. Since the core construction and resonance is so predictable and stable, you can really dial in with pickups and hardware. Even the slightest change will make a difference and there´s no hit or miss with matching pickups with the resonance of the wood or anything like that. I have most of the Aristides models, also two different 060 models with different specs, and all my guitars definitely have their own tone and identity. Most of them have some sort of BKP (Bareknuckle Pickpus-R. ALOM)  in them, as I really like them with the Arium, but for my recent T/0 I went for Fishman Fluence to add even more variety to my palette;) What is "generic" in some way, is how they feel to play, which in my case is super important.  During a live set, I will be switching between regular 6string, drop A 7strings to multiscale 8strings and I´m always "at home" and comfortable. Most of the time I travel with only two guitars and depending on the set I will sometimes have to play all the 6string songs on a 7string for example….not too long ago, I broke a string on my 7 during the first song and ended up just playing the entire set on my 080s Multiscale….That´s the kind of "generic" I can appreciate.
I don't think many people can tell the same adventures with such a comfortable outcome. Great! I know it is Pascal's earliest dreams to make an acoustic guitar too. They soon will release a headless guitar too. What do you think is missing in their catalogue?
To be honest, I am quite surprised by the rate at which Aristides are adding new models these days, especially considering the way they are made. With the T/0 release, they took the first move towards the more "classic" construction and I am sure Aristides could easily adapt their concept to more "classics" down the line.  At the same time, they are going in the opposite direction too, with the upcoming headless multiscale guitars, that probably will see all of 6, 7 and 8 string incarnations. As the original 050 Bass still keeps aesthetics similar to the first Aristides 010 model, it would be very interesting to see a Bass following some of the more updated designs. And, if anyone could make an amazing composite acoustic guitar, it would be Aristides.
You are cited by many as a standard bearer of many extreme subgenres, for black metal, blackened progressive metal and so on. Who are YOUR influences, both from your youth and more contemporary musicians?
Growing up, it was all about 80s hard rock and metal. I practically learned guitar by playing along to Iron Maiden records and together with Judas Priest, these bands I believe are the reason I more or less always write for twin guitars. As I progressively got into harder music, moving through King Diamond, Metallica onto Morbid Angel, Deicide, Celtic Frost and Bathory, I also listened to some classical and a lot of movie soundtracks, like Jerry Goldsmith and John Williams.
Also more electronic soundtracks like John Carpenter´s Halloween and so on. Wanting to apply the dynamic and emotive qualities of soundtracks to my music, I started adding keyboards and orchestral sounds to my arrangements, which has become quite typical for how I work. These days I can find inspiration in almost any genre. Be that old crooner songs by Scott Walker, early Led Zeppelin, 80s pop or any variety of Radiohead, or more contemporary output by the likes of James Blake, Burial and Røyksopp, or even chart topping Kanye, Billie Eilish and The Weeknd.  It is all about sonic textures and emotional impact.   
Wow, I knew you were broad-minded, but that displays a really positive attitude towards music. Do you consider yourself a good musician and how do you deal with such praises (which I think are deserved)?
In technical terms as a guitar player, I consider myself average at best, and do not possess the shredding chops of so many of my contemporaries. I think my strength is perhaps in being an all-rounder, knowing enough to put together the songs and arrangements I want to make and that I continually try to add stuff to my musical toolbox. I´ve had some flattering superlatives thrown my way over the years, which is nice but feels highly exaggerated, but I take it as a compliment to some people having found meaning and a strong connection to my music.   
What was your first ever guitar/bass/keys?
I started out with piano lessons when I was about 6 and a little later I got one of those electric organs, with bass pedals and all;) After some noodling on my parent´s acoustics they got me my first electric guitar when I was about 10. This was a black/white-pickguard strat copy from Boogie. Still have it;)
Oh, do keep that one forever, or you MIGHT regret it. What was the worst guitar you ever bought?
Don't know about worst, but I had this BC Rich Bich for a while, probably bought more for the metal look than any musical qualities.
We all have done that, hahaha. What is your ultimate goal as a musician?
Honestly, at the risk of delving into the pompous; To continue the never-ending exploration and enjoyment of music and to express myself without compromise, with as much enthusiasm and excitement as when I first started out.  
Thanks for your time!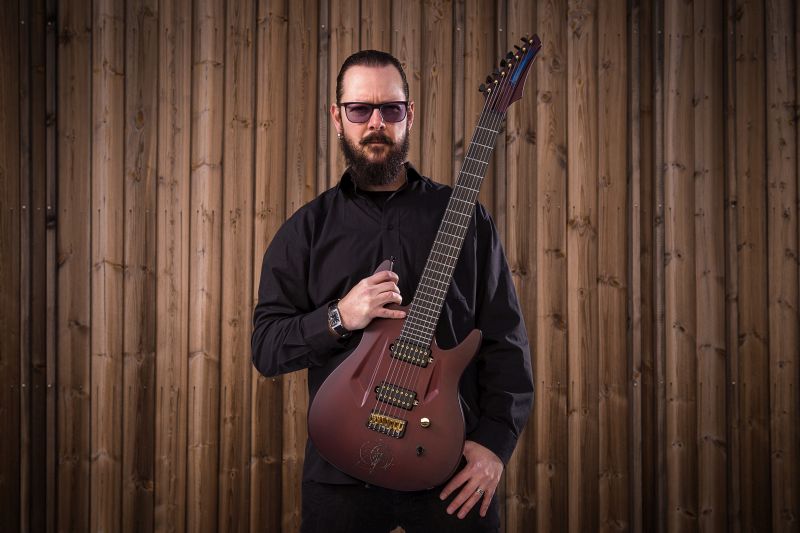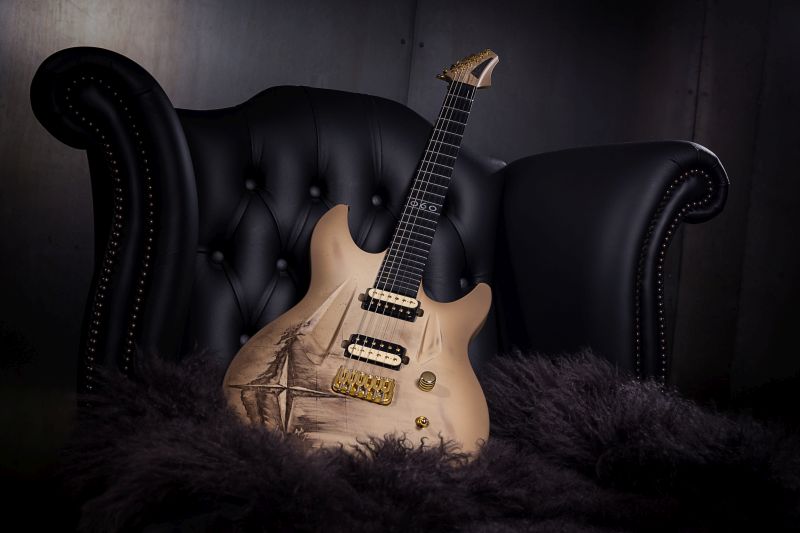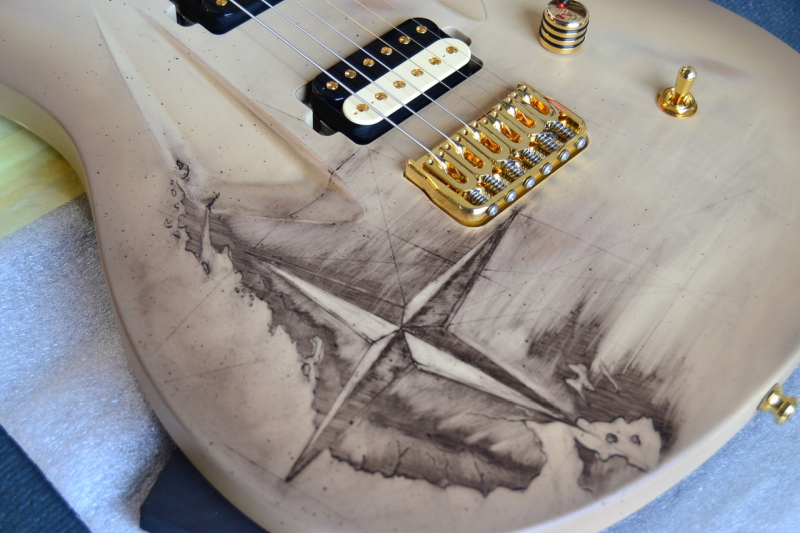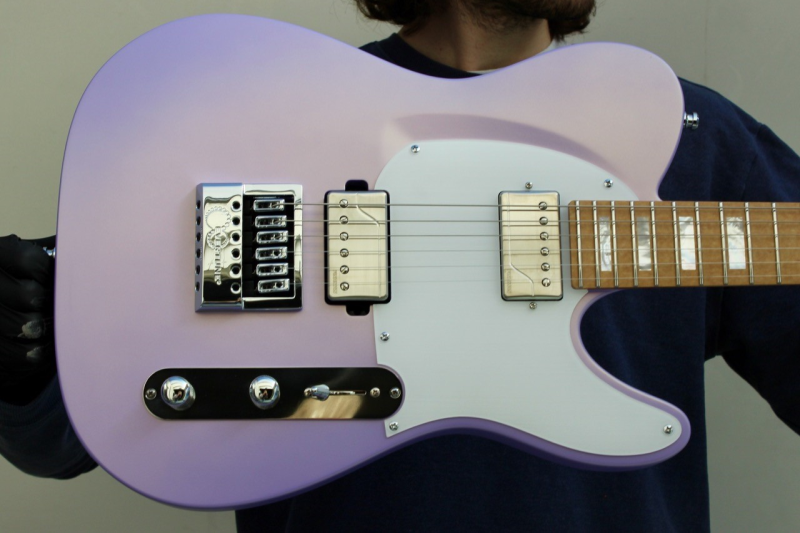 Check de onderstaande socials voor meer informatie over Ihsahn.
Check de onderstaande socials voor meer informatie over Aristides.