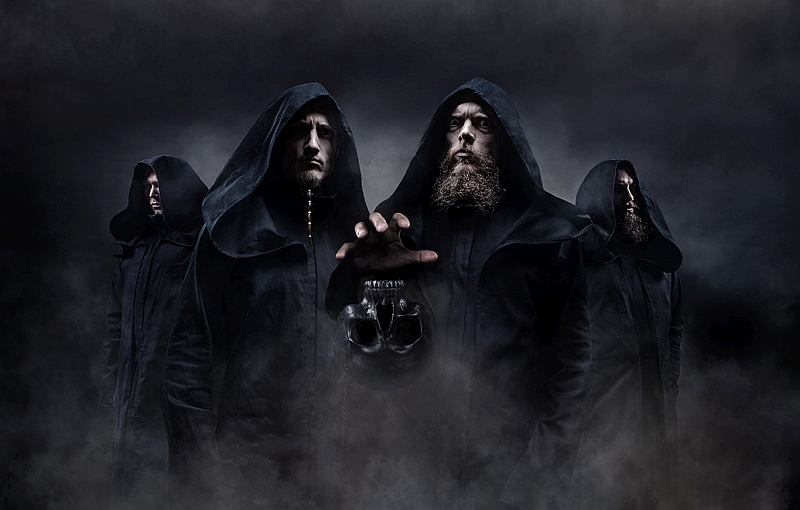 Carl Stjärnlöv: "'A lot of work' would be an understatement. A fucking monstrous amount of work would be more accurate. There were many nights with very little sleep and the project seemed to be never ending but it's all worth it. "

De Zweedse melodieuze death metal band Diabolical levert met 'Eclipse' hun vijfde studioalbum en tweede conceptalbum op rij af, nadat de band in 2013 ook al het bombastische conceptalbum 'Neogenesis' uitbracht dat op unieke wijze gepaard ging met een door gitarist Carl Stjärnlöv geschreven elf pagina's tellende roman. Op 'Eclipse' gaat de band muzikaal nog een stapje verder dan voorheen; met een nóg dikkere productie en het gebruik van een twintig koppen tellend koor komt de muziek op 'Eclipse' nóg voller en nóg bombastischer over dan op zijn voorganger. De band is momenteel bezig het nieuwe album live te promoten en is zeven weken op tour door Europa met Septic Flesh en Krisiun. Nederland werd daarbij begin maart al aangedaan en ten tijde van dit interview zit Diabolical in Praag, van waaruit gitarist Carl Stjärnlöv Lords of Metal te woord staat.
Door: Dennis van t Hoofd – 11 maart 2019
Hi Carl, congratulations on your new, sixth studio album 'Eclipse'! How do you feel about the new release?
Hi there! I feel great about it. The response has been extremely positive with great reviews and people coming up to us at shows praising the album, so I think we've done something genuinely good this time.
Your last album 'Neogenesis' from 2013 was the biggest production you had done by that time. It was a concept album that was released together with a novel, written by yourselves. How were the reactions to this album and how successful was 'Neogenesis' for you guys?
The reactions were very good, and they still are! The physical book edition usually captures peoples' attention at shows and it often sells out. Conceptually I think it was very successful. I think it was a unique project with the chapters of the book connected to each song of the album. I don't know if something similar had ever been done before.
On 'Eclipse' you have once again outdone yourselves and topped 'Neogenesis' with an even 'bigger' production. The album sounds very bombastic, lots of instruments were used, clean vocals, grunting, female vocals and even a live choir. Atmospheric arrangements are mixed with catchy and also plain aggressive parts. The whole album is an adventure from beginning to start. Was it a lot of work to write and record this album?
'A lot of work' would be an understatement. A fucking monstrous amount of work would be more accurate. There were many nights with very little sleep and the project seemed to be never ending but it's all worth it. We stepped up our game this time in terms of ambition and I think we've become better songwriters since the previous album. We always strive to improve and evolve and I believe we've done that on 'Eclipse'. We have more of everything this time: stronger songs, stronger melodies, heavier riffs, more epic choirs, and the production is better than ever thanks to our vocalist and producer Sverker. I enjoyed the process and I'm very pleased with the result. Furthermore, the reactions and reviews have been amazing so it was worth all the hard work.
'Eclipse', like the last album is a concept album too. Do you guys enjoy making concept albums?
Yes, I enjoy it very much. As a listener I'm a big fan of concept albums, I think it adds a lot to the experience and it shows that the artist had a strong intent when making the album, not just tossing in a bunch of songs and calling it an album.
Can you explain the concept of 'Eclipse'? Where did you draw the inspiration from to write the story?
Although 'Neogenesis' was a conceptual success, I think some people felt it was a bit hard to digest with its philosophical content. This time I wanted to be more direct and straight to the point. 'Eclipse' is about the darkness within you, within me, within all of mankind. It urges the listener to reflect upon this and ones' place within our turbulent world. It's easy to renounce ones' responsibility and blame others for all the suffering in this world, but we're all responsible for creating the world we see around us. I don't want to get to deep into the concept. I urge you to listen to the album, read the lyrics and draw your own conclusions.
Between 'Neogenesis' and 'Eclipse' lie six years, which is a rather long period. Why was there such a long period between the albums and when did you start writing the new material?
You shouldn't forget that we released the 'Umbra' EP in 2016 and toured throughout these years! Releasing an EP maybe wasn't a great choice in retrospect, nobody in the metal scene gives a shit about them unless you are a Slayer-sized band. Even you seemed to not have noticed we released it! But now we've done that and we will not release an EP again any time soon. Some of the material on 'Eclipse' is in fact very old. There was a version of 'The Fire Within' which we  almost recorded for 'Neogenesis' but we weren't entirely satisfied with it, it took a few more years and revisions for it to be ready. Other songs were written right before we recorded 'Eclipse'. For example I remember writing 'Black Sun' on Midsummer's day 2017. I woke up hung over after a Midsummer night's party with the main riff of 'Black Sun' in my head. I just wanted to stay in bed but I had no choice but to pick up my guitar and record the first demo version of the song while the party continued around me during that day.
Apparently you had a lot more songs ready then the nine songs that ended up on 'Eclipse'. What are you going to do with the rest of the material?
Maybe we will revise and use later, like we did with 'The Fire Within', maybe we will not. We will see!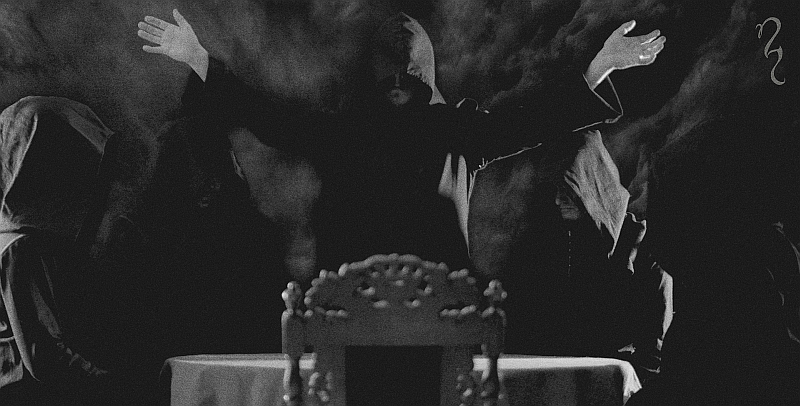 'We Are Diabolical' is the opening track of 'Eclipse', why did you choose this song to be the opening track and what is it about?
I think it was pretty clear from the first demos and pre-production that 'We Are Diabolical' was going to be the lead single. It sums up a lot of the parts of 'Eclipse' with its intense riffs, majestic choirs and clean vocals. Thematically it also represents the core of the concept of 'Eclipse'. The first line of the lyrics of the song is 'Eclipse obscuring our world' which I intentionally wrote to be the opening line of the album. I had the album title settled for a long time, even before 'Umbra'. The term 'umbra' means 'shadow' and represents when the moon is obscuring the sun in the initial phase of an eclipse.
The live choir you used consisted of 20 singers. How did you get the idea to use a live choir and can you tell us something about the recording of these choir vocals?
We started using live choirs on 'Neogenesis' as an experiment. We are fortunate to know many talented singers in Stockholm so we put together a choir with different singers for each recording session. For this album we spent about a day recording each harmony: basses, tenors, alts and sopranos. Me, Sverker and Pär wrote the choir parts, I instructed and conducted the choir and Sverker recorded. We had a lot of fun with many talented people in the studio.
You recorded two videos for the songs 'We Are Diabolical' and 'Betrayal'. What was the idea behind both videos and can you tell us something about the videoshoots?
The videos were very rewarding creative projects. We spent more time and effort on them than we've done on past videos. We worked with Iron Oak Media and Gustavo Oliveira. We discussed the concepts and storyboarded within the band and then developed the ideas further with the team. I was involved a lot myself with pre-production, filming and editing which I found to be a very interesting creative process. We had a lot of forest fires in Sweden last summer so we took the opportunity and used a burnt down forest as a location for the shoot of the 'We Are Diabolical' video. We also broke into an old church ruin to shoot some other parts of that video. The 'Betrayal' video was shot entirely in a green screen studio and then we spent a month on post-production on it. Exhausting work but I think it turned out really well in the end.
I've seen some comments on the internet from people who compare Diabolical to Behemoth. What do you think about that comparison?
People can compare us to anything they want if it benefits them. Behemoth is a great band, I can think of many bands I'd be less happy to be compared with. I can understand the comparison but there's no effort from our side to sound like them. I guess we have a similar tinge of black to our death metal.
And what do you think about Satyricon's song 'Now, Diabolical'?
Nice song but it fucks up our search engine optimization.
I noticed the new album will be released on your new label Indie Recordings after ten years on ViciSolum Productions. Why the change?
We were always happy with ViciSolum but we felt that we wanted to get the band into other contexts and get some new connections, hence the change of label. The collaboration with Indie Recordings has been great so far.
When you look back at the twenty years history of Diabolical, what are you most proud of?
I'm proud of how far we've come and that we're still hungry and strong. I feel we still have a lot to give, a lot more songs to write and a lot more shows to play. I'm certain we have some exciting times ahead and the best is yet to come.
In March and April fans in Europe will get the chance to see Diabolical live since you are going on tour with Septic Flesh and Krisiun playing 45 shows in 51 days. What can we expect from your show and are you guys excited to present the new material?
We're on the tour right now and it's going great. Tonight we play in Prague. The shows have been fantastic, we're traveling with great and talented people, we've met a lot of old and new friends along the way and we've met so many amazing fans. We are truly grateful for all the support we've received during this tour. We play many songs from 'Eclipse' on this tour and it's great to see so many people already singing along to them. We give a hundred percent during our shows delivering both heavy riffs for those in the mosh pit and a lot of atmosphere.
That wraps it up for now, thank you for your time to answer my questions. Do you have any last words to our readers?
There are still shows left on the tour so come and catch us live if you have the possibility. Otherwise enjoy our new album and I hope to see you at some show sometime!
Check de onderstaande socials voor meer informatie over deze band.