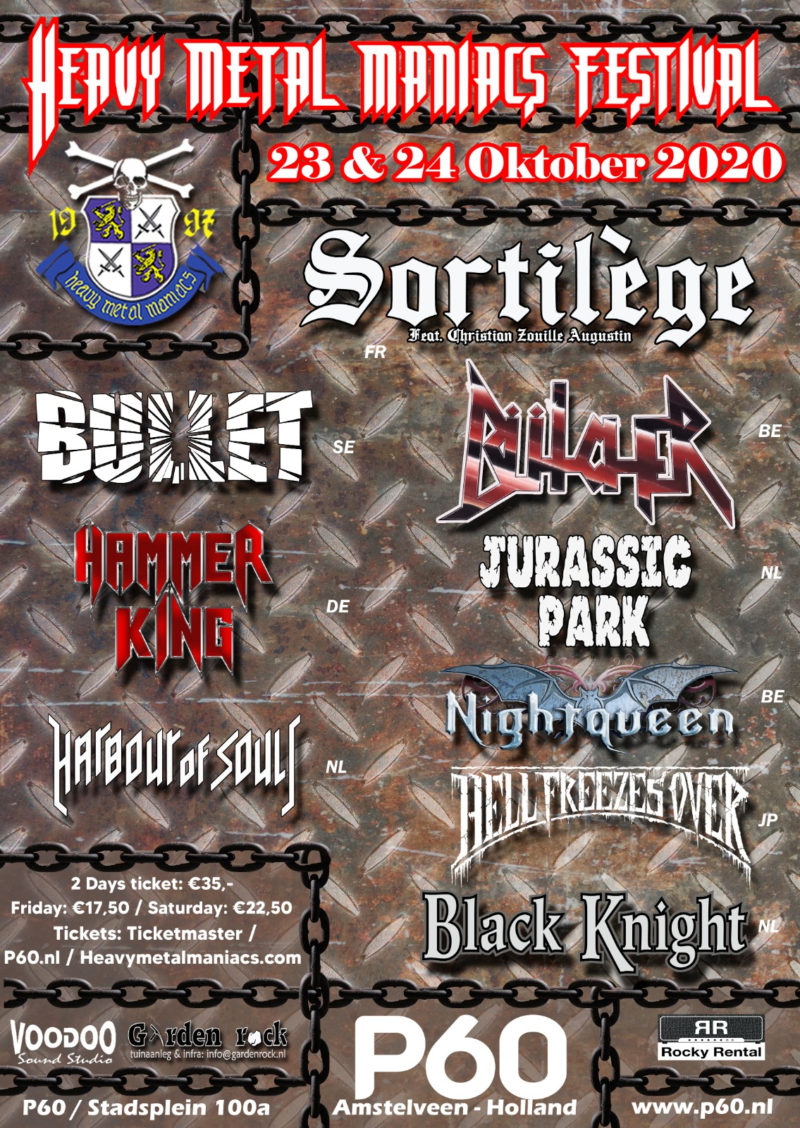 HEAVY METAL MANIACS FESTIVAL 2021
The 21st edition of the Heavy Metal Maniacs Festival is , due to Corona measures, postponed to 22 & 23 October 2021.
We are also happy we expect to get the complete bill to the postponed date. Just 1 confirmation to go.
Bands 22-10-2021:
BULLET (SE)
HAMMER KING (DE)
HARBOUR OF SOULS (NL)
Bands 23-10-2021:
SORTILÈGE (FR) (Feat. Christian "Zouille" Augustin)
BÜTCHER (BE)
JURASSIC PARK (NL)
NIGHTQUEEN (BE)
HELL FREEZES OVER (JAP)
BLACK KNIGHT (NL)
BULLET from Sweden is a guarantee for energy, power and pure metal! With various successful albums & hits this is a show you can't miss of you are a hard rock and heavy metal fan!
HAMMER KING from Germany will bring epic heavy metal to the stage! With ex-Ross the Boss singer Titan Fox V in the front the band will bring memories of Manowar, but with an European twist. Powerful riffs, machine gunning bass lines and screaming guitars.
HARBOUR OF SOULS plays classic raw seventies hard rock combined with the aggressive eighties heavy metal. This blending musical style will knock you out of your feat!
SORTILÈGE is by far the greatest of all French heavy metal of all times. The album "Metamorphose" from 1984 stands as one of the greatest metal albums! Be in for a treat of highly technical, melodic full-blown heavy metal assaults!
BÜTCHER from Belgian plays an unique blend of metal that's rooted in both German and US Speed metal, but also contains influences of hard rock black/thrash metal & NWOBHM. Be prepared for a furious frenzy of speed, black & heavy metal!
JURASSIC PARK is a pure hard rock rock 'n roll spectacle! The legendary Frankenstein guitarist Berthus Westerhuis is back on stage!
NIGHTQUEEN is a Belgian high-quality symphonic powermetal band. This female fronted band was formed in 2004 and has released most impressive 3 albums since then!
HELL FREEZES OVER from the land of the rising sun is a true heavy metal sensation! For the first time in Europe they certainly proof that they are one of the most promising metal band of these times.
BLACK KNIGHT stands for 30 years of glorious Dutch heavy metal and the band is still ready to bring the heavy metal faith to all corners of the globe! Black Knight are almost ready to release their third full-length album \m/