DESTRUCTION release official trailer for "Born To Thrash - Live In Germany"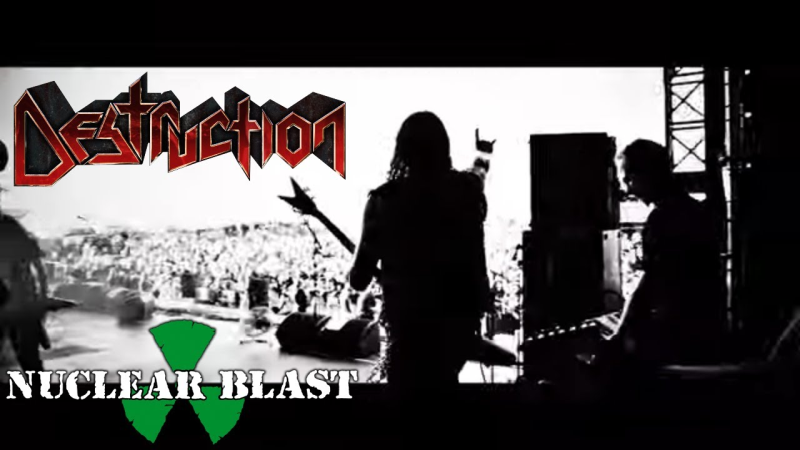 DESTRUCTION release official trailer for "Born To Thrash – Live In Germany"
Digital version out on May 8th
This spring, DESTRUCTION are delivering a treat for fans stuck at home and unable to attend live shows: "Born To Thrash – Live In Germany" is the band's first live album with the current line-up and will be released digitally on May, 8th.
Today, the band is teasing that release in the form of a trailer. Find out more, here:
The album will be available on Digipak, Black Vinyl, Red Transparent Vinyl and Picture Vinyl on July, 17th. The pre-order is due to launch May, 8th – so stay tuned and keep an eye on both the band and the label social media platforms for more news.
Singer and bassist Schmier comments on the release:
"This live album is the most spontaneous thing we ever did I think! This is the music business, everything usually takes time and the label does not like surprises. But a good friend of ours spontaneously recorded that Party.San show and we had a film team there that weekend cause we were shooting a movie.  
It was a fantastic show and since the Covid-19 has halted all live concerts, we decided to release this for the fans. This also introduces the current fantastic new line up that not all of our fans have seen live yet cause of the actual situation! We will release three official videos in total during the promo of 'Born To Thrash – Live In Germany'!  The film crew wasn't there to record all of the set but our movie will show the scenery behind the stage and the way we try to achieve our goals! So luckily they caught at least some of the stage magic that night! It feels so awesome that we can share this!"

Destruction 2020 UK & EU Tour
(w/ WARBRINGER, CRISIX, DOMINATION INC.)
28-Nov-2020 Waregemse Metal Day – Waregem Belgium (DESTRUCTION & WARBRINGER only)
29-Nov-2020 Dynamo – Eindhoven Netherlands
30-Nov-2020 Kesselhaus – Wiesbaden Germany
02-Dec-2020 The Dome – London UK
03-Dec-2020 Academy 3 – Manchester UK
04-Dec-2020 Dolan's Warehouse – Limerick Ireland
05-Dec-2020 Voodoo Lounge – Dublin Ireland
06-Dec-2020 Slay – Glasgow Scotland
08-Dec-2020 Petit Bain – Paris France
09-Dec-2020  Santana 27 – Bilbao Spain
10-Dec-2020 RCA Club – Lisbon Portugal
11-Dec-2020 Sala But – Madrid Spain
12-Dec-2020 Salamandra – Barcelona Spain
13-Dec-2020 Le Grillen – Colmar France
15-Dec-2020 Bi Nuu – Berlin Germany
16-Dec-2020 U Bazyla – Poznan Poland
17-Dec-2020 Vaudeville – Lindau Germany
18-Dec-2020 Legend Club – Milan Italy Check de onderstaande socials voor meer informatie over deze band.