 Jarle 'Hváll' Kvåle: "In many ways, creatively, Vreid has been a one man project. It is kind of depending on what I write, but of course the others also have input. When the recordings start, I am not the drummer, I am not the guitarist, so I need these people around me to fulfil my picture for the song."
Vreid heeft extra zorg besteed aan het negende studioalbum 'Wild North West'. De acht songs worden voorgesteld als videoclip, dit alles vormt een verhaal uit het Hoge Noorden. De vertegenwoordigers van Sognametal – genoemd naar de Noorse baai waar de heren geboren en getogen zijn – en legitieme voortzetters van het legendarische Windir, hebben tijdens de afgelopen periode hun fantasie en inspiratie de vrije loop gelaten en dat resulteert in een veelomvattende schijf waar we uitgebreid over praatten met de bezieler van dit alles, bassist Jarle 'Hváll' Kvåle.
Vera Matthijssens Ι 5 mei 2021

This is a huge work with visuals. How did you come to the idea of doing this?
Ah I wanted to do something new. I always like new ideas and new ways to work and after we did a live stream last Summer in June in the fjord where we live, I decided to do a couple of video clips. And the whole idea grew into a concept album. So we did that in August and never looked back.
Indeed, because this one is a kind of film, a cinematic experience…
Exactly and that is what we wanted to do. I have always been fascinated by the video clips when I grew up in the eighties. For me there is always also a story on an album, not just music. It has its own universe and with this album, I wanted to visualize the concept of the album in a much stronger way. Also we had more time on our hands, so we had time to really dive into it and working 24/7 on that.
This opportunity we had in isolation. It has a two ways look: you can just take more time off and try to do something completely else, or you can turn on the creative part and for us it has been the last thing. We used this time for something very creative.
We are not going to spoil the pleasure of listeners and tell the story, but maybe you can give any insight in the essence of it.
I wanted to have a clear story, so you can follow this narrative, the main character, and I wanted it to become quite direct. Also it was important to keep it very open, so people can put their own mind into what they see. I have always been inspired by more absurd movies and theories, like David Lynch and stuff like that, so it is important to keep things open. I wanted to lead people into the world and landscape where we come from. There are the traditional stories that I grew up with like sagas and the myths, but also historical facts, like World War II and what people think from that experience and how some people where not treated that good when they came back to Norway. Stuff like that. So I thought to mix a lot of different stories into it and kind of leave it open for people to see how they pick it up.
Isn't it the whole tradition and history of Vreid combined on one album?
Yeah that's a good way to sum it up, but I think many of our elements we have been touching on earlier, when we do such a big project, I wanted to incorporate a lot of different elements, from our past, but also something new.
What was a new element for you?
It is hard to put my hands on it, but on the album 'Solverv' we went more into the progressive rock of the seventies, but taking that further than ever before now. Like 'Spikes Of God' which is the most brutal song we have ever done and still I wanted to make it more brutal. I wanted that every song would have an own identity small, hard or more rocking, whatever… if we go in a kind of direction, we go all the way.
Where does this influence come from, seventies rock?
It has always been there for me, musically and then at least for the last ten years that has been more and more the music that I have been listening to. I regularly go back to old Alice Cooper albums, David Bowie, Pink Floyd, Black Sabbath… these are the bands I listen the most to. I think there have always been small elements on the previous albums too where you hear this reference, but on this album it is clearer than ever. We have always been a band open for everything and this time these bands have been a huge inspiration for us.
Did you really write this album alone or is there cooperation with the other members?
Basically I wrote everything, but before we started the actual recordings, we had rehearsals when we went through the songs and they adapted some ideas. Of course things change during the recording sessions, but all the songs and lyrics were finished and written by me before we entered the actual recordings. In many ways, creatively, Vreid has been a one man project. It is kind of depending on what I write, but of course they also have input. When the recordings start, I am not the drummer, I am not the guitarist, so I need these people around me to fulfil my picture for the song.
And this all happens in the environment of Sogndal, the Norwegian bay where you hail from. Do you still live close to each other?
No, we all live quite spread. Me and the drummer live more on the eastern part, not far from Oslo and the two other guys still live in the Sogndal area. I also have my mother and my family there, so we often go back, but not for rehearse. We rehearse when we go on tour and when we make an album, but apart from that we never rehearse.
Now the visual side of the video clips. What can you tell about that?
We did several sessions making the video clips. Primary it was Håvard Nesbø, the producer of the videos, and me, we had three or four sessions and after that a couple of sessions with the band.
Thinking about I Krig' and 'Milorg', Is there still a kind of war theme going on in the lyrics?
There will always be references to that. If you look at the second song 'Wolves At Sea'; that deals with young soldiers sent out to war. Especially soldiers at sea had extremely dramatic experiences. That was a kind of angle for that song and a part of the movie more or less. That was where it all started and then, when you follow the movie, you follow that character and see him going to an abandoned island. This is a place, a not really old place, where the sailors of the second World War were sent. This is an actual place in de Sogna bay. Even when I was young, there were still people who were abandoned to that place, it has been going on for the last thirty years. It is a very special place. So all these kind of stories, is something that I put into this album.
So it is also the story of our forefathers?
My stake on it is the stories that I have been told by my mother or my dad or my uncles when I was growing up. Of course these stories are not special or unique for Norway at all. These stories have been seen all over the world and you can still see them these days. I think it is a common thing, but these national stories go to my heart and that's why I write songs about them, but I think it is something that can appeal to people anywhere in the world.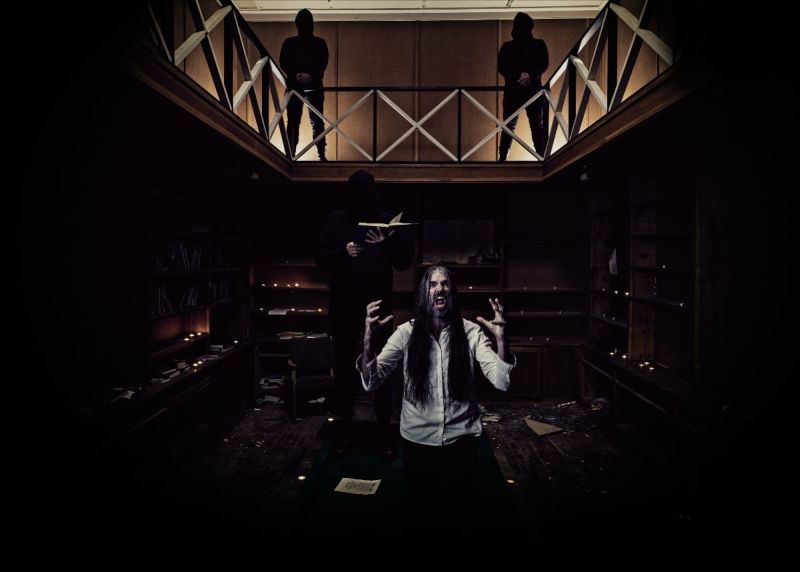 We should never forget our history, but that is another story today…
Yeah I think it is so easy to forget and just move on. I like to think that history will not repeat itself, but look what happens with this pandemic today. It goes to a couple of years that no one in the world will actually believe that it could happen, but it is happening over and over again in history and it is the same with so many things in history, wars and countries. So it is very important to learn from it and respect it.
Indeed, nobody believed that a virus could cause such damage…
No. If you put a bet on that some years ago, I guess you are a rich man now, because nobody expected that a virus would rule the world. We cannot complain in Norway though. Of course quite a few people need to get healthcare, but compared to some other countries, it is not bad at all. Most of it we notice it at work and you have to stay home, but we are quite lucky in this catastrophe. It is all about population. In Oslo it is a bit different, that's the worst place, but it is one and a half hour driving from where I live, but here things are normal. The kids are going to school, pubs are open, not something we should complain about. I hope there will be some festivals again next year, to begin with. Anything before late Autumn is not realistic. In the meantime we can listen to music and watch movies (laughs).
Vreid has always been open to a mix of different genres… How do the fans react?
I think most people see us as some kind of black metal band, black-'n-roll, Sognametal, I don't really pay that much attention to that. I am a huge heavy rock fan, that is the main thing. I always loved all kinds of heavy music and over the years I wanted it more and more progressive and broader. It goes in all kinds of directions and of course there is the black metal part of it. The main three elements are the eighties thrash metal, the heavy rock from the seventies and the black metal from the nineties. This is where I will forever stay in music. I love all those kinds of styles and I want to keep it open for all these elements. This kind of sums up the mixture of these things for Vreid. I should even say, things from The Beatles or The Rolling Stones. There is quite a clear connection to the music that we make today. It is not that different. Sound-wise it is very different, play-wise it is different, but the elements and the tone are similar.
I am quite often surprised when we sometimes play a Beatles song for fun, how easily it can end up into a black metal vibe if you add different elements. The lines between the sixties and the seventies to the extreme metal, these are not that different.  It is a different art and how it is put together, but it is made with same ingredients.  It is hard to explain to people, but it is clear to me. I cannot understand really that people don't see the connection, but some people struggle with that. Maybe it is because I analyze music. I can still discover new aspects in music I listen to and that is the fun of it. That's why it is dear to me. I think that is the beauty of music, that you always can rediscover something in a great record.
I can understand, I still listen to 'The Dark Side Of The Moon' (Pink Floyd)…
When we were making the movie I was watching Pink Floyd 'Live At Pompeii' again. It is so fantastic and I had not seen it for quite a few years now. I saw so many elements which are amazing again. It was a new rediscovery. When I read reviews and people make these connections, maybe they will check out our inspirations again. That is fantastic. That is one of the things I want with my music. I want them – of course – appreciate what we do, but I also want them kind of use our music as a gatekeeper to find other bands and other great albums from the past.
What are the plans for the near future, as far as we can plan now?
Well, the plan was actually to do some streaming for the movie. So hopefully we can do around the release date some cinema streaming in Norway and maybe some small club shows in Norway in venues we are connected with. That is what we hope. We have to see week by week and whenever they allow it, we will start playing again. Also on the day before the release we will do a big streaming event of the movie on line, that is already announced. That is kind of our priority now and after that, hopefully some shows, but who knows?
What is your favourite movie?
Oh so many, but I think 'Das Boot', I love that one and the Twin Peaks series by David Lynch. These are two of my absolute favourites, these I have seen over and over again. The first time I saw it, I was only 12/13 years and we had only one TV channel in Norway. There we not so much exciting things going on there and then this came… completely disturbing. I was like breathtaking, I could not sleep for weeks and felt like I was living in Twin Peaks. I could see similarities from that society to the society we grew up in. So it was more scary than watching a zombie movie or whatever they broadcasted.
What similarities did you see then?
How they profiled the everyday life, you know. There were so many characters in that movie. How they were acting, it was like teenagers growing up. All that kinds of hidden darkness that you can find in a small societies and how they are connected with the world we are actually living in. That is what made me the most scary, this connection in our environment. It does not have to happen in Twin Peaks or the US, it could happen on the west coast of Norway.
The title 'Wild North West' gives a hint to the US…
Of course, it is an American reference with humour. I always liked the spaghetti western movies. There is always something that inspires me. The artwork from the album cover too, it is actually inspired by the classical duel scenes from the western movies. 'The Good, the Bad & the Ugly' and stuff like that. Same goes for the album title. The artwork was inspired by the posters of the sixties and the seventies for the spaghetti westerns and Twin Peaks movies and something like that. It was done by Remi Juliebø who did the 'Lifehunger' artwork as well. He is an amazing artist. He draws everything by hand and he is so talented. I give him a lot of ideas and he brings back many weird and absurd things and then I kind of pick and choose the stuff. It is great to work with an artist that understands what you want to do and also brings his whole own identity into the project. For me the artwork is very important. It is something that I want to bring in the live show and as a part of the movie and everything. So it is all connected.