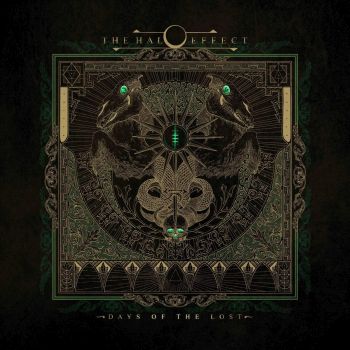 "Het is hartverwarmend om deze echelons in de Zweedse melodieuze death metal scene met zoveel plezier bezig te horen in deze collectie nieuwe songs. We hebben er een nieuwe aanwinst bij en als fan van het genre kan je er niet omheen"
Vera Matthijssens  I 5 oktober 2022

Maanden vooraleer dit debuutalbum 'Days Of The Lost' van The Halo Effect uitkwam, noteerden we de naam van deze nieuwe band om in de gaten te houden. Er broeide namelijk iets in Gothenburg, waar vijf ouwe kameraden elkaar terugvonden tijdens de covid-19 periode om de vrije tijd te benutten om creatief te zijn.
Tegenwoordig wordt er al een tijdje lyrisch gedaan over ambachtelijke producten. Wel, dit is het ware artisanale recept voor melodeath metal dat ontstond in de jaren negentig en ook de dag van vandaag nog wereldwijd gekopieerd wordt. The Halo Effect kreeg vorm tijdens de pandemie en bestaat uit vijf vrienden die ooit naam gemaakt hebben als pioniers in deze melodieuze death metal stijl uit de befaamde Zweedse havenstad Gothenburg. Allen hadden ooit wel iets te maken met In Flames en zanger Mikael Stanne is ook nu nog de frontman en tekstschrijver bij Dark Tranquillity. In The Halo Effect treffen we gitaristen Jesper Strömblad en Niclas Engelin aan als heersers over riffs en sterke melodieën, terwijl de ritmesectie, bestaande uit Peter Iwers op bas en Daniel Svensson op drums ook al decennia ervaring kan voorleggen. Gedurende de lege dagen tijdens de covid-19 pandemie besloten zij samen terug muziek te gaan maken in de stijl van vroeger, maar met de kennis van nu.
Het wordt een feest van herkenning vanaf begin tot einde, met tien compacte songs die charmeren met aanstekelijke refreinen, sierlijk maar heftig gitaarwerk en een weemoedige toon in de teksten. Wanneer de intro van 'Shadowminds' drums en speelse elektronica combineert tot de gitaren aanzwellen tot een ravissante eruptie, dan duikt het rad van Gothenburg zo op voor je geestesoog. Mikael Stanne heeft een uit duizenden herkenbare ruwe grunt die toch verstaanbaar is. Met speelse gitaarornamenten werkt men zich doorheen knallende oorwurmen als het lekker beukende titelnummer, het epische maar catchy 'The Needless End' en het raggende 'Conditional'. Hier zijn de meesters aan het werk!
In 'In Broken Trust' en 'A Truth Worth Lying' wordt de ruwe zang afgewisseld met enige lijntjes cleane zang en dat is zoals steeds hartverwarmend pakkend. Tussendoor schuiven ze nog een knaller van jewelste als 'Gateways' onder je neus en voor je er erg in hebt zit je al aan het einde van de rit met het lichtjes weemoedige 'The Most Alone'. The Halo Effect heeft in het van strijkers voorziene 'Last Of Our Kind' inmiddels dan ook nog bezoek gekregen van superfan Matt Heafy (Trivium) om enkele zinnen te brullen, maar meer Gothenburg kan het niet worden. Het is hartverwarmend om deze echelons in de Zweedse melodieuze death metal scene met zoveel plezier bezig te horen in deze collectie nieuwe songs. We hebben er een nieuwe aanwinst bij en als fan van het genre kan je er niet omheen.