SUMO CYCO release video for Cyclone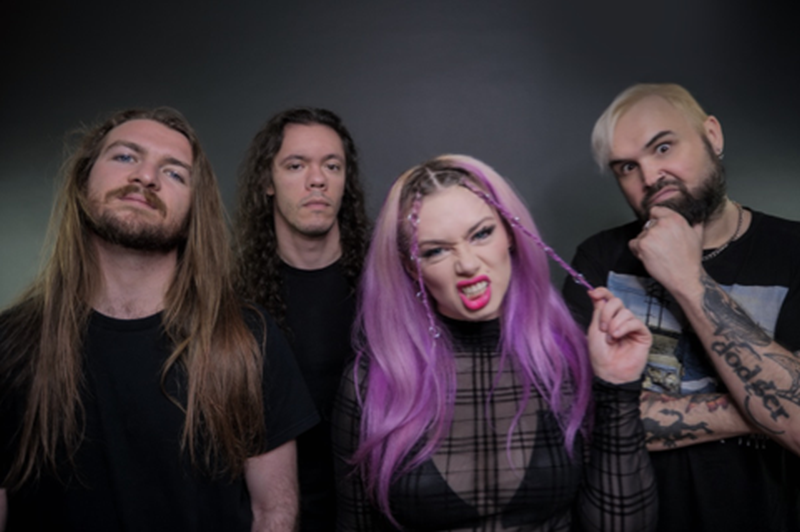 Canadian crossover band SUMO CYCO released a newmusic video for the track "Cyclone". The song is taken from last year's release Initiation, which came out on Napalm Records.
Watch "Cyclone" below.
Frontwoman Skye "Sever" Sweetnam says about the "Cyclone" video:"'Cyclone' was written about the unpredictable scenarios life can throw at us all. We just have to hang on."
About SUMO CYCO and Initiation: Over the course of the past several years, Ontario, Canada's SUMO CYCO – featuring teen pop-superstar/songwriter turned rock goddess Skye "Sever" Sweetnam as well as producer/guitarist Matt "MD13" Drake and bassist Oscar Anesetti – have proven themselves as one of the hardest working DIY-to-overnight sensation stories in heavy music, boasting an undeniable following of fans with their impressive mixture of metal, pop and everything in between. Even after garnering early viral acclaim and signing to Napalm Records in 2020, the band's seasoned DIY attitude and self-starting viral savvy continues to propel their creativity at every step, converting audiences all around to their infectious world of sound!       Prior to signing with Napalm Records, SUMO CYCO won awards such as "Best Female-Fronted" band at the Toronto Independent Music Awards, top finalist in the John Lennon Songwriting Competition, Indie Week Canada "Best of the Fest" (prize included a trip to play Indie Week Ireland), as well as Best Hard/Loud Recording at the Hamilton Music Awards 2015. The band has shared stages with The Offspring, Coal Chamber, Our Lady Peace, Life of Agony, Hollywood Undead, Jinjer, The Birthday Massacre, Nonpoint, Butcher Babies, and FOZZY to name a few.   After launching their most recent, breakout album Initiation (2021) with the hooky hit "Bystander" (which recently hit the 1 million views mark on YouTube) it was immediately clear that SUMO CYCO is lightning in a bottle. Garnering hundreds of thousands of cross-platform streams and nearly instantaneous, rabid response to their self-produced music videos, the band turned the heads of fans and critics alike! Alternative Press dubbed SUMO CYCO a "New Artist You Need To Hear" and Kerrang called the album "a breathless blur of energy and action". Revolver praised the band's first single as "…ridiculously catchy…" and SiriusXM's Jose "Metal Ambassador" Mangin,  who said "…the chorus will stick in your head for days to come…", went on to feature it on Octane and Liquid Metal. Upon release, the album landed at #1 on both the Canadian and UK iTunes Metal Charts, and within the top 5 in the United States.        Initiation invites a mass of new followers into SUMO CYCO's warped, dystopian-like world of "Cyco City"! As with their prior full-length albums Lost In Cyco City (2014) and Opus Mar (2017), and countless singles, Initiation is based in the imaginative conceptual location of the same name. Last fall, SUMO CYCO took the album a step further and dropped the official Digital Deluxe Edition of Initiation, featuring peppy new single "Sun Eater", plus additional limited edition tracks "New Jive", "We Are The Nation" and "Awakened".
Order Initiation & the Initiation Digital Deluxe Edition AT THIS LOCATION.