SODOM releases new single and video for the song "Friendly Fire" today SODOM releases new single and video for the song "Friendly Fire" today
– New album Genesis XIX out November 27th, 2020  on STEAMHAMMER-
German Thrash Metal legends SODOM will release their new single and video for the song "Friendly Fire" today. The song is taken from the upcoming studio album "Genesis XIX".
Watch the lyric video for "Friendly Fire" below.
Tom Angelripper: "So, here it is … my favourite on this album. I can hardly believe or indeed describe how much I love this song. I'm pretty sure it sets the direction for our next album. And in the meantime, I'm convinced that it's the clever sequence and combination of notes in our twelve equal system that makes music (… generally …) so diverse. Lord, I wish we'd known that back then … Often in a war situation, soldiers find themselves having to direct their weapons against their own comrades who are holed up close to enemy positions. These victims were accepted as part and parcel of the overall victory. Large numbers of supposed enemy planes were also shot down …"
Watch the previosuly released lyric videos for "Indoctrination" and "Sodom & Gomorrah below.
Tracklisting:
1. Blind Superstition 1:02
2. Sodom & Gomorrah 4:06
3. Euthanasia 3:54
4. Genesis XIX 7:09
5. Nicht mehr mein Land 4:29
6. Glock N' Roll 5:02
7. The Harponeer 7:10
8. Dehumanized 3:53
9. Occult Perpetrator 4:53
10. Waldo & Pigpen 6:26
11. Indoctrination 3:10
12. Friendly Fire 3:36
Genesis XIX will be released as a CD DigiPak version, 2LP gatefold version, exclusive bundle versions with mask (only at the Steamhammer shop), download and stream through SPV/Steamhammer webshop.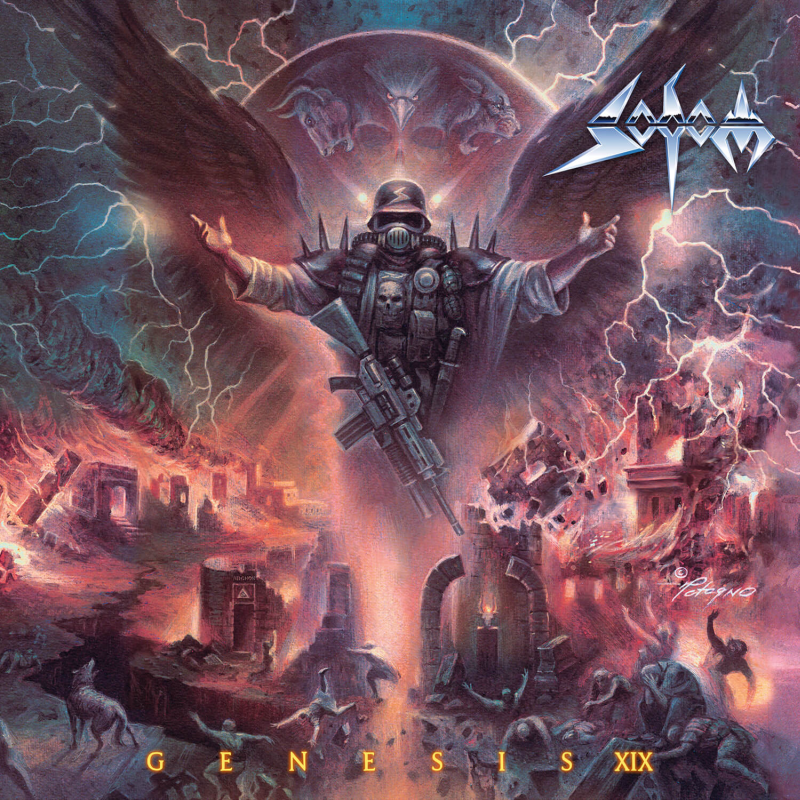 LINE UP:
Tom Angelripper – bass, vocals
Frank Blackfire– guitars
Yorck Segatz – guitars
Toni Merkel– drums
13.03. RUS-Moscow – Klub 1930
14.03. RUS-St. Petersburg – Klub Opera
27.03. GR-Athens – Gagarin 205
28.03. GR-Thessaloniki – Principal Club Theater
29.05. DE-Berlin – Thrashfest Berlin (with Tankard, Legion Of The Damned etc…)

30.-31.07. CZ-Ostrava – Ostrava v Plamenech
05.08. NO-Bergen – Beyond The Gates X
19.-21.08. AT-Spital am Semmering – Kaltenbach Open Air
25.09. IT-Trezzo Sull'adda – Metalitalia.com Festival

30.10. MX-Monterrey – Mexico Metal Fest
Check de onderstaande socials voor meer informatie over deze band.