MACHINE HEAD's ROBB FLYNN reunites with AHRUE LUSTER for 'The Burning Red' album playthrough (video) On Friday (July 29), MACHINE HEAD frontman Robb Flynn teamed up the band's "The Burning Red"/"Supercharger"-era guitar player Ahrue Luster to celebrate 23 years of "The Burning Red" with a Facebook Live and YouTube playthrough of the entire album.
Reuniting for the first time in nearly 20 years, Robb and Ahrue delivered crushing renditions of the LP's 10 original songs, including contemporary live classics like "From This Day" and "The Blood, The Sweat, The Tears" alongside deep cuts "Devil With The King's Card" and "I Defy", plus the emotionally heavy "Five" and the title track. And if that wasn't enough, Robb and Ahrue treated viewers to some select "Supercharger" tracks like "Bulldozer" and "Crashing Around You", plus covers  of SEPULTURA's "Roots Bloody Roots" and IRON MAIDEN's "The Number Of The Beast".
Watch the footage below. 
MACHINE HEAD bassist/backing vocalist Jared MacEachern contracted COVID-19 and was unable to attend the session. However, he managed to record his bass parts for the playthrough while convalescing at home, so the audio quality was not affected.
Released in 1999, "The Burning Red" included the singles "From This Day" and "Silver". The band chose the CD title, and particularly the color red, as a metaphor for the music on the album. "Typically, the color red represents a lot of things, like blood, death, and on the other side, it can represent like love and beauty and lust," Luster said in an interview that was published shortly after the LP's release. "We thought that this record had a lot of contrast to it because it has things that are really heavy going into things that are really beautiful and melodic. The color red is like a metaphor for the record. 'The burning red' just means that it is just that intensified."
MACHINE HEAD's work on its third album did not go unnoticed by the press. Don Kaye wrote in Metal Edge: "On 'The Burning Red', the band seems to have found the perfect balance of musicality, aggression, experimentation, and songcraft, melding an abundance of styles into a seamless whole that is MACHINE HEAD's heaviest, yet most accessible, work to date."
"I think that on this one, we went for it a lot harder and didn't hold anything back," Flynn told Blistering.com. "We tried to challenge ourselves and tried to go places that we hadn't been and other places that other bands were not going."
Back in February 2011, "The Burning Red" was certified silver by the BPI (British Phonographic Industry) for sales in excess of 60,000 copies in the United Kingdom.
MACHINE HEAD's tenth studio album, "Of Kingdom And Crown", will be released on August 26 via Nuclear Blast/Imperium Recordings.
The follow-up to 2018's "Catharsis", "Of Kingdom And Crown" includes the three songs that were featured on last year's "Arrows In Words From The Sky" single: "Become The Firestorm", "Rotten" and "Arrows In Words From The Sky". Much of the new MACHINE HEAD album was recorded at Sharkbite Studios in Oakland, California with engineer/producer Zack Ohren.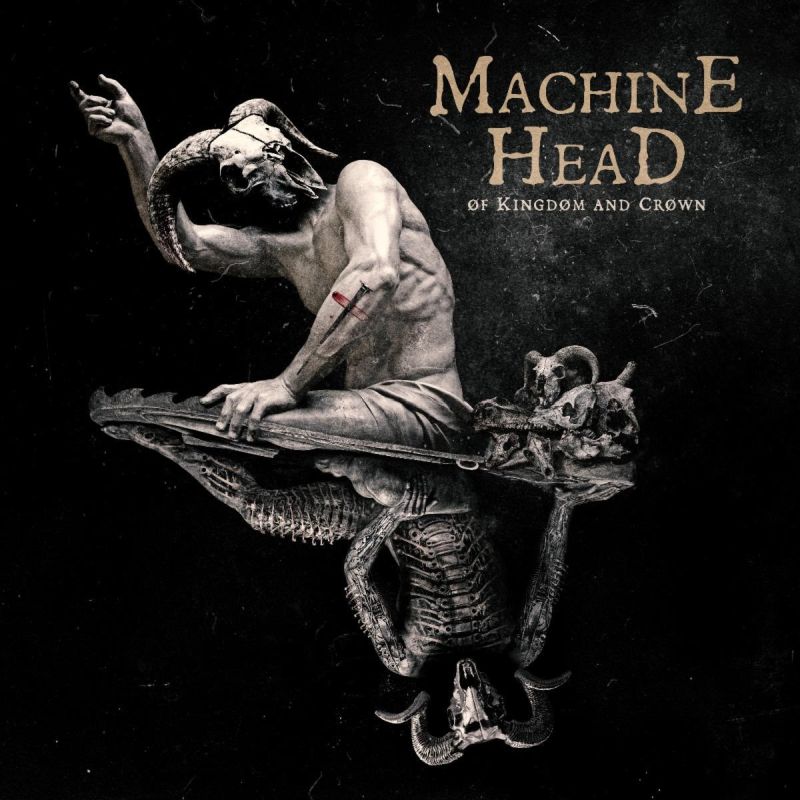 'ØF KINGDØM AND CRØWN' is a 13 track concept album set in a decimated futuristic wasteland where the sky is stained crimson red. The crux of the story is based on 2 main characters:
 
Character #1 Ares: (pronounced Aries), our main, who loses the love of his life (Amethyst) and goes on a murderous rampage against the vile sect responsible for her murder.
 
Character #2 Eros: (pronounced Arrows) the perpetrator, who loses his mother to a drug overdose and becomes radicalized in the aftermath. Eros goes off the deep end manifesting his own killing spree.
 
The lyrics detail how their lives intertwine.
 
MACHINE HEAD founder Robb Flynn comments:
"Thanks to my 2 teenage boys my family has become obsessed with this awesome Japanese anime series called "Attack On Titan." The album's concept was loosely inspired by the series in the sense that in the storyline, there is no "good" or "bad" guy, both characters believe they're doing the right thing as it applies to their being, but make no mistake, both are committing acts of pure atrocity and evil. The opening track "SLAUGHTER THE MARTYR" is basically our character #1's origin story."
 
The colossal concept comes with a list of equally colossal packaging for various physical formats including 16 different worldwide vinyl formats, deluxe vinyl box set (with bonus tracks), CDs (both old-school longbox and jewel box options), multi-color cassettes, and a limited-edition Digipak with bonus tracks.
 
CDs, Digipak, cassettes, and all digital formats will be available on Aug 26th, with all vinyl formats arriving on Nov 25th.
ØF KINGDØM AND CRØWN
MACHINE HEAD
Track Listing:
1. SLAUGHTER THE MARTYR
2. CHØKE ØN THE ASHES ØF YØUR HATE
3. BECØME THE FIRESTØRM
4. ØVERDØSE
5. MY HANDS ARE EMPTY
6. UNHALLØWED
7. ASSIMILATE
8. KILL THY ENEMIES
9. NØ GØDS, NØ MASTERS
10. BLØØDSHØT
11. RØTTEN
12. TERMINUS
13. ARRØWS IN WØRDS FRØM THE SKY
PRE-ORDER MACHINE HEAD'S NEW ALBUM "ØF KINGDØM AND CRØWN" AT THIS LOCATION.
Catch MACHINE HEAD on the road across Europe, starting in August. For ticket information, click AT THIS LOCATION.
Electric Happy Hour Live:
August 31 – Glasgow @ Garage (SOLD OUT)
September 2 – Inverness @ Ironworks
September 4 – Aberdeen @ Lemontree (SOLD OUT)
September 5 – Dundee @ Fat Sams
September 6 – Edinburgh @ Liquid Room (SOLD OUT)
  
Machine Head & Amon Amarth "Vikings & Lionhearts" Tour Dates:
 
SEPTEMBER
08th      NOTTINGHAM, Arena
09th      CARDIFF, Arena
10th      LONDON, Wembley Arena
12th      MANCHESTER, Arena
13th      DUBLIN, 3 Arena
16th      ZURICH, Hallenstadion
17th      VIENNA, Stadthalle
18th      KRAKOW, Tauron Arena
20th      TALLINN, Saku Arena
21st       HELSINKI, Ice Hall
23rd      OSLO, Spektrum
24th      STOCKHOLM, Hovet
26th      COPENHAGEN, Forum Black Box
27th      HAMBURG, Barclays Arena
28th      FRANKFURT, Festhalle
30th      OBERHAUSEN, König Pilsener Arena

OCTOBER
01st      BERLIN, Velodrom
02nd     AMSTERDAM, Afas Live
04th      MILANO, Lorenzini District
06th      BARCELONA, Sant Jordi
07th      MADRID, Vistalegre
08th      LA CORUNA, Coliseum
09th      LISBON, Campo Pequeno
12th      PARIS, Zenith
14th      MUNICH, Olympiahalle
15th      LEIPZIG, Arena
16th      PRAGUE, Tipsport Arena
18th      BUDAPEST, Barba Negra
20th      ESCH SUR ALZETTE, Rockhal
21st      BRUSSELS, Forest National
22nd     STUTTGART, Schleyerhalle