POWERWOLF honors ALICE COOPER's 75th Birthday with cover of iconic single, "Poison"
Special album, Interludium, to be released on April 7, 2023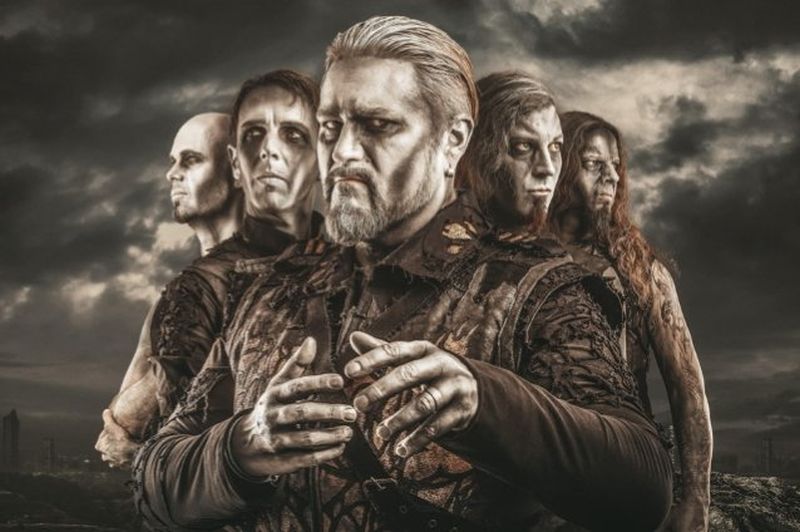 ALICE COOPER is inarguably one of the biggest names in the history of rock music. To honor his 75th birthday on February 4, 2023, POWERWOLF has released a cover version of his larger-than-life song "Poison". The 1989 hit single from the legendary album Trash is an absolute evergreen and known by every rock and metal fan worldwide. POWERWOLF pays tribute by adding their trademark sound to the song, without sacrificing the iconic structure of the original.
POWERWOLF on the cover:
"Over the years we have released several cover songs to pay tribute to artists / bands that we personally hold in high regard. With "Poison", Alice Cooper has created a timeless classic and we could not miss the opportunity to celebrate his 75th birthday (on February 4) with our own version."
Just in time for the highest Christian holiday, Easter 2023, another highlight of the band's discography,the special album Interludium, will be released on April 7, 2023. The new release features six new studio tracks, including the single "Sainted By The Storm", which was already celebrated on the band's exhilarating Wolfsnächte 2022 headline tour, as well as one of the most intense tracks in the band's history, "My Will Be Done". Interludium also features gems and rarities from the band's history, such as "Midnight Madonna" and "Living On A Nightmare". nterludium Tracklisting :
1. Wolves Of War           
2. Sainted by the Storm              
3. No Prayer At Midnight            
4. My Will Be Done        
5. Altars On Fire              
6. Wolfborn      
7. Stronger Than The Sacrament             
8. Living On A Nightmare            
9. Midnight Madonna  
10. Bête du Gévaudan 
 
Interludium will be available in various formats:
3 LP Vinyl Transparent / Black in Cardboard Box (1-LP Gatefold + 2 x Bonus Album in Slipcase) with Slipmat – strictly limited to 300 worldwide (Napalm Records Shop exclusive)

3 LP Vinyl Marbled Green / White / Black in Cardboard Box (1-LP Gatefold + 2 x Bonus Album in Slipcase) with Slipmat – strictly limited to 300 worldwide (Powerwolf Shop exclusive)

3 LP Vinyl Marbled Black / Red in Cardboard Box (1-LP Gatefold + 2 x Bonus Album in Slipcase) with Slipmat – strictly limited to 400 worldwide (EMP exclusive)

3 CD Earbook with 96 pages booklet – strictly limited to 1500 worldwide

2 CD Mediabook with 48 pages booklet, incl Communio Lupatum II bundled with ticket for Un Holy Metal Mass in Cologne

2 CD Mediabook with 48 pages booklet, incl Communio Lupatum II with Aluminium Chalice (Capacity: 0,6l, Height: 20cm, Weight: 750g) – strictly limited to 500 worldwide (Napalm Records Shop exclusive)

2 CD Mediabook with 48 pages booklet, incl Communio Lupatum II

1 CD Jewel Case

1 LP Gatefold with poster

2 Music Cassette – strictly limited to 300 worldwide

Digital Deluxe Album

Digital Album
 
One day before the release of the special album Interludium, POWERWOLF will celebrate Easter with their devotees at Palladium in Cologne. The album release show will be one of the biggest concerts in the history of the band and a once in a lifetime experience for each POWERWOLF fan!
 
Exclusive "Interludium" Release Show:
06.04.23 DE – Cologne / Palladium
 
Festival Shows 2023:
02.-04.06.23 CZ – Pilzen / Metalfest
04.06.23 HU – Budapest / Barba Negra Open Air
06.06.23 RO – Bukarest / Romexpo
07.-10.06.23 AT – Nickelsdorf / Nova Rock Festival
17.06.23 FR – Clisson / Hellfest
22.-24.06.23 NO – Oslo / Tons Of Rock
28.06.-01.07.23 ES – Galicia / Resurrection Fest
15.07.23 DE – Saarbrücken / SB Open Air
11.-13.08.23 BE – Kortrijk / Alcatraz
16.-18.08.23 DE – Dinkelsbühl / Summer Breeze
17.-19.08.23 DE – Sulingen / Reload Festival
26.08.23 DE – Gießen / Gießener Kultursommer