PARADISE LOST announce 'Embers Of Europe' fall 2023 tour with MY DYING BRIDE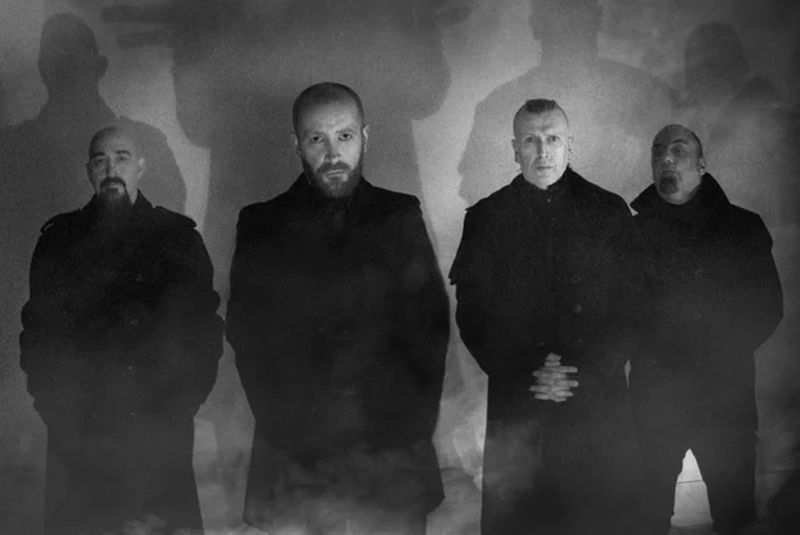 British gothic metal pioneers PARADISE LOST will celebrate the 30th anniversary of their fourth album, "Icon", by embarking on the "Embers Of Europe" tour in the fall. Support on the trek will come from MY DYING BRIDE.
So far the following shows have been announced:
Dec. 01 – Shepherds Bush Empire – London, UK
Dec. 14 – St George's Hall – Bradford, UK
Tickets and "Icon" collectors' edition vinyl plus tickets bundles go on sale this Friday, June 2 at 10 a.m. PARADISE LOST singer Nick Holmes says: "Our specific record deal around the time we signed for the 'Icon' album meant we would never actually own the rights to our music or artwork, so going forward, to reissue the album ourselves for the 30th anniversary, it was necessary to re-record and completely re-do the album cover.
"Re-recording 'Icon' has not only enabled us to release it as a series of collectors editions on vinyl but it was also great to revisit some songs from a lifetime ago. Nothing can replace those original recordings or ever will, they are a nostalgic part of all our lives but it has been a lot of fun revisiting those early MFN days once again, and I hope the end result displays that!"
The tour announcement comes a little over a week after PARADISE LOST revealed it was re-recording "Icon" for a special new release. There will also be "an extra special vinyl" version of the album.
PARADISE LOST wrote on social media: "'Icon', our fourth album was released in 1993 and for it's 30th anniversary, we're re recording it and doing an extra special vinyl release. That's all we can share for now, but watch this space for more information and a few special announcements very soon!"
"Icon" marked a departure from the death-doom sound of PARADISE LOST's early work and was the last album to feature Matthew Archer on drums.
The album's opening track 'Ember's Fire' won an MTV Headbanger's Ball viewers award for best heavy metal video of the year.
In February 2018, "Icon" was inducted into the Decibel "Hall Of Fame", with the magazine naming it influential to the development of the gothic metal subgenre.
Formed in Halifax, West Yorkshire, in 1988, PARADISE LOST were unlikely candidates for metal glory when they slithered from the shadows and infiltrated the U.K. underground. But not content with spawning an entire subgenre with early death/doom masterpiece "Gothic" nor with conquering the metal mainstream with the balls-out power of 1995's "Draconian Times", they have subsequently traversed multiple genre boundaries with skill and grace, evolving through the pitch-black alt-rock mastery of 1990s classics "One Second" and "Host" to the muscular but ornate grandeur of 2009's "Faith Divides Us – Death Unites Us" and "Tragic Idol" (2012),with the nonchalant finesse of grand masters. The band's "The Plague Within" (2015) and "Medusa" (2017) albums saw a much-celebrated return to brutal, old-school thinking, via two crushing monoliths to slow-motion death and spiritual defeat.
PARADISE LOST's latest album, "Obsidian", was released in May 2020 via Nuclear Blast.
In 2008, speaking to Kerrang! about the album's music, Nick Holmes remembered:
"We were pretty much the first band to coin the phrase 'gothic metal' so I don't have a problem with that label. We've actually done gothier albums than Icon, but if people want to say that it sums up something that's fine with me. At the time there was also black metal, thrash metal and everyone wanted to describe what type of something was so we went 'Okay, we've got The Sisters of Mercy elements in our music, let's call it goth metal'. We were getting better as musicians as well and I was hopefully getting better as a vocalist. When that happens you want to fine-tune what you're doing. It's also about not wanting to get stuck or pigeonholed into one particular musical place. We've kept the whole gothic thing going right throughout our career, but we did want to do something a little different. With the vocals, a lot of it was kind of shouting in key as opposed to just shouting, it's okay singing like Beelzebub, but your voice can get into trouble if you have a big tour."