NITA STRAUSS rejoins ALICE COOPER for 2023 tour dates Nita Strauss, the top-rated guitarist who had been with Alice Cooper for several years until she departed to do a fall 2022 tour with Demi Lovato, will be returning to Alice's band for his 2023 tour, Cooper's management disclosed today.
The Alice Cooper North American tour, with an all-new show dubbed "Too Close For Comfort", kicks off in late April in Michigan and continues through late September, including a handful of August stadium shows with DEF LEPPARD and MÖTLEY CRÜE, Followed by a co-headlining late summer "Freaks On Parade" tour with Rob Zombie.
Said Alice: "She's Back! Nita asked for a leave of absence to work with someone else, something I always encourage my band members to do. I like them to challenge themselves and try new things. I'm thankful to my old friend Kane Roberts for stepping up and filling in for her, but she'll be back with us for the new tour that starts up in late April. It's going to be great to have her back."
Nita commented: "From the studio to the stage, it's always an immense honor to make music with Alice Cooper!! I'm very excited to be rejoining the band on the road for the 2023 dates, and so I'll see you on the road in April. Let the nightmare return!"
Strauss commented in August 2022 that she "didn't necessarily felt she left Alice Cooper", after joining the live band of Demi Lovato.
"It's an interesting thing that everyone's picked up saying it's a 'departure' but I don't feel, necessarily, that I left. I took a step back and I'm stepping back from this upcoming tour, but I don't think anyone has ever used the word quitting or leaving outside of other people. When I had my last few shows with Alice, we had what Alice called a 'Hiatus Dinner' where he said 'We wish you the best, we love you, you're welcome back'. There's no shutting of a door and changing of the guard, it's just I'm taking a step back a little bit. Depending on what the schedule looks like next year, I may have the chance to come back, I may not. But it definitely doesn't feel as final to me and to the people in Alice's band and the inner circle as it has been portrayed out in the world."
Regarding how she ended up playing with Lovato, Nita said: "So I actually got a text from Demi's musical director when I was on the road with my solo band on the BLACK LABEL SOCIETY tour, and essentially what it said was what we all know now: Demi is a huge rock and metal fan. And Demi wants to go back to her roots and wants to put together an all-female rock band. She's really one of the biggest stars in the world and she wants to take a step into our genre and this style of music that we love so much. When you get that text, that somebody wants to bring that type of music to the forefront, how do you say no? How do you turn down this opportunity to bring this style of music to so many more people? So I was thrilled to hear about it and I jumped at the opportunity. This was all way back in May. It's been in the works for a really long time."
She continued: "I've seen a lot of stuff out there saying, 'She jumped ship really fast'. There was nothing that happened fast, I think people just found out about it all at once. First and foremost, I went to Alice and (his wife) Sheryl for their blessing which they were so happy to give. Then I went to Alice's management and started rehearsal with Demi. I did my first TV appearance with Demi, I believe it was three days after the last Alice show, so it was really out of the frying pan and into the fire. But her team has been really fun to work with, the band is incredible, the musical director, Demi herself, it's just been a really good experience overall."
Nita made her live debut with Demi on July 14 with a performance of Lovato's new single, "Substance" on ABC's Emmy Award-winning late-night show "Jimmy Kimmel Live!".
Strauss had been playing with Cooper since 2014 when she replaced Australian musician and former Michael Jackson player Orianthi. She joined Alice in time for a mammoth MÖTLEY CRÜE tour. She was recommended to Cooper by the legendary rocker's former bass player and WINGER frontman Kip Winger.
Back in February, Nita told SiriusXM's "Trunk Nation With Eddie Trunk" about her upcoming LP: "It's gonna be half and half — six tracks with vocalists and six tracks of instrumental music. We've been doing 'Dead Inside' live on the solo tour and it's been getting a super-good reaction from our crowds. So I think the next single will be instrumental — kind of go back to the roots — and then another radio single after that."
Asked if she could talk about some of the other guests that appear on her new solo album, Nita said: "Not just yet. I will say that we've got a really, really cool blend of some legacy people as well as some new singers that I'm really excited about, and some amazing male vocalists and some incredible female vocalists as well."
In early December, Nita told "The Mistress Carrie Podcast" about her decision to make the upcoming LP half vocal songs and half instrumental: "I did feel, and the label and everybody agreed, it's still important for me to keep my identity as a guitar player and not just branch off too much and go, 'Okay, well, now it's just guests.' Let me still have a little of what makes me me, which is the instrumental shred stuff. And the instrumental pieces that I've written on this record are, I think, better than anything I did on the first one — definitely more… I don't know if it could be more emotional but they're very emotional pieces of music and I think a little better crafted this time around. So I think all the songs in general are more well thought out, better put together this time around. And I do have some of my absolute favorite singers guesting on it. I have three amazing powerhouse female vocalists on this album so far."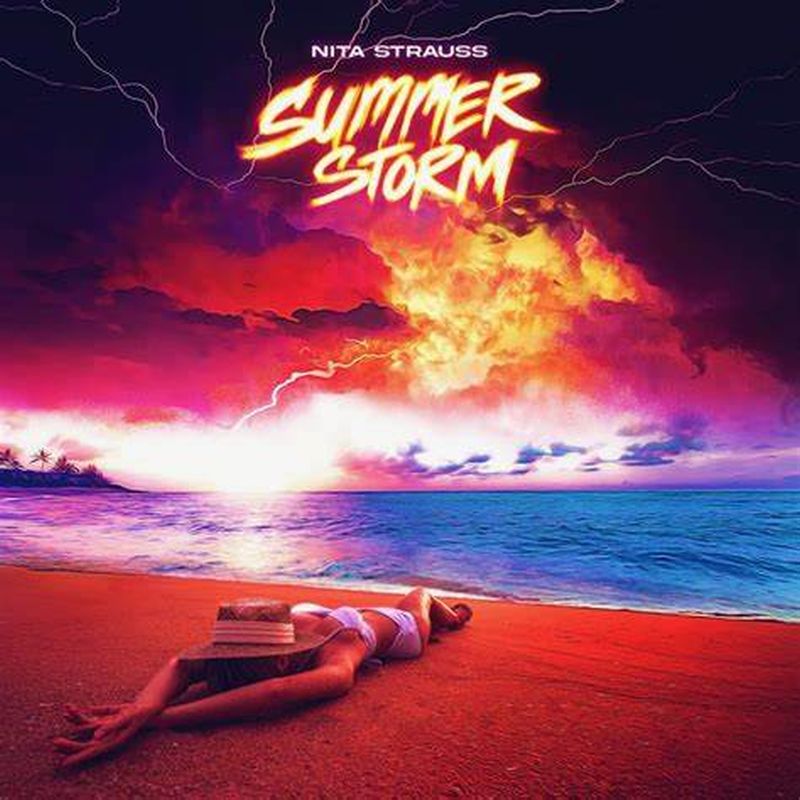 Nita also participates in health stimulation, with her Nita Strauss "BODY SHRED!" fitness challenge. From lifting weights to Muay Thai and Jiu Jitsu and having her very own 90 day 'Body Shred' Fitness Challenge, she has built a community of support and accountability for music enthusiasts to get fit. She furthermore states she will never drink alcohol ever again, which she stopped in 2015.  Nita was also the first ever female guitar player to have her own signature model at Ibanez Guitars.