NIKKI SIXX confirms MÖTLEY CRÜE is writing new music: "we're 'just letting the songs guide us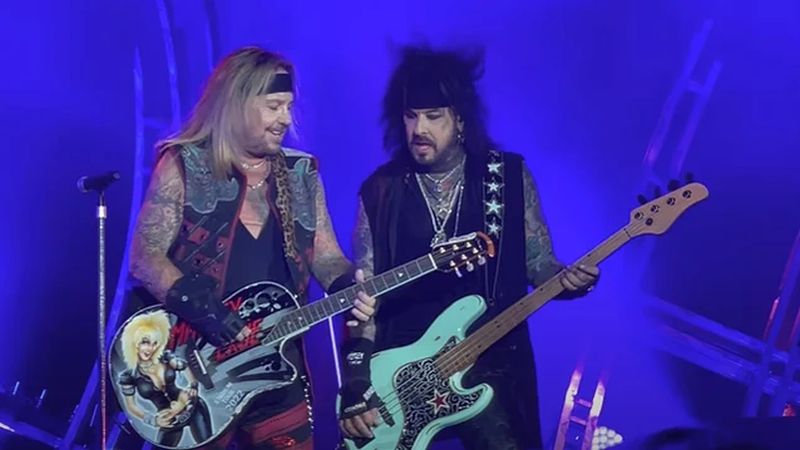 MÖTLEY CRÜE's Nikki Sixx has confirmed that the band is writing new music. Less than two weeks after tweeting that he and MÖTLEY CRÜE guitarist John 5 had spent some time "writing random riffs", the bassist returned to the social media platform to share an image of him, drummer Tommy Lee and John 5 playing and recording in a studio, along with the caption, "Another killer songwriting day with Tommy Lee and John 5." He offered more information in a follow-up tweet, writing: "We are writing. The creative process of songwriting has always been the heartbeat of our band. We're gonna go in the big studio next week and record a few off the floor and see where it goes. We don't have a definitive plan at this point. Just letting the songs guide us."
John 5 joined CRÜE as the replacement for founding guitarist Mick Mars, who announced last October he would no longer tour with the legendary rock act because of his long struggles with degenerative disease ankylosing spondylitis. Ankylosing spondylitis is a type of arthritis that causes inflammation in the spine joints and ligaments and can lead to stiffness over time, according to the National Institute Of Arthritis And Musculoskeletal And Skin Diseases.
In October, Sixx praised John 5, saying he "checks all the boxes" as Mars's replacement following the latter's decision to retire from touring. Sixx commented on John 5's addition to CRÜE while answering fan questions on Twitter. Asked why the band chose John 5, who is one of the credited co-writers on the three original songs on the soundtrack to MÖTLEY CRÜE's biopic "The Dirt", based on CRÜE's 2001 New York Times bestselling autobiography, Sixx said: "He checks all the boxes. He's a insane player. Has respect for our music, is funny as fuck and has history with us and we've written some pretty big hits together."
In addition to co-writing the three songs on "The Dirt", John 5 collaborated with Sixx and Desmond Child on Meat Loaf's "The Monster Is Loose". In 2021, Sixx and John 5 launched the L.A. RATS supergroup in which they were joined by Rob Zombie and drummer Tommy Clufetos.
A year ago, John 5, who previously played with MARILYN MANSON and ROB ZOMBIE, said that he was "so proud" of his involvement with "The Dirt" soundtrack. He said: "Me and Nikki wrote on that. And dude, I fucking MÖTLEY CRÜE, and it was so cool for it to come to fruition. And to hear Vince (Neil, vocals) and Tommy and Mick and, of course, Nikki doing that… I think that song really gave me a real excitement of collaborating with someone. And seeing the video and the history of it, it was really pretty incredible."
John 5 previously discussed his contribution to "The Dirt" soundtrack in a December 2019 interview with Milwaukee's 102.9 The Hog radio station. At the time, he said: "Me and Nikki are like two 15-year-olds who are just on the phone twenty thousand times a day and we hang out all the time. We'll go to the mall and we'll go ride bikes and we'll do ridiculous stuff like that. And so, of course, we like to play music together, and yeah, that's how that came about — writing music for 'The Dirt'. And those songs are killer."
He continued: "I'm so proud to be a part of MÖTLEY CRÜE history… And also, I wanna say, those guys — Mick and Nikki and Tommy and Vince — they just killed it in the studio too; it was, like, one or two takes. It's pretty incredible, it's pretty astounding what true professionals they are. It was really incredible."
Three years ago, John 5 was full of praise for Sixx, whom he called his "best friend." The guitarist told Outburn: "We love each other. He has inspired me and taught me so much about life in general. He's a phenomenal songwriter, lyricist, author, everything. He's always telling me to listen to this audio book or see this movie. He has a happy marriage, a happy life, a successful band he started from the ground up. He's one of the most inspiring people. He'll text me all the time to read something or try something. It's wonderful. He's a phenomenal photographer as well. I remember him telling me that he's going to take bass lessons again and get into playing with his fingers. He was so dedicated."
"The Dirt Soundtrack" featured four new MÖTLEY CRÜE songs, including the single "The Dirt (Est. 1981) (feat. Machine Gun Kelly)", and CRÜE's unlikely cover of Madonna's "Like A Virgin".
Earlier this month, Mars filed a lawsuit against MÖTLEY CRÜE, alleging his bandmates are trying to kick him out of the group and reduce his ownership stakes because of his debilitating illness.
We are writing.The creative process of songwriting has always been the heartbeat of our band. We're gonna go in the big studio next week and record a few off the floor and see where it goes. We don't have a definitive plan at this point.Just letting the songs guide us.

— 📷 (@NikkiSixx) April 13, 2023