VINCE NEIL says MÖTLEY CRÜE will embark on another stadium tour in 2024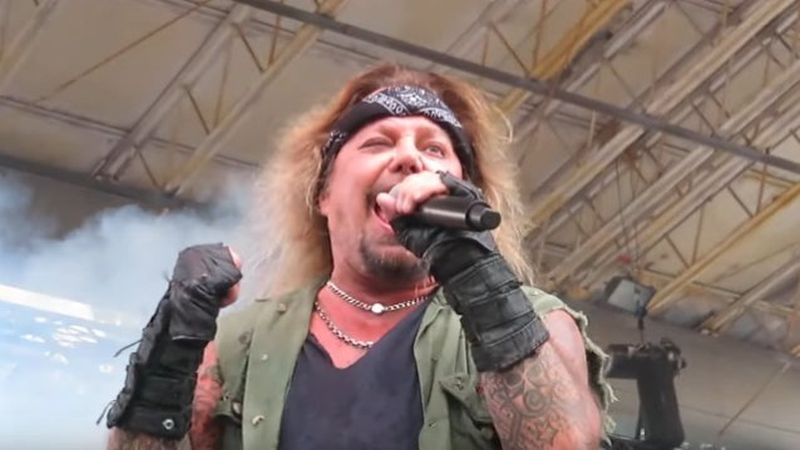 In a brand new interview with The Music Universe conducted this past Thursday (June 29), MÖTLEY CRÜE singer Vince Neil spoke about the band's secret club show in London, England under the pseudonym DÖGS OF WAR. He said: "Well, we went in the studio not too long ago — about six months ago — and recorded three new songs. And one of 'em is called 'Dogs Of War'. And we're doing a show tomorrow night at a club here in London under the name DÖGS OF WAR. And I guess word got out, 'cause it sold out in less than a minute. So it was pretty cool."
Circling back to the CRÜE recording sessions with longtime producer Bob Rock, Neil said: "It's neat. There's three brand new MÖTLEY CRÜE songs. And we're gonna film it tomorrow night. I hope people like it."
Asked what inspired him and his CRÜE bandmates to head back to the studio, Vince said: "Well, we've written the songs, and then we had Bob Rock, our producer, come in and take a listen to 'em too. We got some studio time and went in and recorded. I didn't record with the band, 'cause I'm in Nashville, and they're in L.A. They recorded the tracks in Nashville, and then I did like a Zoom call with the producer for three days. And I did all the songs. And they turned out really well. One of them is the BEASTIE BOYS song 'Fight For Your Right'… That turned out really cool."
Pressed about whether the three new songs might be a precursor to a new full-length album, Neil said: "I don't know if we're gonna do a whole album or not. We'll see how these songs go first."
Later in the chat, Vince talked about MÖTLEY CRÜE's plans for the coming months, saying" "We're gonna finish up. We have eight shows in the U.S. after our current European tour with DEF LEPPARD. Then we go to Australia and Japan. And then we do… I think we're gonna go back in the studio for a couple of more songs. And then we will announce a new stadium tour for next summer. And we're not sure who's gonna be on it, but there'll be another tour."
MÖTLEY CRÜE's concert at the Underworld saw Neil and his bandmates premiere their cover of BEASTIE BOYS' "(You Gotta) Fight For Your Right (To Party!)".
CRÜE and LEPPARD kicked off the European leg of their "The World Tour" on May 22 in Sheffield. The European leg will conclude on July 6 in Glasgow.
LEPPARD and CRÜE will team up with Alice Cooper for a U.S. mini-tour this summer. The trek will kick off on August 5 in Syracuse, New York and include stops in the Midwest before concluding in El Paso, Texas on August 18. Shows in Japan and Australia will follow in the fall.
In April, MÖTLEY CRÜE bassist Nikki Sixx said that he and his bandmates had completed recording several new songs with Rock.
MÖTLEY CRÜE's new guitarist John 5 told Sirius XM's "Trunk Nation With Eddie Trunk" about recording the group's new music with Rock: "Bob would come in and say, 'Okay, let's try this here, and that here and this here. It was one of the most incredible experiences ever… I'm thinking, 'We've got so much great technology today'… but we got in that room and it was like being in a garage working on a song when you were in high school… It was incredible, and we documented a lot of it too."
Regarding the musical direction of the tracks he and the rest of MÖTLEY CRÜE have recorded so far, John 5 said: "The songs are fucking heavy. I sound like a little excited kid right now, but they're heavy and they're mean. I can't wait for them to come out. I'm just so excited."
When host Eddie Trunk asked John 5 whether the new MÖTLEY CRÜE music can be compared to the band's breakthrough second album, 1983's "Shout At The Devil", the guitarist said that some of the new riffs are "heavier than anything" on that LP. "All I can tell you is that it's heavy and it's aggressive, and I think people are going to dig it because, talking as a fan, it's fucking badass," he said.
John 5 joined MÖTLEY CRÜE last fall as the replacement for the band's co-founding guitarist Mick Mars. Mick announced his retirement from touring with MÖTLEY CRÜE last October as a result of worsening health issues.
Mars suffers from Ankylosing Spondylitis (AS),a chronic and inflammatory form of arthritis that mainly affects the spine and pelvis. After years of performing through the pain, he informed the other members of MÖTLEY CRÜE last summer that he could no longer tour with them but would still be open to recording new music or performing at residencies that did not require much travel.
When Mars announced his retirement from touring with MÖTLEY CRÜE, he maintained that he would remain a member of the band, with John 5 taking his place on the road. However, in early April the 71-year-old musician filed a lawsuit against CRÜE in Los Angeles County's Superior Court claiming that, after his announcement, the rest of CRÜE tried to remove him as a significant stakeholder in the group's corporation and business holdings via a shareholders' meeting.