LIQUID TENSION EXPERIMENT Feat. Current And Former DREAM THEATER Members: 'LTE3' Album Due In March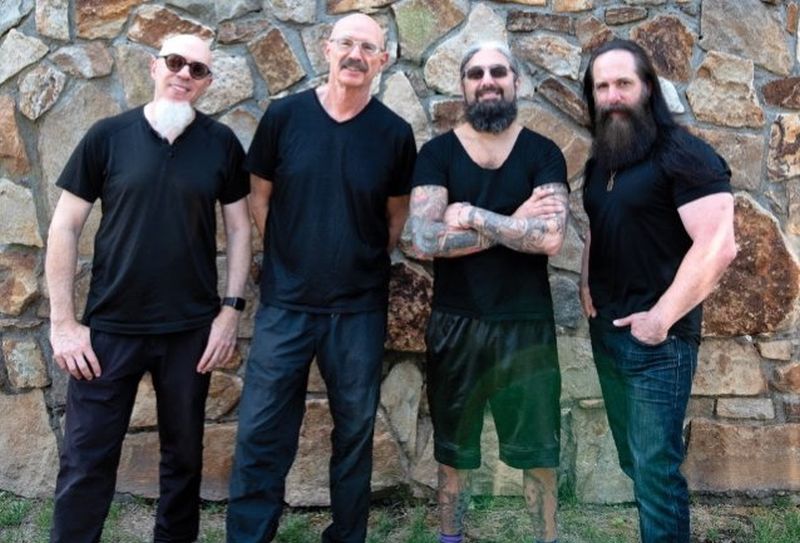 LIQUID TENSION EXPERIMENT, the instrumental progressive rock/metal project featuring DREAM THEATER keyboardist Jordan Rudess and guitarist John Petrucci, alongside ex-DREAM THEATER drummer Mike Portnoy and progressive rock icon Tony Levin (bass) of KING CRIMSON and PETER GABRIEL fame, will release its third album, "LTE3", on March 26 via InsideOut Music. The effort will arrive 22 years after the release of 1999's "Liquid Tension Experiment 2".
Said Petrucci: "After over 20 years since the last time we recorded together, the four of us stepped into the studio and it was as if no time had passed at all! All of the magic that made the first two LTE albums so special was still there and we had such a great time making this record. I'm extremely proud of what we created together and can't wait for everyone to hear it!"
Added Portnoy: "The best thing to come out of 2020 was this long-awaited reunion! And it was surely worth the wait as after all these years, the magic chemistry was still there and stronger than ever!"
"LTE3" track listing:
01. Hypersonic (8:22)
02. Beating The Odds (6:09)
03. Liquid Evolution (3:23)
04. The Passage Of Time (7:32)
05. Chris & Kevin's Amazing Odyssey (5:04)
06. Rhapsody In Blue (13:16)
07. Shades Of Hope (4:42)
08. Key To The Imagination (13:14)
The bonus disc includes almost an hour of improvised jams.
The pre-order will start on January 22, 2021 and the album will be available as:
* Limited deluxe hot pink 3LP+2CD+Blu-ray Box Set (including a poster and 4 artcards, Blu-ray includes a 5.1 surround mix with visuals, and full band interview from the studio)
* Limited 2CD+Blu-ray Artbook
* Limited 2CD Digipak
* Gatefold black 2LP+CD
*Digital album (2CD)
A new LIQUID TENSION EXPERIMENT teaser trailer, created by Christian Rios, can be seen below.
InsideOut Music label manager Thomas Waber said: "What happens, when you put four of the most talented musicians on the planet in one room? LTE. We all have been waiting for this album to happen for a very long time and it makes us very proud to be releasing this album. This one is for the fans!"
Added Petrucci: "We've all known Thomas Waber for a very long time, and Jordan and I recently discovered how great it was to finally get to work together when DREAM THEATER joined the InsideOut family a few years ago. There really is no better home for LTE, and we all look forward to doing great things together!"
Said Portnoy: "Myself and John have known Thomas Waber since we met on the very first DREAM THEATER European tour in 1993… Since then, I have worked with him and InsideOut for the past 20 years with TRANSATLANTIC, THE NEAL MORSE BAND and SONS OF APOLLO. When LTE finally reunited this summer, we knew there was no other label that we could call home."
Check de onderstaande socials voor meer informatie over deze band.