LAMB OF GOD covers MEGADETH's 'Wake Up Dead' with DAVE MUSTAINE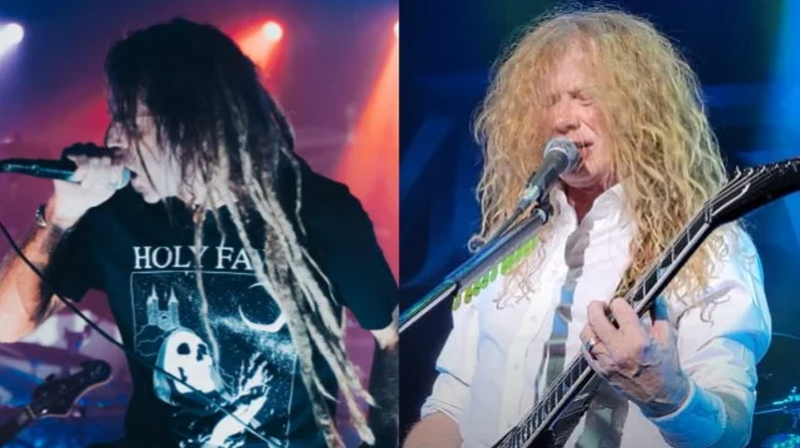 Ahead of the 2022 installment of "The Metal Tour Of The Year" kicking off next weekend, LAMB OF GOD has joined forces with MEGADETH to record a cover of the MEGADETH classic "Wake Up Dead", featuring MEGADETH leader/founder Dave Mustaine along with appearances from all three other members of the current lineup of MEGADETH. The song is released everywhere digitally today (Friday, April 1).
Watch 'Wake Up Dead' by Lamb Of God & Dave Mustaine below.
Says LAMB OF GOD in a statement: "We hope everybody enjoys this one and we can't wait to see everyone on the road soon!"
The 2022 leg of LAMB OF GOD's "The Metal Tour Of The Year" with MEGADETH will kick off on Saturday, April 9 in Las Vegas, Nevada and hit a further 21 cities before wrapping in Allentown, Pennsylvania on Sunday, May 15.
LAMB OF GOD recently entered a California studio with longtime producer Josh Wilbur (KORN, MEGADETH, GOJIRA, TRIVIUM) to record some of its brand music, tentatively due later in the year.
LAMB OF GOD's upcoming effort will be the follow-up to the band's self-titled album, which was released in June 2020 via Epic Records in the U.S. and Nuclear Blast Records in Europe. That LP marked LAMB OF GOD's first recordings with Art Cruz, who joined the band in July 2019 as the replacement for the group's founding drummer, Chris Adler.
"Lamb Of God" was recorded with Wilbur and included special guest appearances by Jamey Jasta (HATEBREED) and Chuck Billy (TESTAMENT).