FOO FIGHTERS cancel GRAMMY AWARDS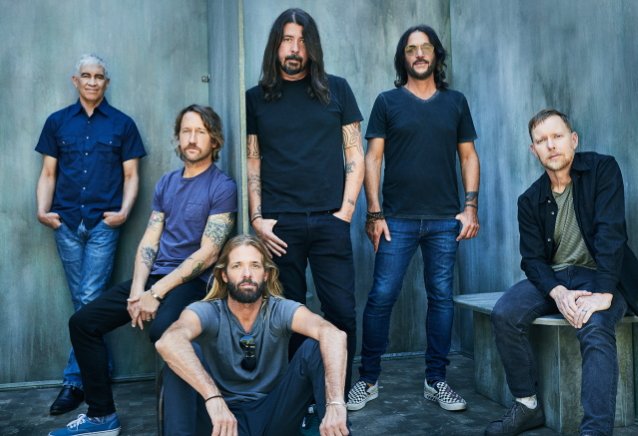 According to Rolling Stone, FOO FIGHTERS have canceled their appearance at Sunday's (April 3) Grammy Awards following the death of drummer Taylor Hawkins.
Although the FOO FIGHTERS will no longer appear at the event, the Grammy telecast will still pay tribute to Hawkins. CBS executive Jack Sussman told Variety: "We will honor his memory in some way. We want to figure out what is the right thing to do that is respectful to everyone involved. We're patient. We'll be planning right up until the very end."
Twelve-time Grammy winners FOO FIGHTERS earned three nominations this year for "Best Rock Performance" ("Making A Fire"), "Best Rock Song" ("Waiting On A War"), and "Best Rock Album" ("Medicine At Midnight").
FOO FIGHTERS' Grammy cancelation comes two days after the band officially scrapped all of its previously announced shows, explaining that they were taking "this time to grieve, to heal, to pull our loved ones close, and to appreciate all the music and memories we've made together.
Hawkins died at a hotel in Bogota, Colombia on Friday (March 25). Local officials said an ambulance was sent to the hotel after a man reported having chest pains. The 50-year-old FOO FIGHTERS drummer did not respond to resuscitation efforts and was declared dead, the city's health department said.
On Saturday, the Colombian attorney general's office announced that Hawkins had opioids, marijuana and other drugs in his system before he died. A toxicology report showed traces of 10 substances in his body, including anti-depressants, the office said. The statement added that the National Institute of Legal Medicine and Forensic Sciences "will conduct the necessary medical studies to ascertain the cause of death" and that it "will continue the investigation and will report the results obtained within the framework thereof in a timely manner."
FOO FIGHTERS announced Hawkins's death on their Instagram account. "The FOO FIGHTERS family is devastated by the tragic and untimely loss of our beloved Taylor Hawkins," the announcement read. "His musical spirit and infectious laughter will live on with all of us forever. Our hearts go out to his wife, children and family, and we ask that their privacy be treated with the utmost respect in this unimaginably difficult time."
The FOO FIGHTERS were scheduled to perform Friday at the Picnic Stereo festival in Bogota but their performance was canceled.
The band played Lollapalooza Chile on March 18 and Lollapalooza Argentina on March 20. They were scheduled to headline Lollapalooza Brasil on Sunday (March 27).
Hawkins has been open about his history of drug use. He overdosed on heroin in 2001 and spent a week in a coma, just four years after joining the FOO FIGHTERS.