BENIGHTED drummer KEVIN PARADIS Joins NE OBLIVISCARIS for EU/UK tour Progressive metal outfit NE OBLIVISCARIS is now revealing that drummer Kevin Paradis (BENIGHTED, MITHRIDATIC, etc.) will be performing drums during the band's upcoming headlining tours. To celebrate this union, Paradis has shared a drum play-through for the song "Equus," which is taken from NE OBLIVISCARIS' new album, 'Exul,' which is out now on Season of Mist.
Watch the video below.
NE OBLIVISCARIS comments, "We are tremendously excited to announce that Kevin Paradis will be joining us on our 'EXUL' world tour that kicks off in Europe next week! This incredible French drummer, known for his work in Benighted amongst many other acts, was actually the very first person we reached out to after discussing amongst ourselves who we could potentially invite to audition for the band. We were all blown away by his playing and how quickly he connected with the material once he started learning our songs and are thrilled to have him joining us on the road."Kevin Paradis adds, "When Ne Obliviscaris reached out to me, I considered this a great opportunity to play meaningful and spirited music that blends different atmospheres into great songs and I am honored to be trusted by the band for their upcoming 'EXUL' tours. Learning and rehearsing the songs has already been a huge pleasure and a great challenge. But now I can't wait to experience this music live with them and to use my drumming skills to serve Ne Obliviscaris' beautiful music."
NE OBLIVISCARIS European tour +Persefone +Asymmetric Universe 05 May 23 Helsinki (FI) Tavastia 06 May 23 Tampere (FI) Klubi 08 May 23 Stockholm (SE) Hus 7 09 May 23 Oslo (NO) Bla 10 May 23 Copenhagen (DK) Pumpehuset 11 May 23 Hamburg (DE) Headcrash 13 May 23 Cologne (DE) Luxor 14 May 23 Antwerp (BE) Trix 16 May 23 Dublin (IE) Grand Social 17 May 23 Glasgow (UK) Slay 18 May 23 Manchester (UK) Rebellion 19 May 23 London (UK) Islington Academy 20 May 23 Leiden (NL) Gebr. de Nobel 21 May 23 Paris (FR) Petit Bain 22 May 23 Nantes (FR) Ferrailleur 24 May 23 Porto (PT) Hard Club 25 May 23 Lisbon (PT) RCA Club 26 May 23 Madrid (ES) Nazca 27 May 23 Barcelona (ES) Boveda 29 May 23 Solothurn (CH) Kofmehl Hall 30 May 23 Munich (DE) Strom 31 May 23 Vienna (AT) Viper Room 01 Jun 23 Prague (CZ) Futurum 02 Jun 23 Berlin (DE) Hole44 03 Jun 23 Leipzig (DE) Naumann  05 Jun 23 Bucharest (RO) @ Quantic Club ** 07 Jun 23 Gdansk (PO) @ Mystic Festival** **NeO Only
NE OBLIVISCARIS recently released the new song, "Misericorde I – As The Flesh Falls" in anticipation of the release of the band's new album, 'Exul,' which is due this Friday, March 24 through Season Of Mist.
Watch "Misericorde I – As The Flesh Falls" below.
Watch the previously released "And Plague Flowers The Kaleidoscope" and "Equus" below.
NE OBLIVISCARIS are proud to announce a new European tour, together with PERSEFONE! The trek will kick off their 'Exul' EU/UK tour at the Tavastia venue in Helsinki (FI) on May 5 and sees the band traveling throughout 15 countries in the weeks to follow! A full list of confirmed dates and support acts can be found below. 
Regarding the video's powerful yet sombre message, the band explains: "'Equus' is dedicated to the lives lost during the lethal bush fires that scarred Australia in 2019-2020. Alongside the people who died or were affected, many millions, if not billions, of animals were killed or displaced from their natural habitats, the enormity of this is something that will never be forgotten, and should not be ignored. It is also a warning that the world we live in is changing from the damage we as a species have contributed to. Within this video, the dancer represents a scorched Mother Earth, from horror to humanity, ever in tune with the heart and flow of the song (and world), and ultimately aware of the inevitable and ever growing destructive cycle we are in."  Pre-orders for 'Exul' are now available HERE. Pre-save the album on streaming services HERE.NE OBLIVISCARIS frontman Tim Charles comments on behalf of the band: "We are so excited to announce not only the first part of our 'EXUL' world tour for all our EU/UK Ne Obluminati, but also unveil our new album's track-list & stunning cover, courtesy of Xen. This album has been 5 long years in the making and we are so incredibly proud of every second of it.  Stay tuned for your first taste in the coming days!"
The album can already be pre-saved here: https://orcd.co/neoexul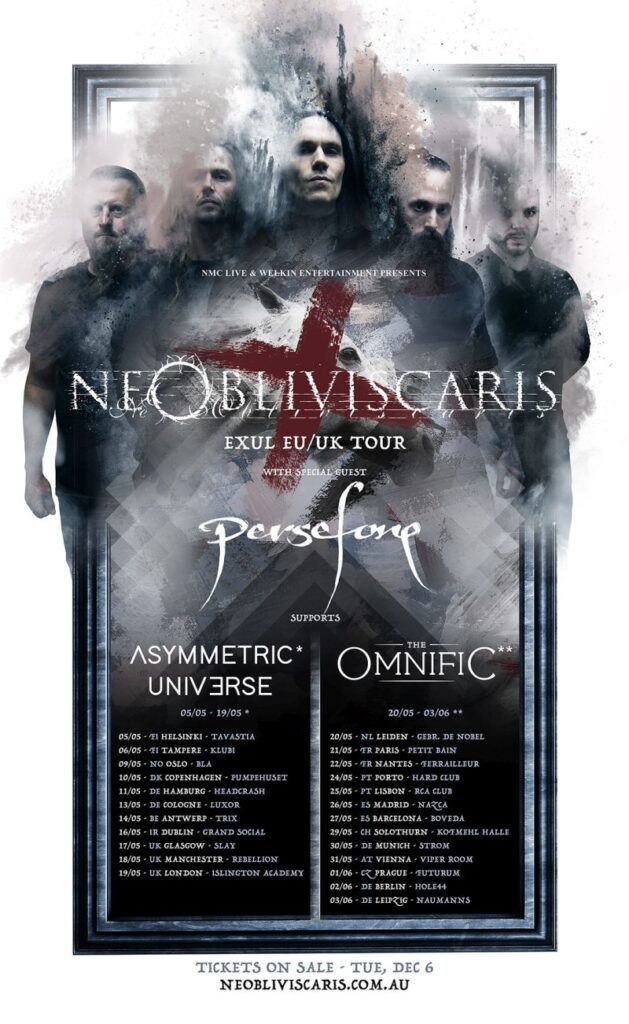 NE OBLIVISCARIS+PERSEFONE +ASYMMETRIC UNIVERSE* +THE OMNIFIC** 05/05/2023    Tavastia, Helsinki (FI)* 06/05/2023    Klubi, Tampere (FI)* 09/05/2023    Bla, Oslo (NO)* 10/05/2023    Pumpehuset, Copenhagen (DK)* 11/05/2023    Headcrash, Hamburg (DE)* 13/05/2023    Luxor, Cologne (DE)* 14/05/2023    Trix, Antwerp (BE)* 16/05/2023    Grand Social, Dublin (IE)* 17/05/2023    Slay, Glasgow (UK)* 18/05/2023    Rebellion, Manchester (UK)* 19/05/2023    Islington Academy, London (UK)* 20/05/2023    Gebr. de Nobel, Leiden (NL)** 21/05/2023    Petit Bain, Paris (FR)** 22/05/2023    Ferrailleur, Nantes (FR)** 24/05/2023    Hard Club, Porto (PT)** 25/05/2023    RCA Club, Lisbon (PT)** 26/05/2023    Nazca, Madrid (ES)** 27/05/2023    Boveda, Barcelona (ES)** 29/05/2023    Kofmehl Hall, Solothurn (CH)** 30/05/2023    Strom, Munich (DE)** 31/05/2023    Viper Room, Vienna (AT)** 01/06/2023    Futurum, Prague (CZ)** 02/06/2023    Hole44, Berlin (DE)** 03/06/2023    Naumann, Leipzig (DE)** Track-list1. Equus (12:13) 2. Misericorde I – As the Flesh Falls (7:33) 3. Misericorde II – Anatomy of Quiescence (9:22) 4. Suspyre (10:09) 5. Graal (8:53) 6. Anhedonia (3:43)Total playing time: 51:53
Recording line-up:Xen- Harsh Vocals Tim Charles – Clean Vocals, Violin, Viola & Keyboards Benjamin Baret- Lead Guitars Matthew Klavins- Guitar Martino Garattoni – Bass Dan Presland- DrumsCurrent line-up:Xen- Harsh Vocals Tim Charles – Clean Vocals, Violin, Viola & Keyboard Benjamin Baret- Lead & Acoustic Guitar Matthew Klavins- Guitar Martino Garattoni – BassGuest musicians:Additional Violin on tracks 1, 2 & 3 performed by Emma Charles Additional vocals on Track 1 performed by Alana K Vocal Cello on Tracks 1 & 4 performed by Dalai Theofilopoulou Cover artwork: Xen