IRON MAIDEN to be honored with Royal Mail stamps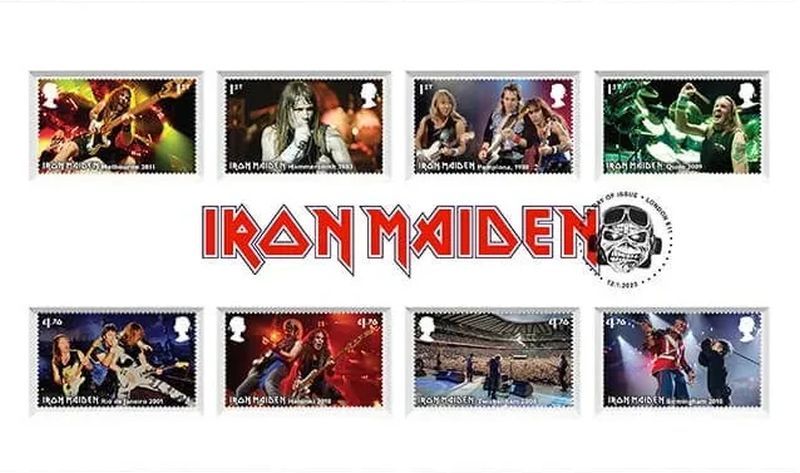 Britain's Royal Mail is celebrating IRON MAIDEN with a set of postage stamps. Due for release on January 12, the stamps depict the British heavy metal legends over the decades. Eight stamps feature MAIDEN in performance while a separate sheet features four stamps of the band's mascot Eddie.
The live pictures include a Bruce Dickinson image captured at London's Hammersmith Odeon during the "World Piece" tour in 1983 as well as two images from 2018's "Legacy Of The Beast" tour. The four Eddie stamps depict the mascot as he appeared on the artwork for the band's debut album and on MAIDEN's latest LP, 2021's "Senjutsu", as well as on the single sleeves for "The Trooper" and "Aces High".
"We were all absolutely astounded — in a good way! — when we heard first about the commemorative project, and equally pretty much speechless when we saw the stamps for the very first time," said MAIDEN bassist Steve Harris. "They look superb and I think they really capture the essence and energy of MAIDEN. We're all very proud that the Royal Mail has chosen to honor the band's legacy like this and we know our fans will feel the same way."
IRON MAIDEN manager Rod Smallwood said: "As a band who have never played by anyone else's rules for over 40 years, it's very gratifying to see them honored in their home country in this way.
"We're proud to show how these six band members are still appealing to more and more fans every year with their music and their legendary shows — which I think these stamps really capture well. It's also fantastic that Eddie has been honored too. It's incredible to think that Her Majesty, may she rest in peace, saw these and lent her iconic silhouette to them too."
David Gold, director of external public affairs and policy at Royal Mail, said: "Few bands in the history of rock music can be called bona fide rock legends, but IRON MAIDEN are just that — and more."
With over 100 million record sales, more than 2000 live performances in 63 countries, millions of fans worldwide and 17 chart-topping studio albums of unerring quality and power to their name, IRON MAIDEN has more than earned its proudly held status as one of the most influential and revered bands of all time. In recent years IRON MAIDEN has extended its legacy in a couple of other areas of particular interest to them: their own award-winning beer Trooper, which has sold over 30 million pints worldwide and is widely acknowledged as the most successful international British beer launch of the past twenty years with Cheshire family brewers Robinsons, and a mobile game titled "Iron Maiden: Legacy Of The Beast" — a free-to-play, fantasy RPG where players combat the legions of darkness across time and space as Eddie — one of the most recognizable music icons of our age and the calling card of one of the most impassioned fan-bases anywhere.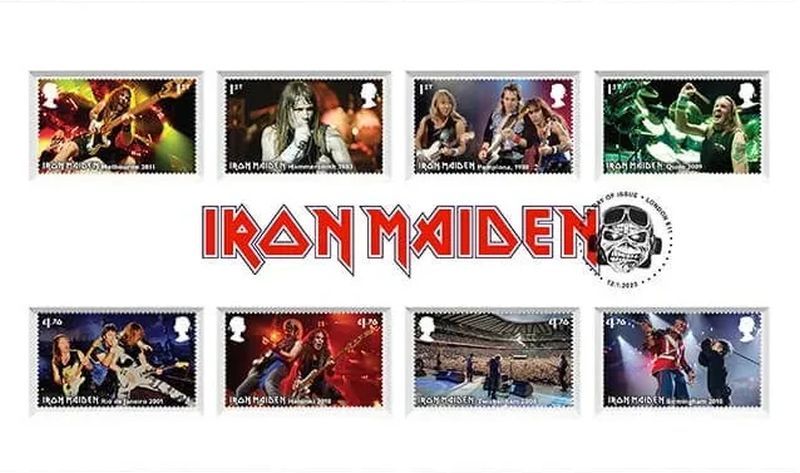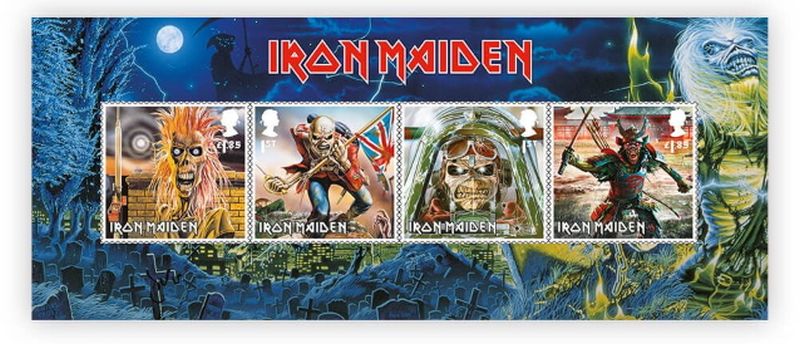 IRON MAIDEN's recently announced "The Future Past Tour" through Europe will feature previously unperformed songs from the band's most recent studio album, "Senjutsu", along with a focus on 1986's iconic "Somewhere In Time" record, plus other classic cuts. "Senjutsu" came out in September 2021 on Warner records. It marked MAIDEN's second consecutive double album behind 2015's "The Book Of Souls" which is the longest MAIDEN album, with a running time of 92 minutes.
The full track listing is:
01. Senjutsu (8:20) (Smith/Harris)
02. Stratego (4:59) (Gers/Harris)
03. The Writing On The Wall (6:13) (Smith/Dickinson)
04. Lost In A Lost World (9:31) (Harris)
05. Days Of Future Past (4:03) (Smith/Dickinson)
06. The Time Machine (7:09) (Gers/Harris)
07. Darkest Hour (7:20) (Smith/Dickinson)
08. Death Of The Celts (10:20) (Harris)
09. The Parchment (12:39) (Harris)
10. Hell On Earth (11:19) (Harris)
"Senjutsu" was released on the following formats and available to order/save at www.ironmaiden.com:
* Standard 2CD Digipak
* Deluxe 2CD Book Format
* Deluxe heavyweight 180G Triple Black Vinyl
* Special Edition Triple Silver And Black Marble Vinyl (Details to follow)
* Special Edition Triple Red and Black Marble Vinyl (Details to follow)
* Super Deluxe Boxset featuring CD, Blu Ray and Exclusive Memorabilia
* Digital album [streaming and download]
IRON MAIDEN hadn't released any fresh music since 2015's "The Book Of Souls" LP, which was recorded in late 2014 in Paris, France with Shirley.
"The Book Of Souls" was the longest MAIDEN album, clocking in at 92 minutes, with lyrics heavily based in the themes of death, reincarnation, the soul and mortality.