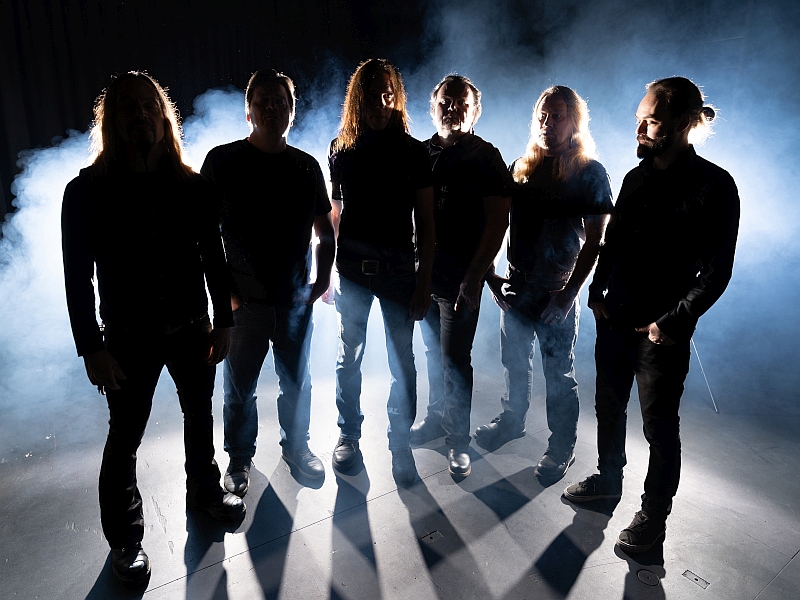 Erkki Virta: "We have found our ideal line-up a long time ago, we are all friends and the thought of having to replace anyone now is just horrible. I think the basic ingredients were all there from the beginning and we haven't developed much since then, we just put those pieces together over and over again, to form different constellations."
Soms komen de prettigste verrassingen plots uit de lucht gevallen, schijnbaar uit het niets. Een tweede album van Sinisthra hadden we – vijftien jaar na het debuut 'Last Of The Stories Of Long Past Glories' – allerminst verwacht, temeer daar zanger Tomi Joutsen nog steeds de handen vol heeft met Amorphis. Maar toch was er deze maand 'The Broad And Beaten Way', dat liefhebbers van melancholische Finse metal met een progressief tintje zeker zal doen watertanden. We waren dan ook benieuwd naar wat drummer en tekstschrijver Erkki Virta daarover te vertellen had.
Vera Matthijssens Ι 23 mei 2020
Welcome back! A second album of Sinisthra was a huge and pleasant surprise for us. How are you doing?
Quite fine thank you, and hugely relieved that the bloody album is finally released and out of our hands and hearts. I'm also a bit disappointed as we were supposed to play an album release show last night but naturally couldn't go on with it now.
It is common knowledge that singer Tomi Joutsen was recruited by Amorphis after the first album and naturally this had a huge impact on the activities of Sinisthra. Can you tell about your reaction on that change you had to face? Did you put the band on hold or did you search for other musical challenges yourself then?
Recollections are hazy as that was such a long time ago, but we already knew at the time that it would change a lot for Sinisthra. And it ended up changing virtually everything. Amorphis with Tomi took off massively and suddenly we couldn't rehearse regularly like we used to, but that was ok since we already had released our album and played gigs to promote it, and were kind of thinking about what to do next. The album got a lot more interest because of the Amorphis connection than it would have gotten otherwise, and Tomi was always way too talented to stay solely in a small time band like Sinisthra, so I was happy for him. Me and our guitarist Marko were playing in a band called The Puritan at the time, so we concentrated on that for awhile, and other members did other things, like raising kids and just getting on with their lives. We wrote the songs for this new album in quite a short period when Tomi wasn't touring, around 2007-2008, and started recording, but had to put everything on hold when the negotiations with various record labels amounted to nothing. Things then slowed down and began to look like a steep uphill struggle, and we gradually lost interest when it became apparent that if we wanted to finish the recording, we had to pay for it ourselves. This seems to be the norm these days, but it wasn't back then.
I have to admit that you all had a lot of patience, since only the bassist is replaced since the first album…
And that was only because he moved to a city too far away to stay in the band. We've found our ideal line-up a long time ago, we are all friends and the thought of having to replace anyone now is just horrible. Luckily everyone's been content to stick around. I've always hated replacing band members and have tried to avoid it as much as possible.
When did you decide to make work of a second album and what were the reasons for that?
We liked playing together, new music seemed to come fairly effortlessly, and we weren't very satisfied with the first album and felt we could do a lot better. Don't know if we did though, as we're not very satisfied with this second album either. But seldom can the artist face his own art without flinching, and few and far between are the moments when the outcome matches ambition.
I read here that the songs were written long ago. How far did you find yourself in the process of making an album before reactivate everything? For instance when and where did the recordings take place? And why did it finally take 15 years? That is really long!
The drums were recorded in an actual studio on 2008. Then became the Dark Ages of Sinisthra and the Great Sinking Of Spirits. And the endless re-recording of just about everything else but the drums, in a "home studio". And we questioned the quality of the compositions and were they good enough to let anyone else hear them. And then we just decided to push through and in a superhuman display of effort managed to finish the recording and sent it off for mixing. Of course we didn't spend the 15 years just recording it, there were lengthy periods of time when we did nothing, and getting the final mix took an additional year as well, as did finding a label to release it.
The title comes from 'Paradise Lost' by John Milton. Is it a concept album? Can you tell a bit more about the lyrical contents?
There's a bit of concept, yes, no matter how much I'd like to deny it. The starting point was the story of Adam and Eve and what happens after the expulsion from Eden. "Paradise Lost" was one source, another was an "extracanonical" book called "The Conflict Of Adam And Eve With Satan", also called "The First Book Of Adam And Eve". "The Broad And Beaten Way" as described by Milton is a bridge over the dark abyss, from Hell to Earth, where demons casually stroll to and fro, after the Fall of Man. But I'm not too keen to put too much emphasis on the "biblical" side of it, basically it's about how differently two people can see a relationship: they leave Eden, and they leave each other, and one of them wants to go back while the other one doesn't. Each song is a glimpse into various stages of their struggle.
I was flabbergasted by the fact that you chose the 13 minutes long track 'Closely Guarded Distance' as a single and (amazing!) video clip. This is the most beautiful song I have heard this year so far! Can you tell a bit more about this mighty composition?
We succeeded rather well with that one, as in having an end result that's pretty much in line with what we set out to accomplish. Meaning we too think it's a pretty nice piece. We had two half-finished songs floating about that were kind of so-so and we couldn't figure out what to do with them. So we stuck them together, added some garnishments here and there and slowly the song started to take shape.
And a sneaky question: Why did you put it as second track on the album and not as grand finale?
Because the flow of the album required it to be the second track, and 'Safe In The Arms Of Everlasting Now' was supposed to be the grand finale, with the afterglow of 'Ephemeral'. The grand finale didn't exactly turn out to be what was envisioned, but that's what usually happens when sublime ideas crash into the brick-wall of reality. That's also the beauty of teamwork: no one person gets to dictate the proceedings, no matter how strong a vision he might have. Others add what they add, things take on new shapes and often the finished product is very far removed from original sketches, but all the better for it.
Strangely enough you can interpret parts of the lyrics as referring to this time of isolation and quarantine, isn't it? (lovely solitude…) What do you think yourself of that?
Well, one of the songs had a working title of 'Isolation Etiquette'. But the lyrics were written some 15 years ago, and the quarantines back then were more personal and often voluntary. I used to embrace solitude and inflict isolation upon myself quite regularly, to stay happily unwell and to keep the creative juices flowing. Oh well. The things a youngish man is prepared to do for his art…
Obviously the album will appeal to fans of Katatonia, (early) Anathema and Amorphis, but can you tell a bit more about your musical development as a band through the years?
Katatonia and Anathema were two of our collective favourites when we started out. Also Khoma, Portishead, Porcupine Tree, Type O' Negative. All those bands had the sort of melancholic undercurrent that appealed to us and probably shaped our sound to a certain degree. Our musical development is something I'm not objective enough to comment upon. We may lean a bit more towards the seventies nowadays in our sound. I think the basic ingredients were all there from the beginning and we haven't developed much since then, we just put those pieces together over and over again, to form different constellations.
Would you consider playing live if things change with this corona virus in the world?
Selected shows yes, if the schedules allow us to get our ducks neatly in a row. Touring no.
To occlude a logical question that haunts me: do we have to see this album as a closing of a chapter, a swansong in beauty, or is it a new start for the band?
That's what I've been thinking about too. It was supposed to be a swansong, but now I'm not so sure anymore. And yet the mere thought of climbing the mountain of another album fills me with dread. The general consensus at the moment seems to be that if we can manage to come up with new material exciting enough, there's no reason why we couldn't attempt one more album.
If you like to add something else, please feel free to do it right here…
Can't think of anything else to add, so I'll be off with "thanks for taking interest in Sinisthra!" Check de onderstaande socials voor meer informatie over deze band.