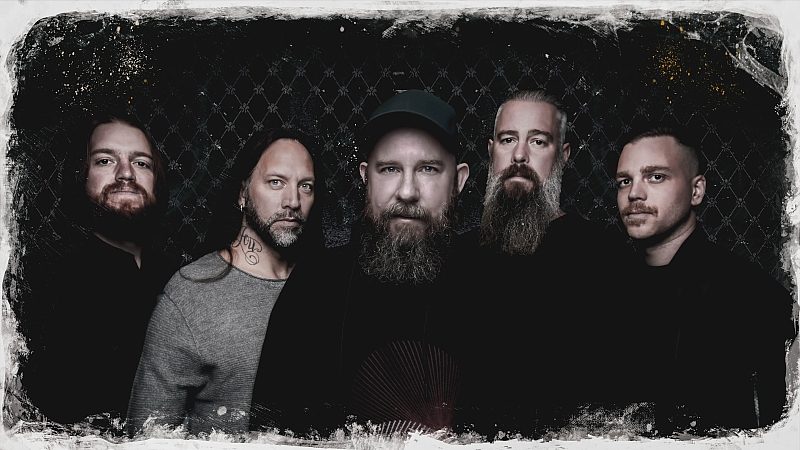 Björn Gelotte: "We all wear masks sometimes. If we should be totally open to everything it would be too much to handle, because we are not used to that."
In Flames is een waar instituut geworden in melodieuze metal. Album per album hebben ze een eigen stijl ontwikkeld waar ze nu overal ter wereld grote successen mee behalen. Hun concerten zijn een ontlading van energie waar niemand aan kan weerstaan. Iets meer dan twee jaar gelden kwam het album 'Battles' uit, maar de band zit in een creatieve flow, zodat we niet lang moesten wachten op het nieuwe pronkstuk 'I, The Mask'. Daarover praatten we met de immer hartelijke gitarist Björn Gelotte.
Door: Vera – 24 april 2019
The new album 'I, The Mask' comes pretty fast after the previous one, but how do you look back personally at those last two and half years since 'Battles' came out?
Well, we haven't been – so to speak – outside the bubble to be honest. I mean, we did the record and pretty soon after we went on tour. We had a very eventful touring cycle. We did a lot of festivals, we did a lot of touring in the US, we have been very busy. We just had such a wonderful experience when we did 'Battles', that we were inspired and felt creative enough to make another record fairly soon. But we see touring and recording – or writing – as two very different things. We do either touring or writing. Well, at some point we stopped touring and decided: 'Let's do it again.' The energy was there, so we wanted to save that momentum to be creative. I am happy and I am super excited about the record. We had it for a long time, without showing it. It was recorded and the first mix was in June last year. We recorded from the end of February 2018, all the way through May basically. So we had it for a long time and now we are very excited that it will finally be released.
It is a stunner. Spontaneously I have written down: 'so much beauty and rage on a record of darkness and hope'…
I like the way you said that, because it is exactly what it is. It should be a little bit of a rollercoaster. I mean, musically as well as thematically and emotionally. So… yes, that's a very good description.
For the writing process you went to the US for the second time, working with producer Howard Benson. Without the other guys, isn't it?
It was me and Anders in the house. Writing, making demos. Then bouncing the ideas with Howard, having him filtering it, having his expertise and experience go through it. We knew what to expect, because we did it once before for 'Battles'. I think the 'Battles' recording was more nervous for us, because we never really opened up. We never really let anybody from the outside mess around with our music and lyrics. It took us a very long time to appreciate and understand the experience of this guy. We had producers in the past, but we never really listened to them. It is a shame now in hindsight, because these guys are very good in what they do. But now it is okay. We've gone all the way over there and we have this awesome producer that we really, really like. So we said: maybe we should listen to him.
Is he such a dominant person?
He can be very direct and he is there for a reason of course. It took us a while to realize: okay, we have this guy now, maybe we should listen to him. He had so much good input on what we were doing. He did not want to change anything, he just wanted to make sure that we don't mess around. We played at the top of our abilities, so that we really think true and get to the core message of In Flames. Having done that the first time, it was easy for us to just go there and be ourselves. The setting is fantastic, the equipment as well and he is a genius. He has done Aerosmith, Van Halen, death metal records, a Kiss record, he is working with Bryan Adams… He has done all those huge acts, so of course he knows his stuff and the process is super fast and easy. Very efficient. I did not need to spend 12 to 14 hours in the studio, but six hours in the studio and then we had energy left when we got back to the house and continue writing. So the three months we spent there in LA, we kept on writing, all the way until the last week. It says a lot about how inspiring it was, and how creative and efficient.
And it seems that the sequence of the songs on the record is the one from creating them, isn't it?
Indeed, 'Voices' was the first song we wrote. It instantly felt like an opener. Although we did not know what we had yet, but that was interesting and 'Stay With Me' was actually the last song that we did.
Sometimes you hear that bands really struggle with the order of songs, trying to find a natural flow for the album…
Anders does that really early and it helps in the song writing process too, because as soon as you have a bunch of demos, you kind of lay them out like this. He thinks a lot about the flow he wants and also about the story that's been told. If you have that, it is easy to see what you are missing. A kind of blueprint, black map. Then you can just fill in the voids and focus. It is a good thing. At least for us.
Let's select some topics on the record. '(This Is Our) House' deals with your concerns for our planet. You regularly give money on charity for that, so I think you are really concerned about it…
I think most people are. We do some things in order to help. We have a good platform perhaps, to make people – at least – aware, but we are not a political or a religious or even an emblematic band, so that is not the point. We are not here trying to be saviours, that's not the case. But we have a platform and we try to use it to do something that could be good for all of us. At least to an extent, we don't want to preach. That is not our kind of thing. We don't want to be drown in negative spirals either. If you look at statistics, true statistics, a lot of things are way better than you think. Because you only hear the bad things. Why would the news report: 'today twenty thousand planes landed without an incident.' They will only report it when a plane crashes. The news makes it easy to think that the world is a really shitty place, but not necessary. Obviously we have a lot of problems in the world and we do not want to neglect any of those at all, but – when speaking of the title track – we all wear masks sometimes. To an extent, it depends on who you are talking to and the situation.
I think it is even taught in our education…
It is and it is a way of behaviour to function in this society. I mean, if we should be totally open to everything it would be too much to handle, because we are not used to that. I would be super stressed if somebody comes in and just goes all the way. We all have our filters and our masks and we decide what we show to other people in a given situation. So I am obviously wearing a mask now, because I am in interview mode. And that's not because I am in a band, it is a part of what I have to do. And I find it interesting that people are interested in what I do. It is a good thing in the end. But I think we all do, in every aspect, and sometimes it is hard to connect with people or situations. To the essence of somebody, having that connection, because it is easier to remain shallow. I think on social media you can see it directly. People only show the best, you don't see the shitty days. Then one might believe that life is supposed to be that way and then your whole life turns to shit, because you are not on the beach every day, you are not in a fancy house or having the perfect make up… So life is really not that simple. Which part do you like the most: being in the studio or playing live?
Playing live. For many years I just thought that the recording side or the studio time was just something we needed to do in order to be able to go on tour. To have some new material, to have some fresh songs to play for us, where people would hopefully get excited about. But the last albums have been so much fun to make, so I am actually… not really but… in the back of my head I can see the next record already. It means I am looking forward to make another record. We have a good place right now, we have a great line-up. There are exciting times coming up, festivals coming up again… so who knows, after this whole cycle of two years or whatever, I don't see it impossible. Usually I don't feel like going into the studio at all. The writing is done, the recording is done, now it is time to get out and play.
What can you tell about the song '(This Is Our) House'?
It can mean so many things, but it is basically a call for people to unite for something positive. Whether it is for the environment, a wake up call and together we can make a huge difference in whatever we set our minds to, we can be the difference. As long as we are organized and have a purpose. Because I think a lot of people wants to have a purpose. I want to be part of something. I don't want to live my life alone. What about having all these experiences and nobody to share it with? So I think most people want to belong to someone or something. This is a little bit a song about that.
In 2017 you released an EP with covers. For fun I guess?
It wasn't meant to be an EP; it was not meant to be anything, but something fun for us. We came back from playing a show in Japan and we had some time in the US before the US tour started. Instead of going back to Sweden and return with a hell of a jetlag and start touring in the US, we just felt like: let's fly over and stay there for five, six days. I have been messing around with the first song on the EP 'It's No Good'. It is from Depeche Mode, the 'Ultra' album. The first time I heard it, I thought this was really a heavy song. I wanted to record it for a while. Howard was free and we asked to record a couple of days over there. I am a huge Alice In Chains fan and that's a very naked and different version of a powerful song 'Down In A Hole'. That turned out really good and also we did the Nine Inch Nails song 'Hurt'. We did a mix of the Johnny Cash version and the original. And then Chris Isaak and 'Wicked Game' (laughs). Well, a great song is a great song, no matter how you play it. We did a very different take on it. I remember it from my youth, then the song was on everybody's mind. So we had four songs and somebody suggested to release it, just for fun and that's what we did. We just love music, and all sorts of music. Good songs are good songs.
That's true. What were your feeling when you could share the stage with Deep Purple for a couple of shows in Mexico?
(laughs) This must probably have been the first band I heard in my life. I am not sure if I was already born when I heard it, because my dad is a metalhead and a hard rock fan. Deep Purple is one of his bands. Black Sabbath too. Mountain is his absolute favourite. So I have heard Purple my whole life and obviously it has affected me in my guitar playing, song writing in a way. It just shaped me musically. When we got the call: 'hey guys, do you want to play with Purple?' YES!!! And then you start thinking: what? Really? How are we supposed to approach this? We talked a little bit about it and said: okay, we'll just do what we are good at. Let's feel comfortable and don't change anything and I think that is the right attitude. I remember Ian Gillan coming into the dressing room, right after our first show together. He clapped his hands and said: I don't know what you were doing, but that was fantastic. So we probably did something right. The audience was enthusiastic. Our music comes from the same roots. I mean, they were the creators of what we are doing now. Together with other bands of course. Most of the hard rock and metal has something to do with their creation. The step is not as far as you might think and the audience… first it was weird, because it is a sitting audience. Then you have a fence and after that the people are standing like a regular crowd. That's a weird experience for us, but it worked. It worked pretty well. We did five shows with them and it worked. It was supposed to be more, but it is a little bit like the Wild West over in Mexico, but it was amazing. Lovely guys. I think Roger Glover turned 73 on that tour and he was running around and having fun on stage after all these years. Very inspiring.
The album has a fine balance between heavy songs and emotive moments…
I think that is something which makes us extra proud. That we are able to fit – I am not surprised, because this is what we like ourselves – these really fast and heavy songs with these very fragile or emotional parts. It still works. The same band. The same record. That makes me very proud.
Check de onderstaande socials voor meer informatie over deze band.