IN MOURNING to re-release 'Monolith' and offer free song download IN MOURNING to re-release 'Monolith' and offer free song download
Sweden's melodic, progressive death/doom metallers IN MOURNING, will re-release their sophomore studio album, "Monolith", on July 24th via Agonia Records. The album is coming to CD and three different double LP formats. In anticipation of the re-release, the song "The Smoke" has been made available for a free download on Bandcamp
"The Smoke" is also available for streaming on YouTube below.
"Monolith" was originally released in 2010 to CD and LP. Since both formats have been out of print and are hard to come by, the demand for a reissue has become evident. In response to rising requests, Agonia Records will make "Monolith" available once again in CD and LP, but this time with a twist. The centerpiece of this re-release will be a vinyl available in three color configurations. While the original LP featured only one carrier of sound, the reissue (which will include a high volume cut) will be split into two separate discs, in order to improve the album's sound quality. As far as clothing goes, a brand new t-shirt design is expected.
IN MOURNING commented on the reissue:
"Our old rock, Monolith, is turning ten years old this year… how weird is that? Anyhow, to celebrate it properly we're doing a re-release with the guys over at Agonia Records. It's already available on most digital platforms, there'll be a cool shirt with a naked guy on it and we're doing a nice new digipak for the cd. Although, the cornerstones of the party are the new vinyls, the new presses will be double discs so the sound quality will be improved and they'll come in glorious pink, smooth bone white and clear or classic old black". Formats and merchandise:
– Digipak CD.
– Double black LP.
– Double baby pink LP (limit. to 100 hand-numbered copies).
– Double color in color LP (limit. to 150 hand-numbered copies).
– T-shirt.

Tracklist:
1. For You to Know   
2. Debris    
3. The Poet and the Painter of Souls   
4. The Smoke   
5. A Shade of Plague    
6. With You Came Silence   
7. Pale Eye Revelation    
8. The Final Solution (Entering the Black Lodge)

IN MOURNING line-up:
Tobias Netzell – guitars, vocals
Sebastian Svalland – bass
Björn Pettersson – guitars, vocals
Tim Nedergård – guitars
Joakim Strandberg Nilsson – drums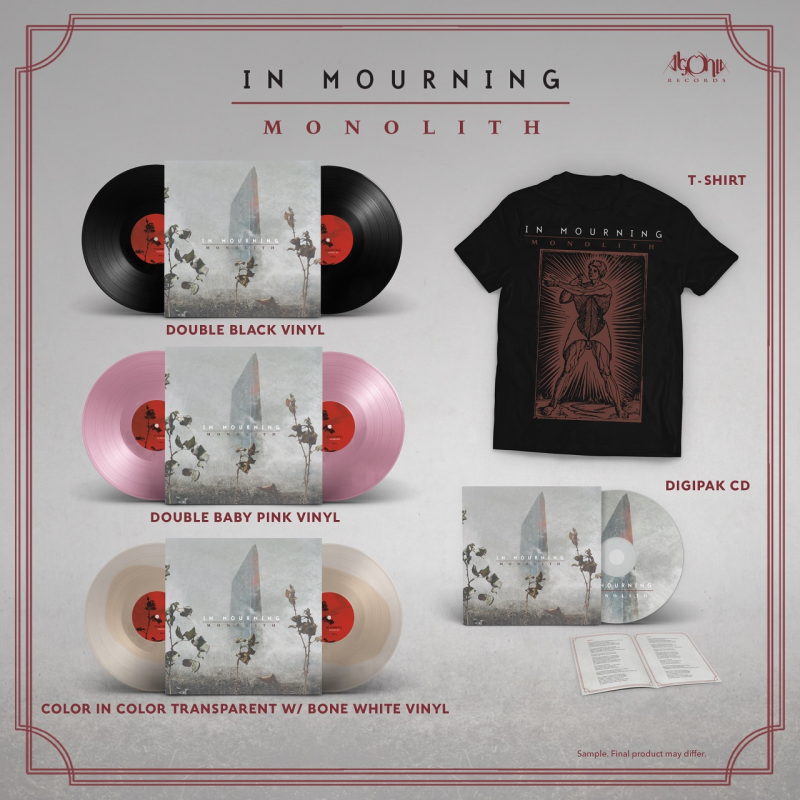 Check de onderstaande socials voor meer informatie over deze band.