HOUR OF PENANCE premiere new track 'Flames Of Merciless Gods'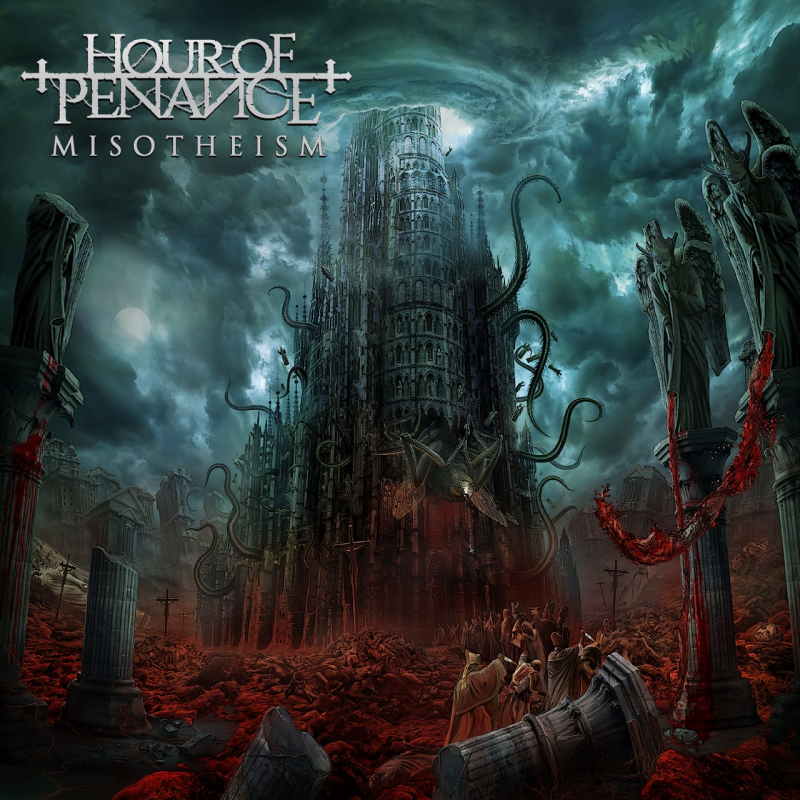 HOUR OF PENANCE premiere lyric video for new track "Flames Of Merciless Gods"
Italian death metallers HOUR OF PENANCE reveal the first single "Flames Of Merciless Gods", from their upcoming studio album "Misotheism", due out on October 25th via Agonia Records. The song is available in the form of a lyric video created by Stefano Mastronicola, at this link:
The band commented on the new single: "Flames of Merciless Gods" is a song about a new empire built on the illuministic values of reason and equality, who wages war against the wealthy ones hidden in their ivory towers, worshipping their only god: Money. They are the 'bastard race', because they have no fatherland and no motherland: their loyalty stands to no one but themselves. Their way of life is a blasphemy to everyone who is exploited by the inequalities created by their greed and is starving because of that. They are so afraid to atone for their crimes that they choose to commit mass suicide rather than face justice".
The cover for the album was handled by a Hungarian artist, Gyula Havancsàk (Accept, Annihilator, Destruction, Ensiferum). "He perfectly captured the overall feel of the album", comments the band.
Tracklist:
1. Mass Crucifixion Of Kings
2. Blight And Conquer
3. Fallen From Ivory Towers
4. The Second Babel
5. Lamb Of The Seven Sins
6. Flames Of Merciless Gods
7. Sovereign Nation
8. Dura Lex Sed Lex
9. Iudex
10. Occult Den Of Snakes
Limited edition bonus tracks:
11. Misconception (2007 demo)
12. Slavery In A Deaf Decay (2007 demo)
13. Hierarchy Of The Fools (2007 demo)
Formats:
– jewelcase CD,
– box CD (feat. slipcase, patch and flag),
– black LP,
– transparent smoked LP,
– red with black splatter LP,
– t-shirt.
Upcoming shows:
10.12.2019: Leeds @ Temple Of Boom, UK*
11.12.2019: Nottingham @ The Angel Microbrewery, UK*
12.12.2019: London @ Nambucca, UK*
13.12.2019: Brighton @ The Green Door Store, UK*
—
13.12.2019 – Eindhoven Metal Meeting, NL
*with Damim and Cryptic Shift
Line-up:
Giulio Moschini – guitars
Paolo Pieri – guitars and vocals
Marco Mastrobuono – bass
Davide Billia – drums Check de onderstaande socials voor meer informatie over deze band.