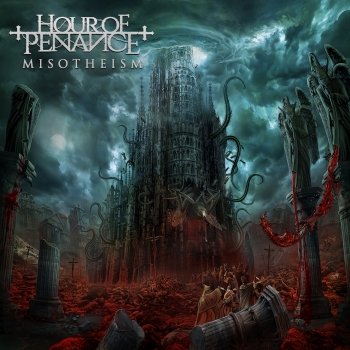 Hour Of Penance – Misotheism
Agonia Records
Release datum: 15 oktober 2019
Tekst: Ramon – 17 oktober 2019
"Dit is gewoon blackened death metal zoals je blackened death metal wil horen"
De Romeinse band Hour Of Penance bestaat al sinds 1999 en brengt met dit 'Misotheism' ("godshaat") hun achtste album uit, wat sinds de debuutplaat uit 2003 overigens de plaat is die het langste gat met zijn voorganger trekt, namelijk vier jaar. Gitarist Giulio kwam er in 2004 bij en is daarmee de veteraan van het stel, de rest kwam allemaal nog weer later. Want zo gaan die dingen soms, hoewel het nog altijd een zeldzaamheid is dat er geen enkele oorspronkelijke bandleden meer in een band zitten. Maar dat is een gegeven voor de statistieken, waar het nu vooral om gaat is, is of 'Misotheism' zich staande houdt in het moderne landschap van progressieve brutal blackened death bands.
De vergelijking met Fleshgod Apocalypse dient zich niet geheel zonder reden al redelijk snel aan. Maar de band is natuurlijk geen CTRL-V versie van een andere band, daarvoor hebben ze teveel in hun mars. Vanaf het eerste moment is de schijf duister en al snel complementeert het geweld de identiteit van de band. Dit is gewoon blackened death metal zoals je blackened death metal wil horen. Genadeloos, duister, melodieus zonder afgezaagd of blij te worden, de kracht staat voorop, maar wel dusdanig dat de muzikaliteit de boventoon voert. Ook als het tempo inzakt blijft het heavy en herkenbaar. Als ik commentaar moet leveren, dan had er misschien wat meer afwisseling in de zang gemogen, maar dit zorgt tegelijk ook wel voor een uniforme sound. Een andere opmerking is dat het als geheel weinig onderscheidend is, maar mij interesseert het in dit geval geen moer, ik ben van begin tot eind bijzonder goed geamuseerd. Als iets goed is, moet je er ook niet teveel aan veranderen. Van mij mogen ze nog tien CD's opnemen zo.
Check de onderstaande socials voor meer informatie over deze band.