 Joacim Cans: "'There are so many hymns inside of us, still unwritten. We need to write and give it to the people. Let's do this until we die of age or boredom"
Sinds het debuutalbum 'Glory To The Brave' in 1997 uitkwam, breekt het Zweedse HammerFall een lans voor traditional heavy/power metal. Dat doen ze een kwart eeuw later nog steeds met volle overtuiging. Het twaalfde studioalbum 'Hammer Of Dawn' dat eind februari uitgebracht wordt via Napalm Records, is daar het uitbundige bewijs van. Zanger Joacim Cans vertelt meer over de totstandkoming van dit album en hoe de band het aanpakt om in deze onzekere tijden het licht aan het einde van de tunnel te blijven zien.
Vera Matthijssens Ι 25 februari 2022

Last time we spoke was for 'Dominion' in 2019 and as always, touring started for that record until the world shut down due to the virus. Where were you when that news reached you?
I think we were really fortunate, because we managed to do the full North America tour, together with Sabaton, and we played the last show I think on February 25th on the European tour. Then we came back home and we were getting ready to do the shows in Sweden, in Denmark and then we heard about all the disturbance that was going on. At least we managed to do the full European tour and that turned into the most successful tour we had ever done, being a headline artist. We were really, really happy about that and fortunately we made the very wise decision to record the biggest show on the tour, so we were able to put out a live album later that year. That felt so good to do, because we refuse to do live streams. So boring…
Does it mean that you started earlier working on new material due to corona restrictions or was it scheduled that way?
No, I think we had to. The song-writing process started very early for this album. Oscar (Dronjak – guitarist – Vera) was already writing when I was recording vocals for 'Dominion' in Los Angeles in February 2019. Oscar is constantly writing, but then, when we realized that tour after tour got cancelled, we just realized that the 'Dominion' tour was over. We had to accept that. We couldn't wait and go out in 2021 and continue the 'Dominion' tour. We needed to focus on something else. We got so many tours planned that got cancelled. Northern American tours again, we had a European tour, a second one: everything got cancelled. Then we said: okay, let us focus now on writing a new album and let us be ready when the world opens up in 2022. At a very early point we said: forget about 2021. It'll be crazy and IF the world opens up, everyone will be on tour.
Usually you go to the US to record your vocals, but for the new album 'Hammer Of Dawn' that was impossible for a European guy…
Exactly. I worked with James Michael for the passed ten years as my vocal producer. That was also one of the things that made everything a bit hectic and rush in the end we needed to deliver an album, but we didn't really know where to record the vocals. At the end of the day I was not allowed to go to the US because of the regulations. Another plan – not a plan B, it was like an optional plan – was to work with Jacob Hansen at Hansen Studios in Denmark. He was ready and we kind of locked the studio, just in case.
What about the rest of the recording process?
I think it went really smooth, because they had so much time. They were able to make it very easy for everyone. They recorded for a couple of days and then they took a couple of days off to reload. When you are in the studio for a long time, it isn't any fun anymore, but this time they really invested a lot of time in the studio to be able to make the best out of each and every performer on the album. Furthermore it was more or less a similar process as on the previous albums. We recorded the drums with Fredrik Nordström; then Pontus Norgren tracked the guitars and the bass. I have to say: when I was done with the vocals, we heard Fredrik Nordström's mix. I think this is the best mix he has ever done! Funny fact is that he called Oscar, saying 'guys, this sounds so damned good, now I have to make the best production I am able to do and the best mix I have ever done, because the way you sound, this really needs the perfect mix.'
Let us zoom in on some of the songs. 'Brotherhood' should be written as a hymn for the friendship between you and Oscar. So this is the moment to go deeper into that. How did you meet each other? How did this friendship come into being?
It started when I got a phone call from Jesper Strömblad of In Flames when he was playing in HammerFall and he asked me if I wanted to help them out at a music competition with his band HammerFall. I said: 'yeah sure, why not?' and I remember – I hadn't met Oscar yet – I was walking into the rehearsal room and I heard someone playing a melody on the guitar. I just walked in, looked at him, pointed at him and said: 'Dorian Gray' Stormwitch. So he was playing the 'Dorian Gray' song from Stormwitch and I knew exactly who it was. His jaws just dropped. He was so shocked that I knew which song he was playing and that was kind of a bondy moment, when we both realized that we had the same influences when it comes to metal. Kind of the whole friendship started with that bonding and also when we realized that we had to work together, the two of us knew what we wanted. We knew exactly what we were capable of and what we wanted.
And that was exceptional, because late nineties every band became more extreme and harsher and you wanted to go back to the roots in some ways…
I never left the roots. I respect the roots. Oscar was more into death metal, but his influences and everything were still coming from the melodic eighties heavy metal music. I never left that, therefore I was always very lonely for quite some time, because no one wanted to play this type of music. Oh yes and I want to add something about the song 'Brotherhood'. Partially it is about the connection or the bonding between me and Oscar, but the biggest portion of the song is a way to pay tribute to the fans. We talk to the fans, that we wouldn't be here without them. It is a really big portion showing gratitude to the templars of HammerFall, to the templars of steel.
We have the song 'No Son Of Odin'. Many bands sing about Odin, it is always 'waw', but you say 'NO Son of Odin'. Please explain the idea behind that…
At a certain point I think we needed to make a statement that Hector is no son of Odin. That is what the song is all about. He had the hammer, but no, it is not Thor's hammer. And though he is not Thor, we had to put it straight and tell people: c'mon, no, he is no son of Odin, he is not from Valhalla, he has never been to Asgard, he is his own super hero. I think his hammer is more powerful than Thor's. So it is just a kind of statement that we needed to make at this point. Yet still the commentaries on videos show that people still refer to Hector and the hammer, being Thor's hammer. It is kind of weird.
And why 'the hammer of dawn'? Does it just sound good or is there a deeper meaning to that?
I would not say there is a deeper meaning, not at this point, but I would say that a dawn is a new beginning. Hector with his hammer, he is still out there, fighting for a better tomorrow.
In 'Venerate Me' we have a guest. So please tell me how this cooperation with King Diamond came into being?
This was a big dream come true, both for me and for Oscar. We are gigantic King Diamond fans. We met him years ago at a show in Dallas, we did festivals with him and Pontus is the sound engineer for King Diamond on tour. When Oscar wrote this song, we said: 'shit this would be so cool if King Diamond would sing this.' 'Why we don't just ask it? Can we do this? Of course, he can always say no. Pontus had to make the phone call and King said: 'Sure, no problem'. Since it is a rather short part – I mean, he's not singing the whole song – it was important that he really sounded as King Diamond in that part. It had to be the way he wanted it to sound. So I also remember that Oscar was really, really happy and he could not believe his ears or eyes when he sat on the phone with King, going through the song for over an hour. Then he was really proud and starstruck.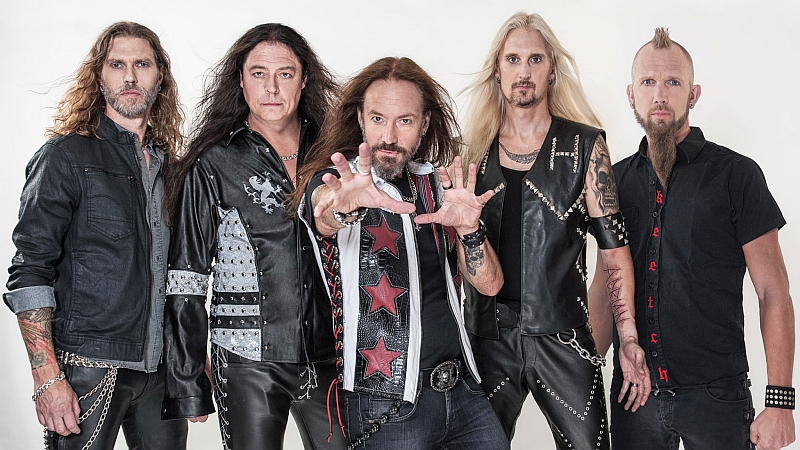 It is kind of funny how you approach getting older in the song 'Too Old To Die Young'… that is a totally different approach from that saying…
Absolutely. HammerFall is now releasing album number twelve. Everyone in the band is over fifty or close to fifty years old, so we are getting a bit old, but releasing another album makes sense. Another album that would make a difference. So yes, there's so many hymns inside of us, still unwritten. We need to write and give it to the people. You know what? We are not going to die, because we have so much more to give. We kind of like to play around with these words that we will carry on until it doesn't make any sense anymore and whenever that is, I don't know, but we are too old to die young, so let's do this until we just die of age or boredom.
A song like that will appeal to the fans of the early days, they aged together with you… although I notice not only people of our age in the audience, but also many young people… Is that something of an evolution through the years?
I think it has been going up and down through the years. The interesting part is that a lot of fans that we gained on the first or the second album, we kind of lost them on the way. When we play a song from 'Glory To The Brave', for example the title track, the majority of people are just looking like question marks. Uh, what song is this? You would think that everybody knows this song, because it is so old. No, a lot of new fans, they discovered HammerFall through 'Hector's Hymn' or 'Hammer High'. It is so good that everyone has their own experience with HammerFall and their personal favourite song. I would say that everyone has a personal relationship with the music of HammerFall.
What can you say about the re-release of 'Renegade 2.0'?
The original version of 'Renegade' was really perfect twenty years ago. The mix, the sound, everything kind of made a big difference for us, but in order to make 'Renegade' last for another twenty years, the sound needed an update. That is why Fredrik Nordström had to remix the album, because he did not do the original mix. That was done by Michael Wagener. And I think what Fredrik Nordström did with 'Renegade' was that he made 'Renegade' sound better, he added some new air to it, a breathe of fresh air. When I listen to it now, I think: 'oh my god, is this the same album?' because it is so much more energetic now. I am really happy with it and I really hope that people who thought the original mix was weak, they should definitely listen to the remix on 'Renegade 2.0'.
Another song I am going to shine a light on, is entitled 'Live Free Or Die', a title that will appeal to everybody in this current situation in the world…
Exactly and one aspect of it is that you should not take anything for granted. We kind of fought hard to keep the freedom that we have. If you look at what's happening in the world now, all of a sudden… I mean, when England is leaving the EU, you cannot buy a T shirt from England anymore without paying a lot of customs and tolls. You cannot go there anymore, because this government is in bad terms with that government. I mean, our freedom is the most valuable thing we have! Also that we should be able to live our lives as we please. I mean, I want to live my life the way I want it. No one else should force me to do it differently. Of course, you cannot hurt someone else and you have to treat other people respectful, but if you cannot live your life to the fullest, what's the point?
The artwork makes me think of Icarus, with those huge wings…
Yes, it is a little bit like Icarus, I never thought about that. What I do like with this artwork, we wanted something a little more positive. More light than 'Dominion' which was at the pandemonium, the capital of hell. It was more darkness and more serious in a sense. Now there is more light, more hope for the future. It is a very hopeful cover. But then like you, with Icarus, that's a really good point you have, even though things are looking good, you should always be a little bit careful, so you don't burn your wings.
Let us hope that the tour with Helloween will happen next year.
The whole idea of us for releasing an album in February, was that this will lead to the big tour with Helloween, we have the Summer, we have big tour plans for the rest of the year, but we have to wait and see what happens. We are positive, and whatever happens, will happen. You cannot do anything about it. People need to get vaccinated how, that is the main thing, so we can just continue with our lives and in the end, covid-19 within a couple of years, will just be another flue. But we are not there yet.
We talked about touring in the US earlier. Was that a big difference for you compared to Europe this time?
The really cool thing with the last big American tour was the fact that we came over with two big Swedish bands together, since we toured with Sabaton. HammerFall showed the Americans what true real European heavy metal is all about. I would say that Sabaton was the headliner and we were the special guest, there is no doubt about it, they are really doing well, but I was so happy that also the Americans are kind of understanding the importance and also the greatness about Sabaton and also now for HammerFall. I see big potential and a big future for us.
Did you do any other projects during the downtime?
No, at this point HammerFall is 100% of what I am doing, because in the passed years I think we took HammerFall to a certain level that needs both my attention and Oscar's attention 24/7. If I would start another project, or being part of another band, it would just take too much of my energy. Now I need to put everything into HammerFall, because I really think that with this album, we really will be able to take the next step. Being able to tour the whole world and be able to meet the greatest fans in the world, the templars of steel.