HAMMERFALL guitarist explains how KING DIAMOND's guest appearance on 'Venerate Me' came about Last month, Swedish metallers HAMMERFALL released a new single, "Venerate Me", featuring a special guest appearance by legendary Danish heavy metal singer King Diamond. The track is taken from the band's twelfth studio album, "Hammer Of Dawn", which is due on February 25 via Napalm Records.
In a new interview with Chris Akin, HAMMERFALL guitarist Oscar Dronjak stated about how King Diamond's contribution came about: "I'm a huge KING DIAMOND and MERCYFUL FATE fan — we all are, from our teenage years; we've listened to them since the '80s. And King Diamond is one of those artists — if you like King Diamond, you don't just like him; you love him and you love everything about it. That's just the way it is, for some reason; I don't know why it is, but that's how everybody is. So just having King Diamond as a cameo on the album — 'cause it's really what it is, is a cameo; it's not like a 'featuring King Diamond'; it's not a duet or anything. As much as I would love to do that, that's not what this is. So what happened was when I wrote this song 'Venerate Me', I had this part and I thought, 'If MERCYFUL FATE or KING DIAMOND had this song back in the day, this is how they would have done it somehow.' It was just in the back of my head. Then flash forward to album recording, I sat in the chair and I said, more than half joking, 'Wouldn't it be cool if King Diamond sang this part instead of Joacim (Cans, HAMMERFALL singer)?' or whatever, not thinking this is ever gonna happen; of course not. And then our other guitar player, Pontus (Norgren), he's a sound engineer as well; he works with King Diamond for years — several years — so he knows him. I know this, of course, but just knowing somebody doesn't mean that this thing is gonna happen. When I said, 'Wouldn't it be cool if…?', he said, 'I'm sure if I ask him, he's gonna say yes.' And I was, like, 'Are you fucking kidding me? Is there actually a chance, you think?' 'Cause then it started turning into, 'Is there actually maybe a possibility of this happening?' And then he called him later that night, and King said, 'Yes. Of course.' Right away he sent over the stuff. Then we had months to work on this, to get this ready. And you know how it is when you have a deadline that's months in the future — you don't deal with it until it's closer. So once we were in the mix, that's when things started to pick up again. We said 'If we're gonna do this, it has to happen now, 'cause soon it's gonna be too late.' And he sent over his file. I talked to him a lot on the phone, explaining what I… Well, actually I didn't have to explain anything, 'cause I sent the part, like, 'This is what I hear. Can you sing this? Do whatever you want, but this is what I hear.' And he tried to explain to me how he wanted it to sound and how he wanted his voice to sound in the mix, so we talked a lot about that. I understood this right away, because King Diamond's voice, that is his trademark; everybody recognizes that. So he was very particular in terms of how he wanted it to come across. He didn't wanna just do it and then send off the files and say, 'Do whatever the hell you want with it.' That is not the King Diamond style at all, and I a hundred percent appreciate that; I totally respect that. So we tried to include him as much as we could. We wanted him to be happy — that was the bottom line — we wanted him to be happy with the end result because otherwise he might not wanna do it. And we wanted everybody to be happy."
Oscar continued: "What we had and the detailed things he came up with, it was very small changes. For us, it didn't mean much at all. It was, like, 'more vocals here, less…' whatever — balance, basically, and the sort of effects that were used on the vocals. So we were happy with just anything. But he was really meticulous about getting his voice just right. I mean, can you believe after doing this for 40-whatever — yeah, 40 years now, I think — being this meticulous about something, I have so much respect for that. So once we got those levels and everything balanced, he was happy; we were happy. Boom. That was the last thing that happened on the mix. And then — only then — did I actually believe this was gonna be true. Then I realized, 'Now we have it. Now it's done.' And then I was happy as hell."
Watch the visualizer for 'Venerate Me' below.
HAMMERFALL guitarist Oscar Dronjak comments: "The second single is here, and I'm very, very proud of it. The music was written during the darkest, most uninspiring days of the pandemic and still came out as one of the strongest on the whole album. Joacim's (Cans) fantastic lyric idea makes this track really stand out, and the special guest appearance towards the end really pushes it over the edge."
Adds Cans: "The song is overloaded with enchanting melodies and a very catchy chorus. Lyrically one of my greatest efforts dealing with the fact that we die twice. First when we take our last breath and second when someone says your name for the last time. Say my name and I will never die."
As one of the main forces in heavy metal, HAMMERFALL have dominated not only the Swedish album charts, but album charts across Europe throughout their extensive career, while earning gold status thrice. Faced with the daunting task of following up the band's last studio album, "Dominion", an album that fans and critics hailed as one of the band's strongest releases, HAMMERFALL collectively met the challenge head on and have delivered what many early listeners are predicting as the best metal album of 2022 and a high point of the band's catalog.
Cans states about the new album: "It's hard to describe in words how extremely happy and proud I am about the outcome of 'Hammer Of Dawn'. It was a struggle, for sure, but in the end we pulled it off and delivered a solid, vital and positive new album. Everyone is on top of his game and together we have created yet another milestone in HAMMERFALL history. Can't wait to sing these songs live together with my sisters and brothers, The Templars of Steel!"
Dronjak adds: "We spent a long time creating the songs for this album, mainly due to the coronavirus but also because we began working on the material very early. That's definitely evident in the result, the attention to detail is very big. Another thing that is quite palpable is the energy level, and that can be contributed to the extreme and forced downtime we all had to endure during the pandemic. The atmosphere in the studio was relaxed and laid back and the lack of stress created the perfect working environment for turning up the heat when the red light came on. It was easy to peak when you had to since there was no outside distractions or immediate deadlines. This album is a product of the pandemic in some ways, but more importantly it's a strong statement that we are experiencing the high point in our creativity at the moment. I've said it before: HAMMERFALL has never sounded better than we do right now."
"Hammer Of Dawn" track listing:
01. Brotherhood
02. Hammer Of Dawn
03. No Son Of Odin
04. Venerate Me
05. Reveries
06. Too Old To Die Young
07. Not Today
08. Live Free Or Die
09. State Of The W.I.L.D.
10. No Mercy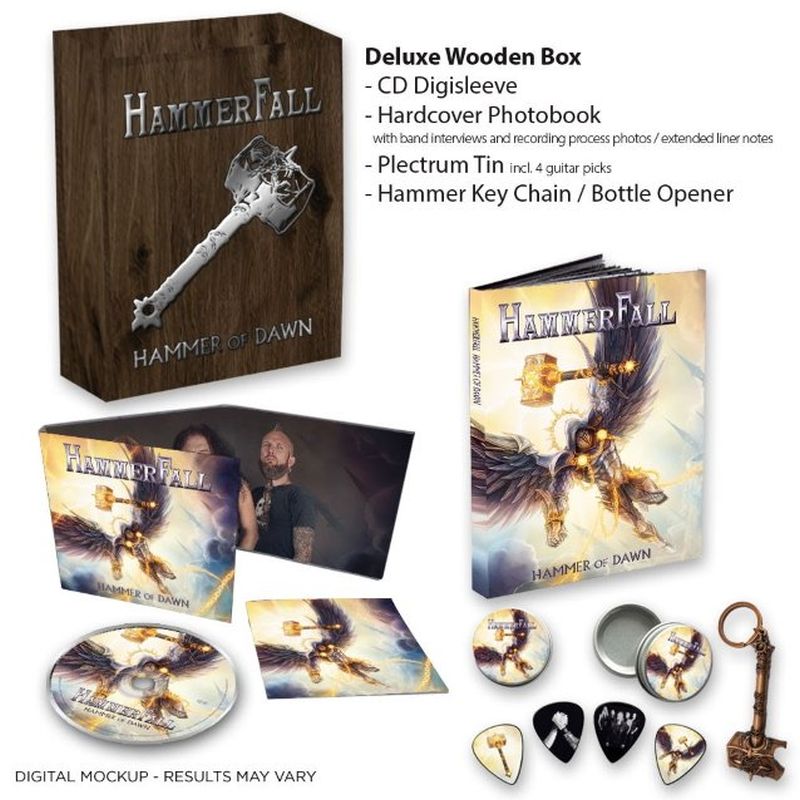 Hammer of Dawn will be available in the following formats:
– Ltd Deluxe Box, incl CD Digisleeve, Hardcover Photobook, Plectrum Tin, Hammer Key Chain, Bottle Opener – strictly limited to 500 (Napalm Webstore exclusive)
– CD Digisleeve
– 1LP Gatefold Black
– 1LP Gatefold Marbled Orange Transparent/Black – strictly limited to 300 (Napalm Webstore exclusive)
– 1LP Gatefold Crystal Clear – strictly limited to 300 (EMP exclusive)
– 1LP Gatefold Curacao – strictly limited to 300 (Levy X & Ginza exclusive)
– Bundle CD + Shirt
– Digital Album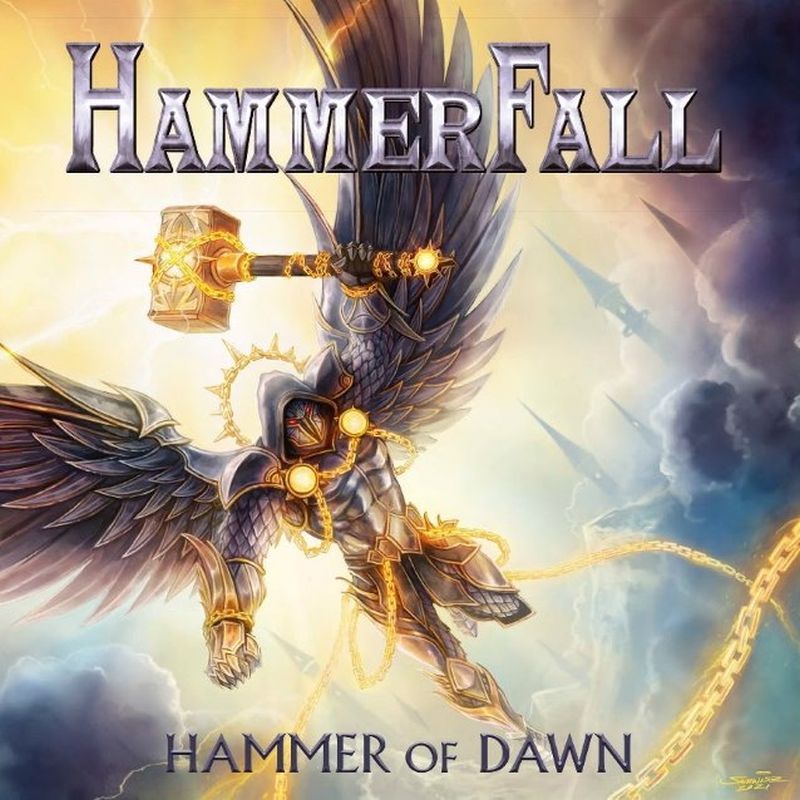 UNITED FORCES TOUR 2022
25.03.22 NO – Oslo / Sentrum Scene
26.03.22 SE – Göteborg / Partille Arena
28.03.22 FI – Helsinki / Black Box
29.03.22 EE – Talinn / Noblessneri Valukoda
01.04.22 DE – Bamberg / Brose Arena
02.04.22 DE – Hamburg / Sporthalle
03.04.22 DE – Berlin / Verti Music Hall
04.04.22 DE – Regensburg / Donau Arena
08.04.22 ES – Madrid / Wizink Center
09.04.22 ES – Barcelona / St. Jordi Club
11.04.22 IT – Milan / Lorenzini District
12.04.22 DE – Kempten / Black Box
13.04.22 CH – Zürich / Samsung Hall
15.04.22 LU – Luxemburg / Rockhal
16.04.22 NL – Tilburg / 013
18.04.22 PL – Katovice / MCK
20.04.22 BG – Sofia / Arena Armeec
22.04.22 AT – Vienna / Gasometer
23.04.22 CZ – Prague / O2
24.04.22 SK – Zvolen / Ice Stadium
26.04.22 HU – Budapest / Papp Laszlo Sportarena
29.04.22 DE – Bochum / Ruhrcongress
30.04.22 DE – Stuttgart / Schleyerhalle
01.05.22 DE – Frankfurt / Jahrhunderthalle
04.05.22 UK – Manchester / Manchester Academy
05.05.22 UK – London / Brixton Academy