FIVE FINGER DEATH PUNCH's eight studio album is set for release in winter 2020. WINTER 2020 ARENA HEADLINING TOUR OF EUROPE WITH SPECIAL GUEST MEGADETH – GENERAL ONSALE STARTS TODAY
BAD WOLVES TO SUPPORT in 17 COUNTRIES INCLUDING UK, GERMANY, SCANDINAVIA AND MORE
Multi-platinum American rock act FIVE FINGER DEATH PUNCH have released an exclusive preview of a new track, "Inside Out". The song is a first glimpse into the bands forthcoming eighth studio album, due for release later this Winter. Watch it AT THIS LOCATION.
FIVE FINGER DEATH PUNCH's eight studio album is set for release in winter 2020.
Arena tour with MEGADETH:
FIVE FINGER DEATH PUNCH have also announced their biggest European arena headlining tour to date, which will take place in January and February of 2020 with a massive package: multi-platinum legends MEGADETH will join the lineup as the special guest. Support will come from BAD WOLVES, the global breakthrough rock sensation of 2018 who have been garnering three #1 hits over the last 18 months and are getting ready to release their new album on October 25, 2019.
VIP Tickets available now:
The kickoff for the VIP tickets for the European tour of FIVE FINGER DEATH PUNCH with special guests MEGADETH and including BAD WOLVES on some dates ahs started. Find exclusive VIP tickets on the FIVE FINGER DEATH PUNCH OFFICIAL WEBSITE.
Says FIVE FINGER DEATH PUNCH guitarist Zoltan Bathory about the line-up of the tour:
"The line-up is massive. Bad Wolves were the break out band of recent years and are certainly bringing the heat. Megadeth needs no introduction, they are absolute legends. Dave Mustaine's contribution to this genre is simply immeasurable. I consider him one of the founding fathers of not just Thrash but Heavy Metal in general, because his riffs and guitar playing have influenced everyone that was in Megadeth's blast radius… and that's a big radius".
MEGADETH vocalist Dave Mustaine adds:
"Hindsight is always 20-20, but looking back it's still a bit fuzzy. Looking forward, you'll be in trouble if you don't come see us with Five Finger Death Punch in early 2020. You don't wanna miss it. See you soon!".
Megadeth vocalist Dave Mustaine has recently unveiled that he is suffering from cancer on his throat. Predictions is that he should be able to fully recover, but in the meantime the band was forced to cancel important shows, among which the Mega Cruise, which they headlined. In previous years, Mustaine has admitted that his intensive drug, alcohol and tobacco abuse have damaged his ability to sing the songs the way he meant them.
Full List Of Winter 2020 Dates:
14th January @ Palace Of Sports (Kiev, UA)**
16th January @ Adrenaline Stadium (Moscow, RU)**
18th January @ A2 (St. Petersburg, RU)**
20th January @ Hartwell Arena (Helsinki, FI)
22nd January @ Hovet (Stockholm, SE)
23rd January @ Spektrum (Oslo, NO)
24th January @ Royal Arena (Copenhagen, DK)
26th January @ AFAS Live (Amsterdam, NL)
28th January @ Zenith (Paris, FR)
30th January @ Cardiff Arena (Cardiff, UK)
31st January @ Wembley Arena (London, UK)
3rd February @ Max-Schmeling Halle (Berlin, DE)
4th February @ Sporthalle (Hamburg, DE)
6th February @ Festhalle (Frankfurt, DE)
8th February @ Koenig-Pilsener Arena (Oberhausen, DE)
9th February @ Schleyerhalle (Stuttgart, DE)
10th February @ Olympiahalle (Munich, DE)
12th February @ Torwar (Warsaw, PL)
14th February @ Tipsport Arena (Prague, CZ)
16th February @ Alcatraz (Milan, IT)
17th February @ Hallenstadion (Zurich, CH)
19th February @ Stadthalle (Vienna, AT)
20th February @ Budapest Sportarena (Budapest, HU)
* 5FDP Headline Show without Megadeth and Bad Wolves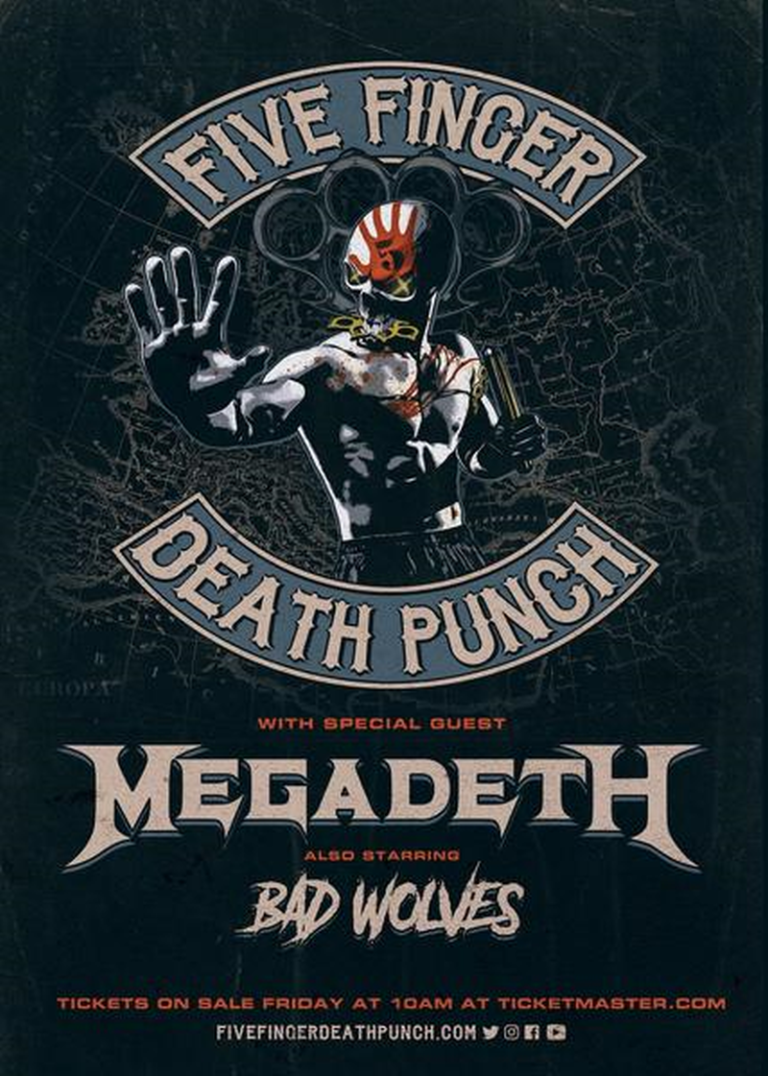 Check de onderstaande socials voor meer informatie over deze band.