EXCLUSIVE: NETHERBLADE 'Reborn' album premiere and new single "Nothing is Real" EXCLUSIVE: NETHERBLADE 'Reborn' album premiere and new single "Nothing is Real"
Italian thrashers NETHERBLADE are back with their first full-length album, "Reborn".  "Reborn" will be released on October 16th 2020 through Dark Hammer Legion/Volcano Records.  The band also released the new single "Nothing is Real".

You can stream the album in its entirety exclusively at Arrow Lords Of Metal below.
Watch "Nothing is Real" below.
The band comments:
"It's finally here: our new album is about to be unleashed upon mankind! 'Reborn', our debut record, is in fact a thrash metal anthem that encourages you to move forward and not give up, despite the adversities encountered along the way. An anthem that inspires us to embrace hope and to instil hope, as quoted in the lyrics of the title track.
We are very happy with how the record came out and we would like to take this opportunity to thank Max Iantorno (Apocalypse Extreme Agency), Luca Pessina (Anubi Press), Dark Hammer Legion and Volcano Records for making this release possible.
A special thanks also goes to Carlo Meroni, a great producer who always made sure everyone in the band gave 100% in the studio".
NETHERBLADE was born from the ashes of Milan's metal band Blindeath in 2016. Shortly after the first rehearsals, Dan, Luca and Simone hired Riccardo Bona as second guitarist and Andrea Ledda for the frontman position.
Towards the end of 2016 the band signed to ETN Records and released their debut single, "Thieves' Den", only in digital format on all major platforms and stores. In support of the single, the group also released an official videoclip in order to make more waves in the underground circuit.
In 2017 NETHERBLADE signed to Vomit Arcanus Prod. and started working on their first EP, "Annihilation of Self", which was released in 2018. To support the EP, the band launched two singles in lyric video and official videoclip formats on YouTube, while the whole EP was being released in digital format on all the usual platforms.
In 2019 Riccardo left the band and was promptly replaced by Davide: with this lineup, the band entered the studio and started recording the debut album, entitled "Reborn", at the beginning of 2019. The record will be release and distributed via Dark Hammer Legion and Volcano Records.
"Reborn" tracklist:
01. Overture
02. Eyes of the World
03. Reborn
04. From the Abyss
05. 'till the End
06. Braindamage
07. Killing Spree
08. Wasted Generation
09. Netherblade
10. Nothing is Real
Line-up:
Danilo Sunna – Drums
Simone Aiello – Guitar
Davide Zacco – Guitar
Andrea Ledda – Vocals
Fabio Vanotti – Bass
*Luca Frisenna – Bass on the album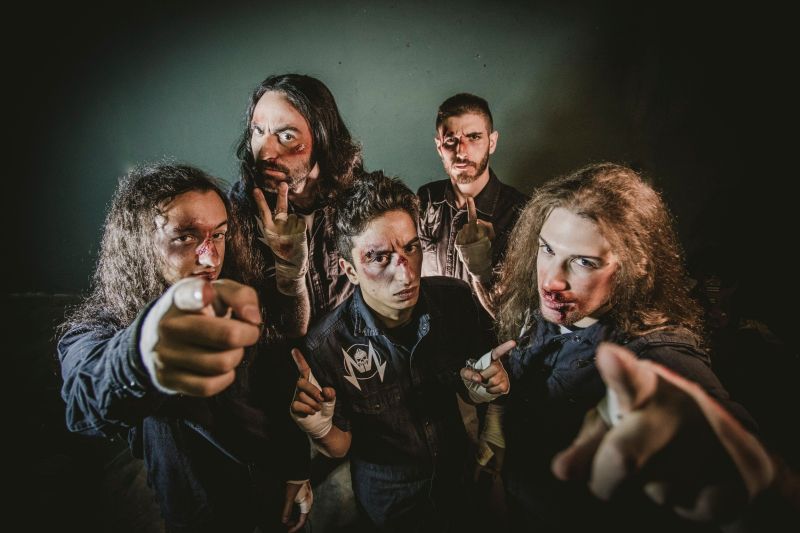 Check de onderstaande socials voor meer informatie over deze band