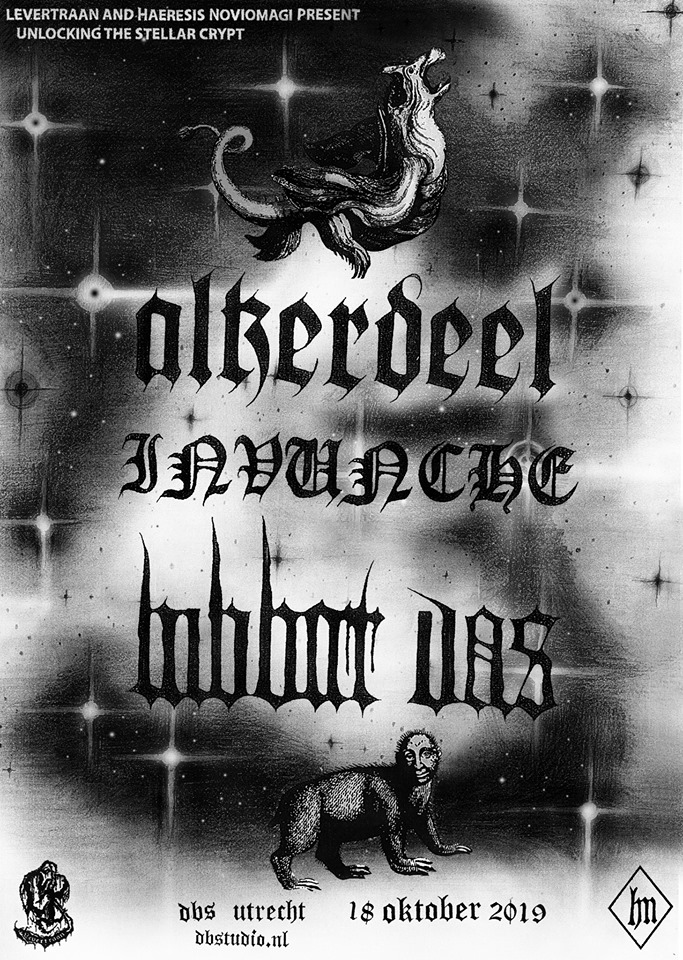 Unlocking The Stellar Crypt: Alkerdeel – Invunche – Lubbert Das
After five years of friendship and devotion to the underground of the Lowlands, Levertraan and Haeresis Noviomagi together present an evening of shared appreciation to black metal. This night every planet in the universe will be alligned correctly and shall bestow three fabled bands upon us.
» Alkerdeel «
» Lubbert Das «
The longest living Haeresis Noviomagi act is back on track with "De Plagen" released as their new album. We are delighted to bring this highly anticipated act on stage tonight.
» Invunche «
The Invuche lore continues. This cold night will lure it's embodiment on stage. With its last live fulfilment back in 2015, this is a rare occasion. Invunche stands for stomping and desorienting blackpunk in the vein of Beherit, Darkthrone, Sump, Cirrhus…
Both Hearesis Noviomagi and Levertraan will have their full distro available this evening. We've also invited Babylon Doom Cult Records and The Tide of the End to join our event with their distro. So be sure to bring cash to pick up some merchandise.
Babylon Doom Cult Records – BabylonDoomCultRecords.com
Tide of the End – Facebook.com/TheTideOfTheEnd
Haeresis Noviomagi – HaeresisNoviomagi.com
Levertraan – Levertraan.net