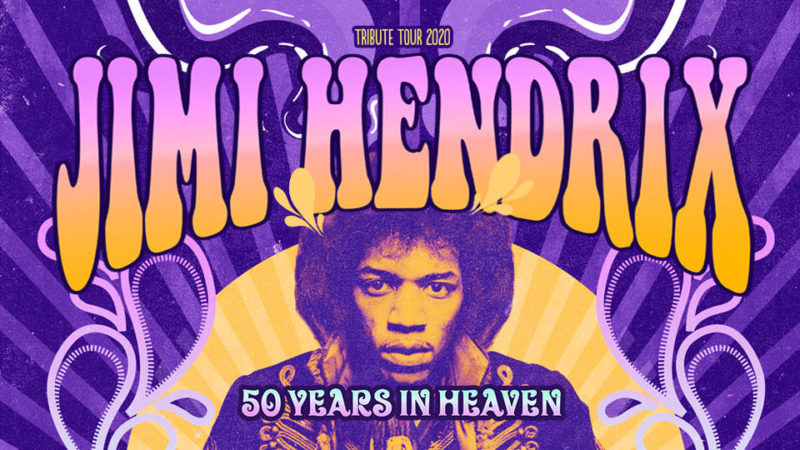 THE JIMI HENDRIX TRIBUTE TOUR
Vrijdag 18 september is het exact 50 jaar geleden dat gitaarvirtuoos en muzikale grootheid Jimi Hendrix ons in verbijstering achterliet. Zijn plotselinge dood – op slechts 27 jarige leeftijd – sloeg in als een bom in de muziekwereld. Hendrix was de meest excentrieke gitarist ooit en is nog steeds een belangrijk inspiratiebron voor de huidige generatie muzikanten. Zijn psychedelische gitaarspel ontketende eind jaren zestig een revolutie in de rock & roll. Zijn bezeten solo's, linkshandig op die omgedraaide gitaar, soms met z'n tanden, soms in z'n nek; het zorgde voor een ware cultstatus. Achter Hendrix stond dan ook nog eens een Marshall-toren en onder zijn voet het kenmerkende wahwah-pedaal.
Vanuit het Hedon Productiehuis is de afgelopen jaren een traditie ontstaan om een ode te brengen aan Jimi Hendrix, en dit jaar doet een record aantal zalen door heel Nederland mee! Deze tribute aan 'de gitarist der gitaristen' wordt een rockfeest met Nederlandse topgitaristen en een absolute topband die de muzikale nalatenschap van Hendrix laten herleven. Van The Experience tot de Woodstock-band; van The Band Of Gypsies tot het rhythm & blues-repertoire. Daarnaast is rondom de voorstelling een tentoonstelling met unieke foto's en te gekke canvassen te zien, en presenteren we ook het verschenen boek Jimi Hendrix Compleet (Het verhaal van de 119 songs).
Hendrix tribute band c.q. Hedon All Stars:
De basis van de Hendrix Tribute Band bestaat uit: Bauke Bakker – drums/zang; Reindert Kragt – basgitaar; Gertjan van de Weerd – toetsen/zang; en Rick Mensink – percussie. Speciaal voor dit eerbetoon wordt de band bijgestaan door een groep fantastische gitaristen/zangers, met daarin o.a. Vedran Mircetic (De Staat); Kees Lewiszon en Merijn van Haren (Navarone), Twan van Gerwen (o.a. Beef en Kenny B), Ed Struijlaart, Jaap Kwakman (3J's), Ross Curry (Spo Dee O Dee) en Henk Wesselink (Money & the Men). Ook zal per zaal als extra gast een lokale held/heldin meespelen! Wie dat bij welke zaal is, blijft nog even een verrassing! Per zaal zullen er verschillende gasten te zien en te horen zijn, maar bovenal wordt het een mooie niet te missen avond met louter topmuzikanten die Hendrix in hun hart dragen.