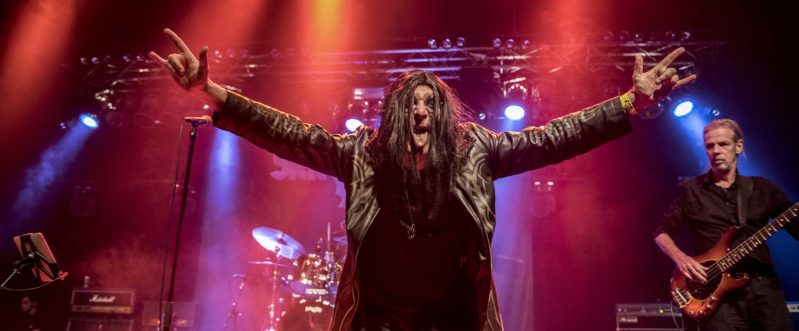 Sick Sabbath (Black Sabbath tribute) – Ironic Maiden (Iron Maiden tribute)
De muziek en de act van Black Sabbath wordt net zo mystiek en zwart, als het origineel door Sick Sabbath neer gezet. Een muur van geluid zorgt voor een snel herkenbaar geluid. Dit is de oorsprong van heavy metal. In een feest van herkenning komen de nummers van de elpees "Black Sabbath" en "Paranoid" voorbij, vakkundig vertolkt door 4 ouwe rotten op muziekgebied met maar 1 missie: de muziek van Black Sabbath vertolken. Niet alleen de muziek, maar ook de act is als het origineel: front man (H)ozzy zorgt voor een natuurgetrouwe versie van Ozzy Osbourne, net zo leuk en wellicht net zo gek, maar altijd bezig met zijn publiek.
Sick Sabbath zorgt er voor dat je even mee terug genomen wordt naar de oorsprong van de heavy metal uit de jaren 70 en 80. Naast het oudere werk speelt Sick Sabbath ook meer recent werk, het DIO tijdperk en Ozzy nummers. Wees klaar voor een trip down metal-memorylane!
Iron Maiden staat al sinds 1975 op de planken, en voor elk van de leden van Ironic Maiden heeft deze band altijd een grote aantrekkingskracht gehad. Onder het motto "wie is er niet groot mee geworden" spelen de leden van Ironic Maiden de grote krakers van Iron Maiden, en dat zijn er nogal wat! Een avond Ironic Maiden staat dan ook voor ruim 2 uur genieten van Run to the Hills, Phantom of the Opera, The Number of the Beast, Wasted Years, etc., etc., etc.. Ironic Maiden speelt vooral het oudere werk. Zeg maar: de nummers waar de échte Iron Maiden niet aan toe komt op hun wereldtournees.
Ironic Maiden is opgericht in 2006 en heeft in de afgelopen jaren met passie de nummers van Iron Maiden ten gehore gebracht in Nederland, maar ook daarbuiten. De jaarlijkse tour in Spanje, België, zelfs het Hardrock Hotel in Las Vegas ontbreekt niet op het lijstje podia waar deze muzikanten hun passie voor Iron Maiden ten gehore hebben gebracht. Komt dat zien!