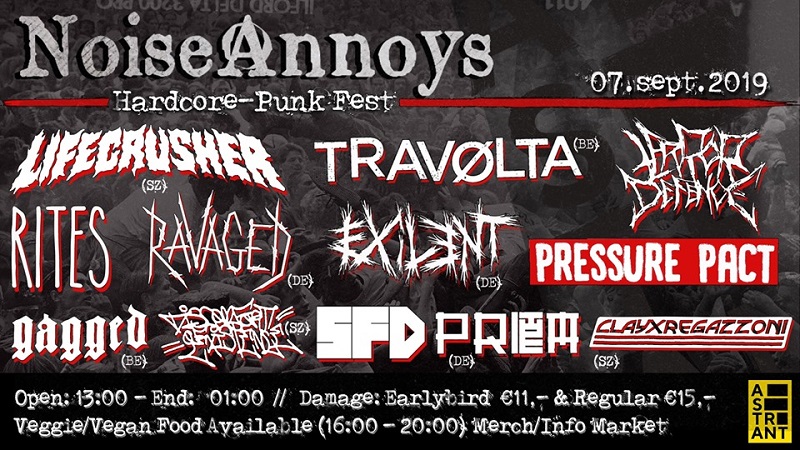 NOISE ANNOYS! 2019
Noise Annoys is a one-day hardcore-punk festival where a maximum amount of local and international bands will crowd the two stages of the venue. It's organized by the driving members of Ede Zuigt, Nog Steeds at Astrant in Ede.
This festival aims to unite all lovers of hardcore-punk and related genres that are strongly influenced by this raging sound that challenges the status quo.
We aim to give a stage to those bands, old and new, who are still progressing the political punk and hardcore scene in new and exciting ways, and are giving a voice to this generation of punks!
GOES WITHOUT SAYING, BUT STILL SAYING
▀▀▀▀▀▀▀▀▀▀▀▀▀▀▀▀▀▀▀▀▀▀▀▀▀▀▀ ▀ ▀ ▀ ▀ ▀ ▀ ▀ ▀
NO SEXISM, NO RACISM, NO HOMOPHOBIA, NO FASCISM, NO CLASSISM, NO XENOPHOBIA, NO HATE!
Enjoy each other's company and respect each other's boundaries 🙂
LINE-UP
▀▀▀▀▀▀▀▀▀▀▀▀▀▀▀▀▀▀▀▀▀▀▀▀▀▀▀ ▀ ▀ ▀ ▀ ▀ ▀ ▀
▶ Lifecrusher (SZ) Hardcore
▶ Exilent (DE) D-beat / Hardcore-punk
▶ TRAVØLTA (BE) Fastcore / Powerviolence
▶ Pressure Pact (NL) Hardcore-punk
▶ Ravaged (DE) Hardcore / Crust
▶ The Prim (DE) Fastcore / Hardcore
▶ GAGGED (BE) Hardcore
▶ Rites (NL) Hardcore / Punk
▶ Terror Defence (NL) D-Beat
▶ Discomfort Of Existence (SZ) Powerviolence
▶ ClayxRegazzoni (SZ) Fastcore/Hardcore-punk
▶ SFD (NL) Hardcore/Hardcore-punk
TIMETABLE
▀▀▀▀▀▀▀▀▀▀▀▀▀▀▀▀▀▀▀▀▀▀▀▀▀▀▀ ▀ ▀ ▀ ▀ ▀ ▀ ▀
DOORS OPEN: 13:00
FIRST BAND: 14:00
LAST BAND: 23:30
Prices:
– Early Birds €11,- (incl service fee)
– Regular €15,- (incl service fee)