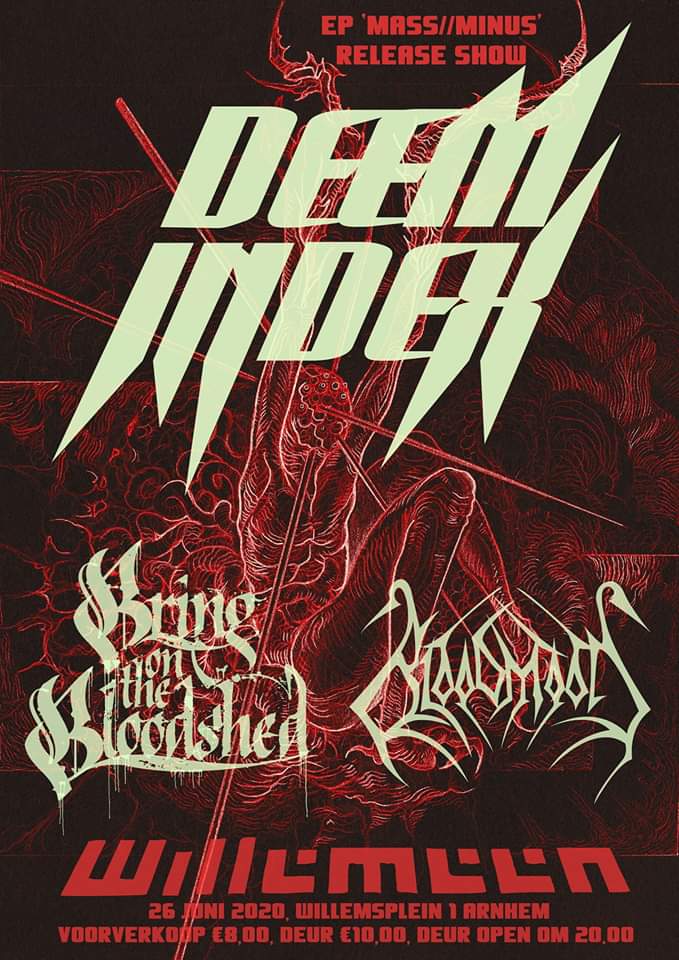 Deem Index (release party)
DEEM INDEX – MASS//MINUS EP Release Party vrijdag 16 oktober 2020 gaat het dan eindelijk gebeuren!
De band presenteert dan de langverwachte opvolger van hun debuut EP VAIN//VOID.
death mDEEM INDEX
Arnhem based metal band DEEM INDEX exists, in their current steady line up, since 2011. The EP MASS//MINUS is the successor of their debut EP VAIN//VOID (2014) and again it shows that DEEM INDEX doesn't shun from mixing the various styles of metal.  The diversity of styles in metal and their energetic stage performance made it possible for DEEM INDEX to share various venues with amazing national and international bands like Katalsym (CAN), Dew-Scented (D), Inside The Artist's Head (SE), Eyes Wide Open (SE), The Very End (D), Bodyfarm (NL), Blood Red Throne (NO), Distillator (NL), For I Am King (NL), Magnacult (NL), Bring On The Bloodshed (NL) and many others. It also provided DEEM INDEX the headline slot at The Unborn Fest 2016 on Terceira, Azores, Portugal.
Dit wordt nu een seated show helaas is het niet mogelijk ook de supports te laten spelen.