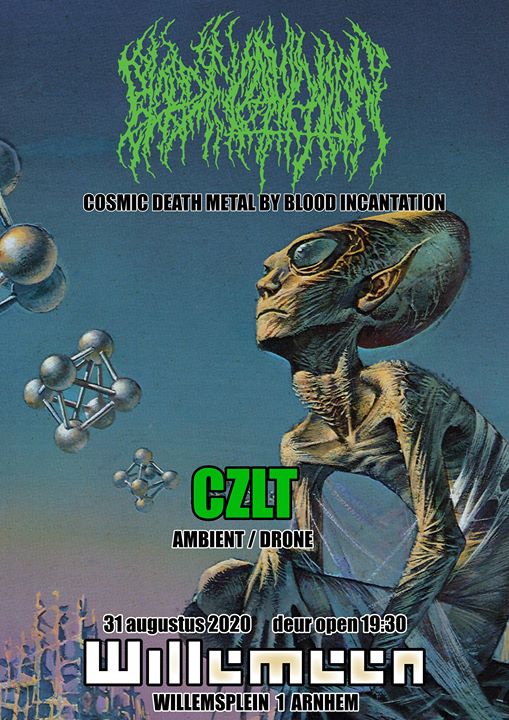 AFGELAST – Blood Incantation – CZLT
Weer een hele gave band in Willemeen BLOOD INCANTATION samen met Gatecreeper (20-8) het gaafste op death metal gebied van dit moment! 
BLOOD INCANTATION
Cosmic Death Metal band BLOOD INCANTATION was formed in 2011 finally embarking on their first tour in 2015, which coincided with the release of their debut studio EP "Interdimensional Extinction" on Dark Descent Records. After releasing a now-infamous split EP with SPECTRAL VOICE, the band entered World Famous Studios in Denver, CO to record their debut album "Starspawn" (Dark Descent Records). A cerebral whirlwind of intense and otherworldly Atmospheric Death Metal, "Starspawn" soon took the underground Death Metal world by storm. The next two years took them all around the world, sharing the road with underground cult favorites like DEMILICH, CRUCIAMENTUM & NECROT as well as Metal Legends MORBID ANGEL, CANNIBAL CORPSE, IMMOLATION and even ARCTURUS.  BLOOD INCANTATION have established themselves as a powerful force in the underground live circuit, having additionally dominated a multitude of esteemed festivals such as Brutal Assault, Party-San Open Air, Kill-Town Deathfest, Beyond The Gates, Maryland Deathfest and more. During this time "Starspawn" has gone on to sell nearly 10,000 copies on vinyl alone, garnering near-universal acclaim from both fans & media alike. The band finished off 2018 by self-releasing the "Live Vitrification" EP, a vibrant documentation of their powerful live performance.
In the Summer of 2019, BLOOD INCANTATION re-entered World Famous Studios to record "Hidden History of the Human Race", where they were committed to manifesting an even more powerful and diverse album than its predecessor. From the neck-breaking speed, slams, and sheer aggression of the opening track "Slave Species of the Gods", it is immediately apparent that they have succeeded. Listeners are then thrown into "The Giza Power Plant", an intense and brutal timewarp that proves to be even more progressive and atmospheric than the most epic moments on "Starspawn".
However, nothing can prepare the listener for the journey that is "Awakening From the Dream of Existence to the Multidimensional Nature of Our Reality (Mirror of the Soul)", the album's final track. Clocking in at eighteen minutes of unrelenting speed and intensity, this is the most  monumental BLOOD INCANTATION song ever recorded. With cryptic, ethereal lyrics and classic 1970s artwork by Sci-Fi god Bruce Pennington, "Hidden History of the Human Race" is both a meditative inquiry on the Mystery & Nature of human consciousness, and a dynamic foray into the realms of Progressive, Brutal & Atmospheric Death Metal, as revealed by BLOOD INCANTATION.
CZLT 
Born in 1988 in Nîmes, France, CZLT lives and works in Brussels as a musician, painter, sound installer, graphic designer, producer and label director. He studied at the Royal Academy of Fine Arts of Brussels (ARBA-ESA) and at ISASF La Cambre Architecture, Art and Landscape.
Sounds from planets and stars (NASA plasma captations), sounds made with guitars on electrical ventilators installation and amplified guitar drones after discovering the work of french accousmatic music pioneer Eliane Radigue.
CZLT is the solo project of Guillaume Cazalet (Neptunian Maximalism NNMM, Jenny Torse, AKSU, Homo Sensibilis Records). After a first piece of 1 hour spectral music using plasma sounds from NASA, He recently worked for contemporary artists Felix Luke & Iñigo Bilbao for the masterpiece "Junkyard", by recording creepy drone metal soundscapes like SOMA work of SunnO))). Then, he started to work on a total art performance like an occult ritual mixing gesture protocols and purifying smokes, installation, drone doom metal music, Tibetan throat singing, amplified Indian sitar, flutes, ceremonial costume and wall painting, etc. He also uses Enochian Keys and fatal formulas to invoque obscure power against any form of domination on earth.
Links:
BLOOD INCANTATION (us) – Century Media / Dark Descent Records
https://www.facebook.com/astralnecrosis
https://darkdescentrecords.bandcamp.com/album/hidden-history-of-the-human-race
CZLT (bel) – Homo Sensibilis Records
https://homosensibilisrecords.bandcamp.com/