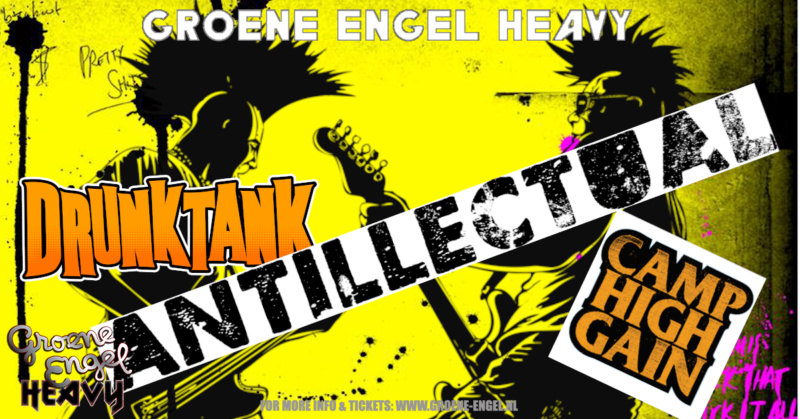 Antillectual – Camp High Gain – Drunktank
Dit concert is VERPLAATST van 17 april naar 30 oktober.
Antillectual
Ben je tegenwoordig een beetje bang om het nieuws te kijken? Of kan jij jezelf flink boos maken om de toestand van de wereld? In welke van de twee kampen je ook valt, je bent altijd aan het goede adres bij Antillectual. De Nijmeegse punkband is al twintig jaar bezig en heeft niks van zijn scherpheid ingeleverd, integendeel! Antillectual is een band die zichzelf niet te serieus neemt, maar de wereld om zich heen juist wel. Dit is goed te zien in de meest recente nummers, zoals Fever, waarin de klimaatcrisis wordt behandeld met de vraag 'als jij je al belabberd voelt met koorts, hoe voelt de hele planeet zich dan?' Als een van de vaandeldragers van de Europese punkrock zijn de heren graag geziene gasten op vele podia en festivals. Nu is het tijd om de Groene Engel over te nemen en Oss kennis te laten maken met hun boodschap.
Drunktank
Drunktank bestaat uit vier mannen met een missie. Deze missie is eigenlijk heel simpel: ervoor zorgen dat punkrock nooit kan sterven. Niet dat dat sowieso kan, maar met de vier superhelden in Drunktank hoeven we ons helemaal geen zorgen meer te maken! De band mengt '90s skatepunk met '80s metal riffs, waardoor je niet stil kunt blijven staan. In 2019 is het langverwachte tweede album uitgebracht, genaamd Return of the Infamous Four, en met zo'n titel weet je meteen waar je aan toe bent. Drunktank zal je bier drinken, je sokken laten zakken en ook nog eens je wereld redden. Wie wil dat nou niet zien?
Camp High Gain
Camp High Gain bestaat uit o.a. 2 ex-leden van Undeclinable (Ambuscade) en maken 'high energy 90's favoured punk rock with a punch of melodic hardcore'.Creatief en vol passie brengen ze een eclectische vorm van 'punk rock 3.0'.