DW Announces The 2020 Collector's Series® Private Reserve Exotics DW Announces The 2020 Collector's Series® Private Reserve Exotics
Limited Edition Custom Drums In Exquisite Woods From Around The World
Drum Workshop Inc. (DW) has recently begun shipping Collector's Series® Private Reserve Exotics.  Hand-crafted at the California Custom Shop, the exclusive range of exotic wood veneers is only available in limited supply which can be viewed here.
John Good, DW's highly respected 'wood-whisperer' and drum designer, has once again traveled the world to hand-curate a stunning collection of select wood species that can be ordered as exotic finishes over available DW shell configurations. Included in the new 2020 collection is Tortoise Shell Pommele, Moabi, Horizontal Padouk, Vertical Padouk, Super Maple Curl, African Chechen and Monkey Pod. Each Exotic can be custom ordered in hand-sprayed polyester gloss lacquer or matte finish Hard Satin lacquer.  In addition, these natural wonders can be combined with an almost limitless array of bursts, fades and transparent lacquers to create a one-of-a-kind visual statement.
The origins of the collection are varied and storied: –
Tortoise Shell Pommele is a rare, semi-hard wood sourced from Ghana, Africa.
Good chose the Congolese Moabi for the startling consistency and striking beauty of its grain.      The extreme quilting of this pinkish wood comes from environmental drought conditions.
One of the most colorful veneers in the assortment is Padouk. Ordinarily it is only available in a vertical configuration as the veneer usually comes in 6" strips. However Good found a unique log from which 25" strips could be cut enabling DW to offer a rare horizontal version.
Maple trees on the outer edges of forests in Michigan are exposed to extremes of the cold and stormy weather. This harsh climate causes stunning figures to form in the grain of the heartwood and produce Super Maple Curl. 
African Chechen is generally a white wood with a straight, stripy grain. Good discovered an extraordinary log where the variegations and beauty of the grain is spectacular.
The dark, rich Monkey Pod wood from Hawaii with its golden hues usually has a less figured grain. Good has located an unusual piece of timber with a very expressive, tight grain pattern to perfectly compliment the Candy Black Burst.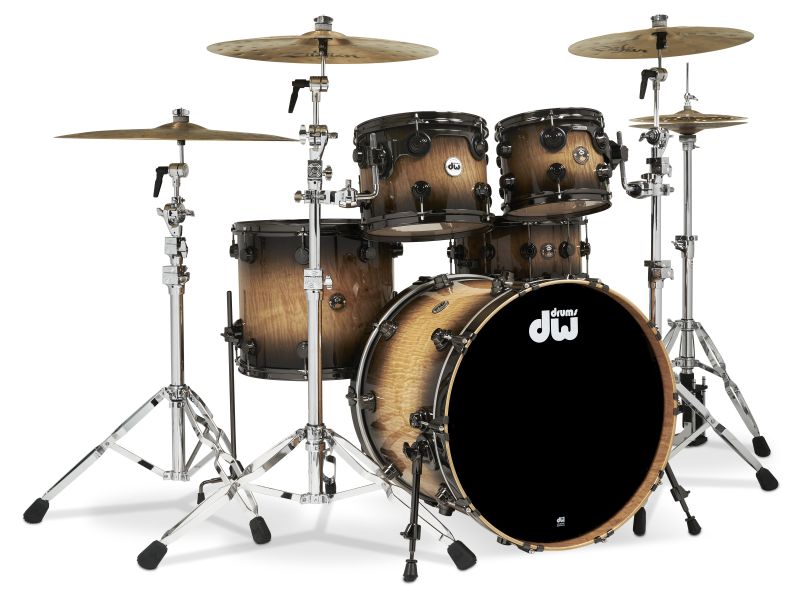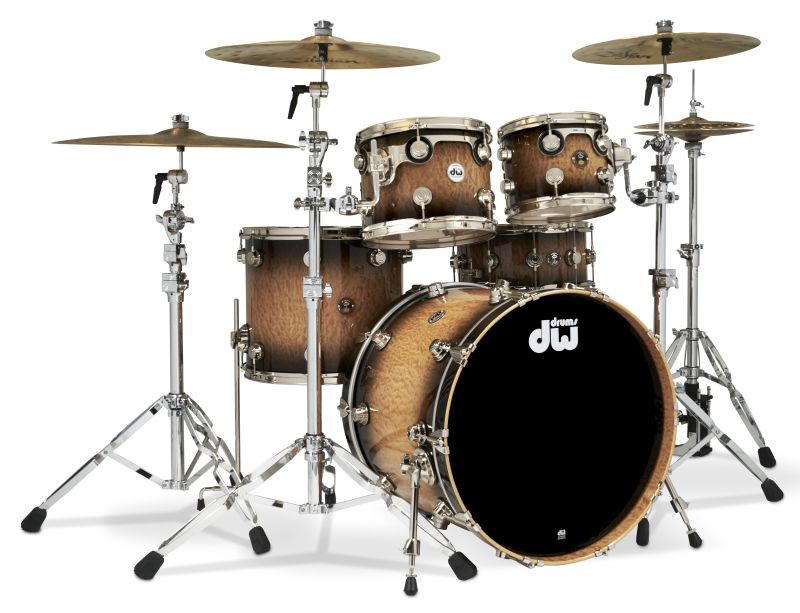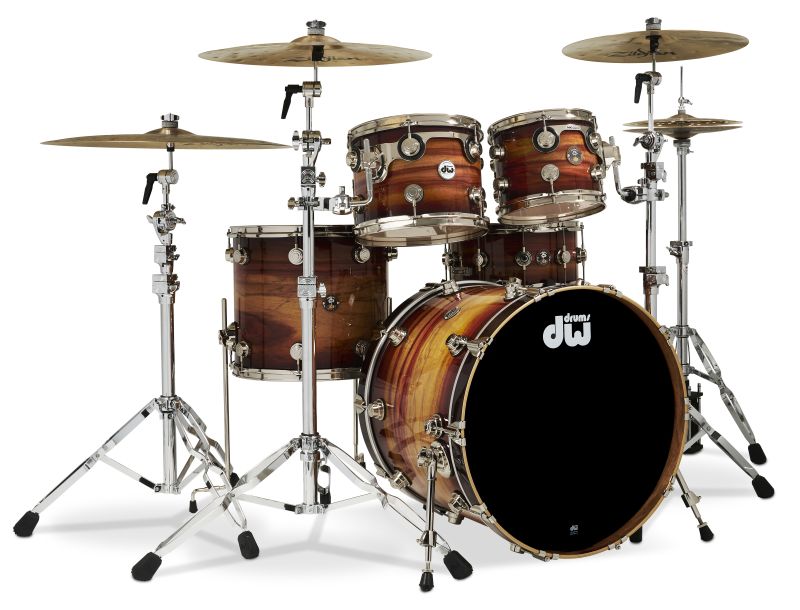 John Good comments:
"Last year I found these logs on a very productive wood hunt.  My wife Esther and I have the good fortune of traveling the world looking for woods that that are rarely used on musical instruments.  And I have these relationships with wood purveyors that come in handy.  They've become friends.  They know what I like and they save things for me to see. These new Private Reserves are some of my very favorites." 
Every Collector's Series® kit is crafted using the latest technology including a host of available grain orientation lay-ups and patented manufacturing techniques such as Cool Tempered Shells™ and Timber Matching™.
Check de onderstaande socials voor meer informatie over dit merk.