IRON MAIDEN's BRUCE DICKINSON is getting married for the third time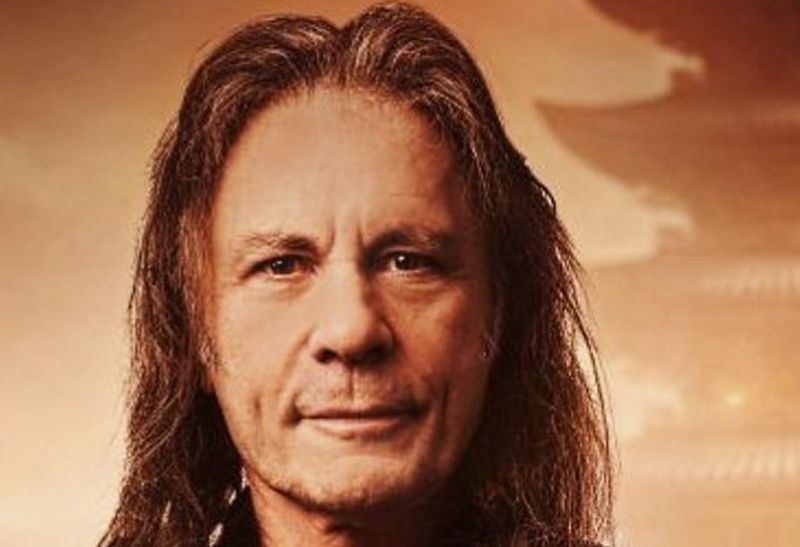 IRON MAIDEN's Bruce Dickinson and his girlfriend, French fitness instructor Leana Dolci, are engaged to be married.
The 64-year-old singer revealed the engagement while speaking to Bosnia And Herzegovina's N1 TV channel to promote his March 22 performance of Jon Lord's "Concerto For Group And Orchestra" at Sports Hall Mirza Delibasic in Sarajevo.
When the interviewer told Dickinson that Sarajevo is his "home," referencing the harrowing time in 1994 when Bruce was invited to play a show in war-torn Sarajevo, the Bosnian capital, with his solo band, Bruce replied: "My fiancée is coming. She's never been here. She's French. And I was coming in. I was hoping I was gonna be able to say, 'Okay, so here's [the Sarajevo street formerly named] Proleterskih Brigada,' and blah blah blah. But no, we came here a different way and everything. But I'm hoping she's gonna get some time to see the city. And not just the bad bits — to see the wonderful bits of Sarajevo."
Bruce's second wife, Patrice "Paddy" Bowden was found dead in May 2020 at the home they once shared in Chiswick, West London, following a "tragic accident." London Ambulance Service confirmed that the patient was pronounced dead on arrival.
Bruce and Paddy had married in 1990 after two years of dating and shared three children: Austin, Griffin, and Kia. They tied the knot after dating for two years following Bruce's split from first wife Erica "Jane" Barnett.
At the time of Paddy's death, Bruce said in a statement: "This is a terrible tragedy which appears to be a tragic accident.
"Our children Austin, Griffin and Kia and I are devastated. Out of respect for Paddy we won't be making any further comment at this hugely difficult and painful time for our family."
Dickinson is believed to have split from Bowden privately in 2018, although their breakup wasn't made public until November 2019.
Eight and a half years ago, Dickinson was diagnosed with stage 3 throat cancer after doctors discovered a golf ball-size tumor on his tongue and another in the lymph node on the right side of his neck.
The singer got the all-clear in May 2015 after radiation and nine weeks of chemotherapy and later covered his cancer battle in his 2017 autobiography, "What Does This Button Do?"
Dickinson made his recording debut with IRON MAIDEN on the "Number Of The Beast" album in 1982. He quit the band in 1993 in order to pursue his solo career and was replaced by Blaze Bayley, who had previously been the lead singer of the metal band WOLFSBANE. After releasing two traditional metal albums with former MAIDEN guitarist Adrian Smith, Dickinson rejoined the band in 1999 along with Smith. Since then, Dickinson has only released one more solo album (the aforementioned "Tyranny Of Souls") but has previously said that his solo career is not over.
In September 2021 IRON MAIDEN released their last full album 'Senjutsu', for which the band currently is out on a world tour.