Ayreon Zet Live Video Online Van 'Amazing Flight'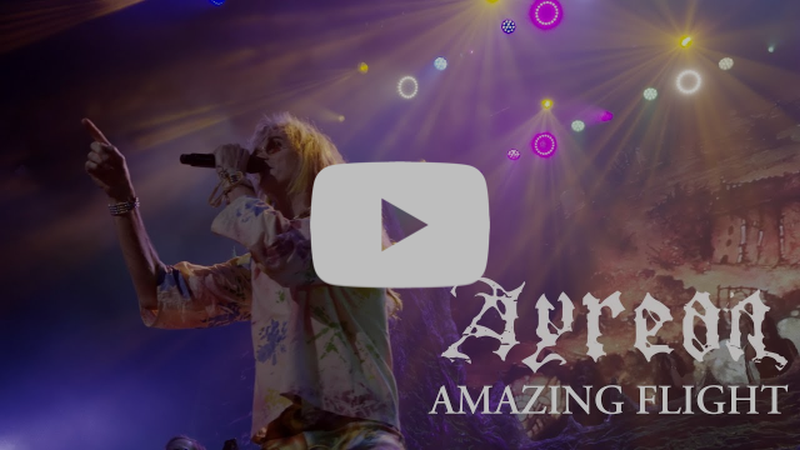 Ayreon Zet Live Video Online Van 'Amazing Flight'
DVD Komt Uit Volgende Week 27 Maart
Op 27 maart komt via Music Theories Recordings/Mascot Label Group 'Ayreon – Electric Castle Live And Other Tales' uit, een 3LP/2CD+DVD/Earbook/BD set van de live uitvoering van het 3e Ayreon album 'Into The Electric Castle'. In september 2019 was de 013 in Tilburg 4 dagen lang het toneel van Lucassen, zijn band, en een wereldvermaarde groep van zangers en zangeressen uit de progressieve metalwereld. 12.000 fans uit 64 verschillende landen reisden af naar Tilburg om daar de 20e verjaardag van het album 'Into The Electric Castle' te vieren.
"Naar aanleiding van de 20e verjaardag van het album hadden we net een geremixte versie uitgegeven, en we dachten dat dit de perfecte gelegenheid was om het album live uit te voeren", aldus Lucassen. "De Ayreon Universe shows waren zo'n geweldige ervaring voor iedereen, en er kwamen zoveel verzoeken voor meer shows, dat we besloten om het hele 'Electric Castle' album te spelen, aangevuld met een aantal zg. 'Other Tales', nummers van al mijn andere projecten".
Arjen Lucassen over de video Amazing Flight:
"Hier is het laatste voorproefje voor jullie van de Electric Castle Live release…zijn jullie klaar voor deze Amazing Flight in Space? Bekijk hoe die coole Hippie dude (ik!) de Barbarian met de grond gelijk maakt :-). En wat een band! Oh..vriendelijk advies voor de ouders onder jullie…vertel je kids om niet het slechte voorbeeld te volgen van de die gestoorde Hippie met zijn waterpijp!"
Bekijk 'Amazing Flight' hier:
'Into The Electric Castle', oorspronkelijk uitgegeven in 1998, is een klassiek verhaal over een epische tocht. Het speelt zich af in 'no time and no space', en vertelt het verhaal van acht individuen die, geleid door een mysterieuze stem, op zoek moeten gaan naar het geheimzinnige Electric Castle.
Op het album zingen o.a Fish (the Highlander, ex Mrillion), Lucassen (the Hippie), Sharon den Adel (Indian), Edwin Balogh (The Roman), Anneke van Giersbergen (the Egyptian), Damian Wilson (the Knight) en Edward Reekers (the Futureman), met de uitzondering van Sharon den Adel vertolken zij allen opnieuw hun rol in de spectaculaire live show.
De cast bestond uit maar liefst 22 zangers/zangeressen en instrumentalisten, waaronder een aantal mensen die al jaren met Lucassen werken, zoals Thijs Van Leer (Focus), Robby Valentine, Simone Simons (Epica), John Jaycee Cuijpers (Praying Mantis), Marcela Bovio en muzikanten Joost van den Broek, Johan van Stratum, Marcel Singor, Ferry Duijsens, Bob Wijtsma and Ben Mathot. Voor de 'mysterieuze stem' werd niemand minder dan Star Trek acteur John De Lancie ("Q") aangetrokken.
Track Listing
1. Welcome to the New Dimension
2. Isis and Osiris
3. Amazing Flight
4. Time Beyond Time
5. The Decision Tree
6. Tunnel of Light
7. Across the Rainbow Bridge
8. The Garden of Emotions
9. Valley of the Queens
10. The Castle Hall
11. Tower of Hope
12. Cosmic Fusion
13. Robby Valentine
14. The Mirror Maze
15. Evil Devolution
16. The Two Gates
17. Forever of the Stars
18. Another Time, Another Space
19. Shores of India
20. Ashes
21. Out In The Real World
22. Twisted Coil
23. Kayleigh
24. Pink Beatles in a Purple Zeppelin
25. Songs of the Oceans
Release datum: 27 maart 2020
Music Theories Recordings / Mascot Label Group
Check de onderstaande socials voor meer informatie over deze band.