Zeeltje Rock voegt The New Roses toe aan line-up met DELAIN en NASHVILLE PUSSY
Festival 18, 19 en 20 augustus in Deest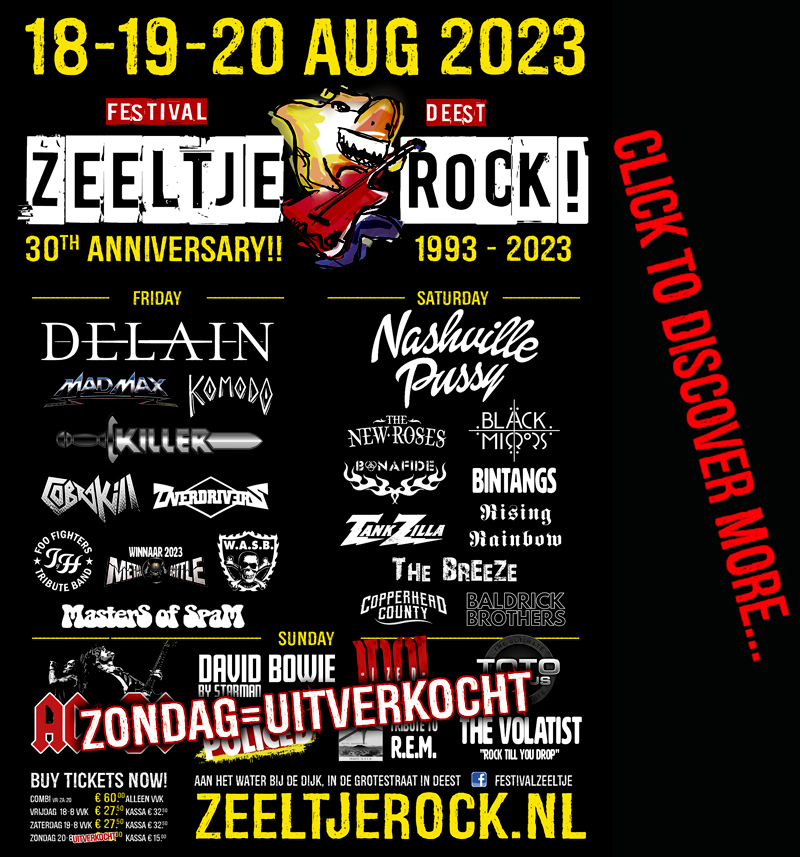 Naast de eerder bekendgemaakte headliners Delain (vrijdag 18 augustus) en Nashville Pussy (zaterdag 19 augustus), en diverse andere band, kondigt festival Zeeltje Rock in Deest nu ook The New Roses aan, voor de zaterdag. Het festival wordt gehouden van 18 tot en met 20 augustus. Het is de 30e editie van het festival.
Tot nu toe bevestigd:
Vrijdag 18 Augustus:
DELAIN, CobraKill, In your honor (Foo Fighters), Mad Max, Komodo, Killer, W.A.S.B. (W.A.S.P.), Masters of Spam, Overdrivers   
Zaterdag 19 Augustus:
Nashville Pussy, TankZilla, Copperhead County, Bonafide, Bintangs, The new Roses, Black Mirrors, Rising Rainbow, Baldrick Brothers    
Zondag 20 Augustus:
AC in DC, The Policed, HiFi Adventures (R.E.M.), Totolicious (Toto), Idolized (Billy Idol), Starman NL (David Bowie), The Volatist    
De kaarten voor de zondag zijn inmiddels uitverkocht. 
Het Zeeltje is bereikbaar vanaf station Tiel, lijn 42 richting Druten, lijn 85 richting Nijmegen, bushalte Grotestraat.
En vanaf station Nijmegen, lijn 85 richting Druten, bushalte Grotestraat.