XANDRIA releases new single "Ghosts"
Announce new album new line-up XANDRIA announce their upcoming new studio album, The Wonders Still Awaiting, out February 3, 2023 via Napalm Records. The legendary German band, founded by mastermind Marco Heubaum, introduces its new lineup after six years of silence. The band now release their new single, "Ghosts", together with a music video.
Watch "Ghosts" below.
XANDRIA on "Ghosts" and the new album:
"Ghosts actually started as a reminiscence to good old Swedish melodic death metal and with that archetypical guitar riff that you hear right in the beginning.
And then we integrated it into our XANDRIA soundscape with lots of film score atmosphere and big choirs, because it was exciting to mix these elements and do our own thing with it (still we kept the working title "Swedish Fire" for a long time…).
It is a good example for how diverse the new album will be and how many different influences we were putting into it. We had a lot of things – little musical dreams – in our minds and hearts that we wanted to realize, and along with what you already heard in the first two new songs this is just one of them. There will be quite some more surprises coming…"
Watch the artwork for The Wonders Still Awaiting below. Watch the previously released songs "Reborn"and "You Will Never Be Our God (ft. Ralf Scheepers)" below
The Wonders Still Awaiting Track Listing:
Two Worlds

Reborn

You Will Never Be Our God (feat. Ralf Scheepers)

The Wonders Still Awaiting

Ghosts

Your Stories I'll Remember

My Curse Is My Redemption

Illusion Is Their Name

Paradise

Mirror Of Time

Scars

The Maiden And The Child

Astèria
 The Wonders Still Awaiting will be available in the following formats:
1CD Jewelcase

2CD Mediabook

2LP Gatefold BLUE/BLACK MARBLED

Deluxe Box (incl. 2CD Mediabook, Heat-Change XANDRIA Mug, Flower Ball Box (2 pcs.) incl. 1€ donation to "Eden Reforestation Projects", Album Cover Patch (

⌀10cm), excl. Golden "Meet & Greet" Ticket (strictly ltd. to 10 pcs.), excl. Autograph Card, packed to a high-quality wooden box)

Digital Album
Pre orders are available AT THIS LOCATION.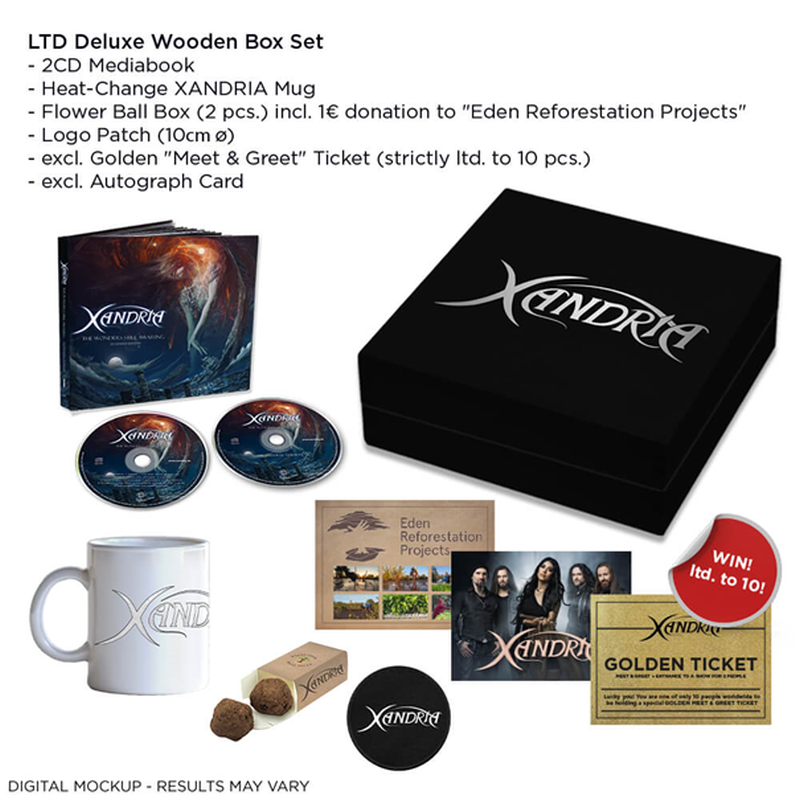 XANDRIA are:
Ambre Vourvahis – Vocals
Marco Heubaum – Guitar
Robert Klawonn – Guitar
Tim Schwarz – Bass
Dimitrios Gatsios – Drums