 Mike 'Archistrategos' Barber: "I guess the most important thing is that hopefully people listen to us as to a new band. It is not meant like a sequel of Alestorm or Gloryhammer or whatever. It is a different band, inspired by Bal Sagoth and symphonic death/black metal."
Schijnbaar uit het niets duikt een nieuw international gezelschap op met een debuutalbum op Napalm Records. Wizardthrone trekt wel meteen de aandacht vanwege een bezetting met leden die we kennen van o.a. Alestorm, Aether Realm en Nekrogoblikon. Gitarist Mike 'Archisstrategos' Barber speelt in de laatst genoemde band en woont in Engeland. Uit zijn koker kwam het idee voor deze melodieuze, pompeuze black metal met teksten die geïnspireerd zijn door Bal Sagoth. Hij verzamelde een flink aantal gerenommeerde muzikanten om zich heen om zijn droom waar te maken op 'Hypercube Necrodimensions' en daar wilden wij het fijne van weten.
Vera Matthijssens Ι 27 augustus 2021

How are you doing?
I am quite good, thank you, although it is quite rainy over here, but that's not unusual. I live in London.
Wizardthrone is a pretty new band, founded in 2020. How did this band come into being? Are you the initiator?
Yes, I guess so. Initially, I was talking with Chris a while ago about playing something like this and then last year I was on tour with our drummer Eric with Nekrogoblikon and I asked him if he would be interested in playing drums for a band of me and Chris. He was interested. So I started writing music and sent it to them. Chris contacted Matt and Jake, our guitarist and bassist/front man and we formed the band. We agreed about the style and the name and started writing music. It went quick.
Are the songs mainly written by you only?
Most of the time it is just me, but there is a lot of collaboration on top of that. It depends on the song.
It is refreshing to hear your album, because you expect a folky, joyful thing, but it is harsher. Was it a dream of you and the others to play another style?
Yes, I have always played in more extreme bands, but the bands were always typical melodic or typical extreme. As if there is nothing in the middle and I guess my own taste is somewhere in the middle. It is the first time that I have the chance to really play the music that I like without listening to someone else's ideas. I think the album is exactly what we wanted to make, which is a great feeling.
That's great to achieve that on your debut album already…
Yes, definitely. It does not feel like a debut. We have quite a lot experience and I am proud of the album.
There is not only the band and the music, but Wizardthrone is presented with a total image. Can you tell about your sources of inspiration?
The main inspiration came – lyrically – from an old British band called Bal Sagoth. There is no story, but it is a weird kind of world. The main focus is the music, but we wanted to have a different kind of image and different lyrics. It is heavy music and you cannot write normal lyrics to it and make it work. That's why I wanted it to be over the top. All the way.
There is a thin line between this challenge and kind of kitsch…
Yes, I know what you mean, but we are trying to be not too kitschy, but at the same time we wanted it to be interesting. It remains entertainment.
The music is quite different from Bal Sagoth, sometimes Dimmu Borgir influences and lots of neo-classical guitar solos…
Yes, the neo-classical influence is probably from me and Dimmu Borgir might come from Matt, in the riffs that he wrote. I think musically it is not related to Bal Sagoth. I think we use their keyboard sound, but the rest is different. We try to stick to an old keyboard sound, just to keep that nineties sound.
Why the title 'Hypercube Necrodimensions'?
When I sent Chris the music, he sent me a lyric that he had for ten or fifteen years. I think he wrote this as a teenager. The lyrics went like 'hypercube necrodimensions' I looked at the lyrics and I thought it would be a perfect album title. So when we talked about the title of the album, I felt that it was appropriate that name, because of those lyrics he sent me. It is one of the first things that happened in the band and it felt like a special meaning and became the album title.
With such an international cast in full covid-19 times, did you ever gather to record this debut album?
No, it was not possible, because of the pandemic. We started recording just a week before the pandemic began. But anyways, we got through it. We were making demos and sent them to each other. We were always giving each other feedback. Lots of notes. We communicated every day and talked all the time over the internet. It is obviously harder than being in the same room with someone, but it can be positive as well. Maybe I would not want to follow an idea instantly, but the next day, after thinking about it, it would work. In some ways the distance was good, in some ways it was a pain in the ass, but what can you do?
Same goes for the live gigs. I think you never played live?
No, we did not have the chance. We only had once each member in the same room and that was three years ago when this band even did not exist yet.
Wow, a glorious moment to remember…
Yeah yeah. We did not even know at that time that those things were going to happen, but we already knew each other before. I met Jake a couple of times, with Matt I worked on something else before, I know Chris for ten years. All the guys know each other too, we only don't live in the same countries.
Can you tell something from the past? In which bands did you play? I have a name like Vale Of Pnath…
Eric, our drummer used to play in them. I don't know too much about them. I listened to them in the past, without knowing it was Eric. I was a fan of their music. I have not played with Fever Sea for a long time now, but I still play with Deathcode Society. They are from France, in the Alps. They are really amazing, a talented band. Not very well-known, but we are working on that. We have a second album now and hope for more attention, because the music is amazing. Very wealthy symphonic black metal. And yes, I play in Gloryhammer as well, that's part of my day job right now.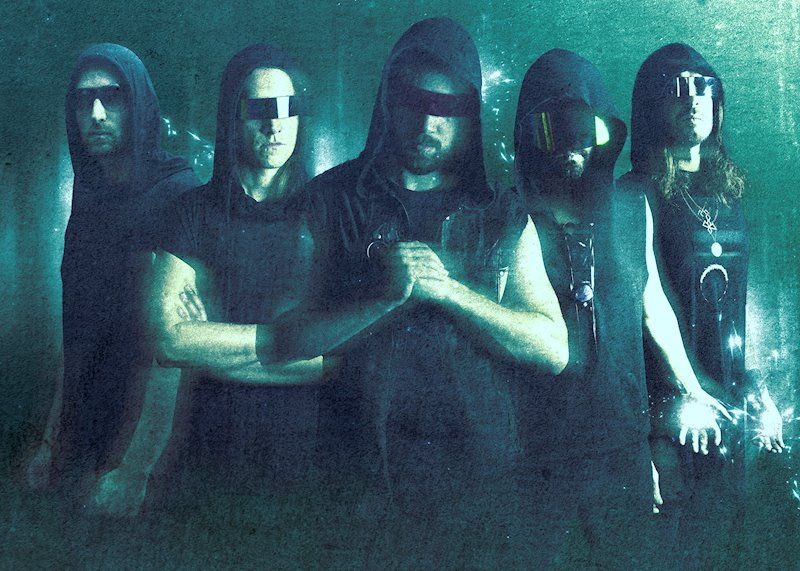 I also notice a very theatrical side on Wizardthrone. Did any of you have any affinity with theatre?
Not really. Chris and me have always been like that regarding music. I was working for a TV show for a while, but that was not acting. No, everything I do – even if it is theatrical – comes out natural and it is the same for Chris.
There are a couple of guest musicians on the album. First of all Aleksi Munter from Swallow The Sun and Insomnium. What did he do on your album?
You can only hear him on the final song, when we were almost finished with the album. There is a kind of keyboard intro. I knew how I wanted it to sound, but because I was so busy with everything else, I did not have the time to make it sound the way it would fit. I know Aleksi for more than ten years now, I just told him that we needed some help. If you want it, we will pay, but he did it for free. It is an amazing orchestral piece. It is only thirty seconds of music, but it would have taken me a week to do it. He did it in a few days. I have been fan of Insomnium and Swallow The Sun since I was a teenager. Not only I have a friend on this record, but I also love his music. It is an honour to happen. I played the organ on the intro of 'Beyond The Wizardthrone' and the piece after the organ, orchestral, that is Aleksi.
By the way, that last song, fourteen minutes long, that's a tour de force…
(laughs) Haha yes, that is quite over the top, but it seems that everyone likes it. I am quite surprised, because it is totally crazy, but I think it works and hopefully someone listens to it.
The choirs in it leap to the eye. Who did it?
That was Jake, our front man, together with a guy called Evan Berry from a band called Wilderun. He sang in some of the choirs and he also wrote about one minute of music for that final song. A weird section in the middle, he contributed that to the song.
The last and third guest on the album is Florian Magnus Maier from Dark Fortress…
Yes, again, I have known Florian for a very long time. We toured together when he was playing in Dark Fortress, when I was playing in my old band. When I was writing the lyrics of the sixth song. I was recording and usually doing the low death metal vocals and Jake was doing the high ones. I asked him to do some vocals as well and luckily he said yes. Again, I really respect him. Dark Fortress is an amazing band. He is an established classical musician as well. It is nice to have these people on the album.
Is it usual that you do the low death metal vocals and Jake the higher pitched black metal shrieks?
Yes, mostly, apart from the sixth song where we have Florian doing low vocals. I think even I did high vocals on the sixth track. And then Eric did a few lines on the album. Here and there. We all work together, also on the vocals.
Chris is doing well in his role of narrator…
Yes, definitely.
We have the video clips. Was it a special adventure to make them or not?
Yes, it was quite difficult to make the first one, because we were all in separate locations. UK for example was still in a lockdown, so I had to do my part with a guy I know, in a garage that belongs to some kind of famous rocker in London so it seems. I did not know that, Century Media arranged it. Someone contacted me and told me: my man is in the garage, Chris and Jake filmed their part from Chris's property, Eric in his basement and Matt was actually at his working place. We all had to try to make it as similar as possible, which is quite difficult. I am happy that it looks okay, it might not be the most amazing video, but of course we were limited in what we do.
Who did the artwork?
That was Dan Goldsworthy, he did some artwork for Gloryhammer and Alestorm previously. We already had a good relationship with him. We gave him some random pictures, the demos and the lyrics and then he could do what he wants. It was quiet for a few months and then suddenly he sent the artwork. He said: 'It is finished, what do you think about this?' Well yeah, nice work. It fits the album very well.
I am done with the questions. Is there something you want to add for this introduction interview?
(thinks) I guess the most important thing is that hopefully people listen to us as to a new band. It is not meant like a sequel of Alestorm or Gloryhammer or whatever. It is a different band. Chris has written a little bit of music, but he is not one of the main writers. A lot of people may think it is another side project of Chris, but this is not meant to be like that. It is meant to be a real band. I hope that people will listen to it with an open mind and appreciate the music. We are already writing new music. We try to figure out when we can do shows. We have a booking agency, hopefully next year we can tour.
Of course I will introduce the band as new entity. The music is different.
Yes, I think Chris wrote track four 'Forbidden Equations'. I think you can hear that. It is a bit happier and more melodic. I guess it is more like Chris's trademark, because he wrote a couple of riffs for that song. But even there, several people worked on this track.