Wijziging in programmering Remember Phil & Gary 2 september 2022 in Culemborg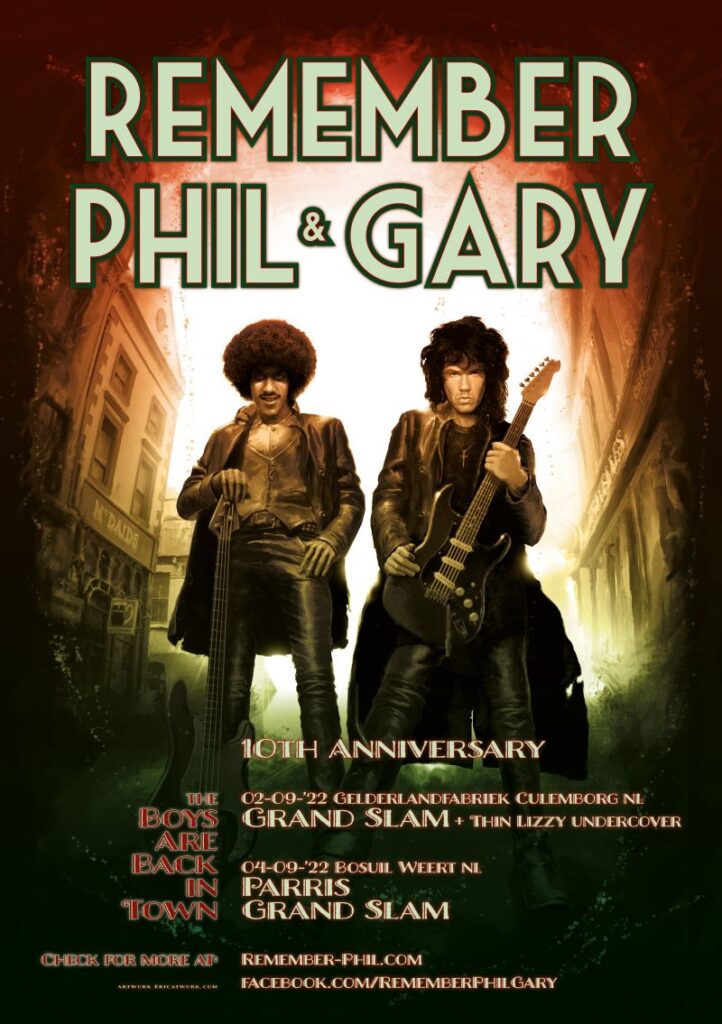 Ook dit jaar is er weer een editie van Remember Phil & Gary, ter nagedachtenis aan Philip Lynott en Gary Moore en hun werk voor Thin Lizzy, alsmede hun solowerk. Diverse coveracts zullen de twee grootmeesters eren, wederom op 2 locaties, in Culemborg en Weert. De organisatie meldt nu dat er een aantal wijzingen is doorgevoerd.
Lizzy on the Loose zal niet spelen
Door een verdrietige reden (ziekte bij één van de bandleden) kan Lizzy on the Loose niet optreden tijdens
Remember Phil & Gary in de Gelderlandfabriek in Culemborg op vrijdag 2 september.
De organisatie meldt in een persbericht:
Vervanging door Thin Lizzy Undercover
We zijn blij te kunnen melden een meer dan waardige vervanging geregeld te hebben: Thin Lizzy
Undercover. Deze band herbergt een aantal muzikanten die niet onbekend zijn in Culemborg en omstreken:
Mick Hup (gitaar/zang – Chemical Butterfly, Definition of Madmen), Henk Wesselink (zang/bas – Money &
The Man), Ymte Koekkoek (drums – Money & The Man) en Sheldon Jung (gitaar – Gravelpit Grooveband).
Verwacht van Thin Lizzy Undercover een heerlijke Thin Lizzy set waarin zeker geen deep-cuts zullen
ontbreken!
Hoofdprogramma Grand Slam
Het is de organisatie gelukt om voor deze speciale tiende editie van Remember Phil & Gary de Britse formatie GRAND SLAM te strikken. Grand Slam is de band die Philip Lynott oprichtte nadat Thin Lizzy was opgeheven. Grand Slam werd enkele jaren geleden heropgericht door gitarist van het eerste uur Laurence Archer (later actief in o.a. UFO) en bracht in 2019 het album 'Hit the Ground' uit. Tijdens Remember Phil & Gary zal Grand Slam een unieke set neerzetten van eigen nummers, maar de mannen zullen ook Gary Moore in het zonnetje zetten middels een aantal verrassende tracks.
4 september in Weert
Remember Phil & Gary is op 4 september ook in de Bosuil in Weert te zien. Grand Slam speelt daar ook,
maar Parris is in Weert de tweede act. Het optreden van Thin Lizzy Undercover is dus exclusief voor
Culemborg!
Tiende editie
Het evenement Remember Phil & Gary met de eerste editie in 2012 is opgezet door Peter Vleeshouwers
als eerbetoon aan Philip Parris Lynott en vanaf 2013 ook voor Robert William Gary Moore. Beide Ierse
muzikanten lieten een enorme erfenis aan tijdloze muziek na (met Thin Lizzy maar ook solo) die miljoenen
mensen over de hele wereld heeft geïnspireerd en dat nog steeds doet.
Boekpresentatie
Tijdens deze tiende edities van Remember Phil & Gary zal het boek over de eerste negen edities van het evenement, geschreven door organisator Peter Vleeshouwers, worden gepresenteerd. Het streng gelimiteerde boek zal ook te koop zijn bij de merchandise stands.
Kaartverkoop
De kaartverkoop is inmiddels begonnen via (o.a.) de websites van de zalen: www.debosuil.nl en www.degelderlandfabriek.nl