Tygers Of Pan Tang announce new guitarist Francesco Marras Tygers Of Pan Tang announce new guitarist Francesco MarrasTygers Of Pan Tang announce new guitarist Francesco Marras
TYGERS OF PAN TANG are pleased to announce that they are to be joined by guitarist Francesco Marras.
Marras is set to join the band to record their next album and will be appearing on stage with them once restrictions on live performance have eased. He has previously worked as a session musician as well as pursuing his own career. He began his musical journey in 2001 with the Italian metal band Screaming Shadows and has worked with a number of familiar names including Bonfire and Harry Hess (who mastered the last two Tygers albums). His last solo album "Time Flies" is a tribute to the Guitar Greats who have inspired him.
Singer Jack Meille noted, "The search for the 'right' person was a formidable one, made more complex by the restrictions placed upon us over the last six months. I am really pleased that one of my fellow countrymen is joining the band". Francesco himself commented, "I'm delighted to be joining the Tygers and I really can't wait to start recording and playing live with them".
Tygers guitarist Robb Weir, "I have worked with a number of great guitar players over the years, all of whom have added to the Tygers history. I can guarantee this will continue and no one will be disappointed by the quality and excitement that Francesco will bring to the band".
Guitar-player and founder Robb Weir comment: "Everything has a time and a place, and for this little gem both have arrived…. All rise and prepare to rock out… We give you, "Cruel Hands of Time"".
"Ambush" (2020 re-issue) comes newly remastered at Medley Studios, Copenhagen, with extensive sleeve notes from all of the band members. Four bonus tracks complete the package including two live tracks featuring the line up that recorded the album.
"Ambush" will be re-issued on digital, digipack CD, black LP and orange LP (limited to 500) versions, by Mighty Music, on September 18th, 2020.
"Ambush" line up:
Jacopo Meille – vocals
Robb Weir – guitars
Gav Gray – bass
Craig Ellis – drums
Dean Robertson – guitars Tracklist:
01. Keeping Me Alive
02. These Eyes
03. One Of A Kind
04. Rock'n'Roll Dream
05. She
06. Man On Fire
07. Play To Win
08. Burning Desire
09. Hey Suzie
10. Mr. Indispensable
11. Speed
12. Cruel Hands Of Time (studio outtake)
13. Keeping Me Alive (live)
14. These Eyes (live)
15. Rock'n'Roll Dream (demo)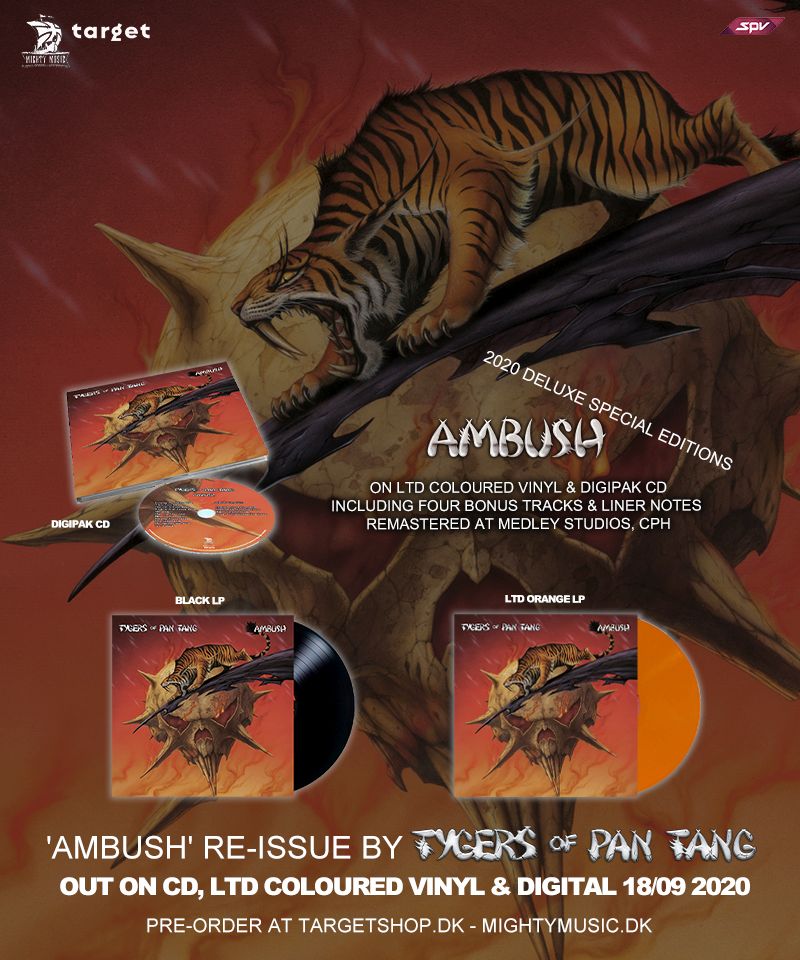 Check de onderstaande socials voor meer informatie over deze band.