TROLLFEST release single and video for "Flamingo Libre"
'Flamingo Overlord' out May 27, 2022 via Napalm Records TROLLFEST have announced the upcoming release of their ninth full-length studio album, entitled Flamingo Overlord, to be released via Napalm Records on May 27, 2022. TROLLFEST's flamingo madness is taken to another level today with the release of their new single "Flamingo Libre". If you were delivered a mysterious package to your door – by a Flamingo of course – would you open it? If there was an ominous drink in that package – would you take a sip, just to see what it tastes like? If your answer to both of those questions is "yes", then you are in for a wild, wild ride with "Flamingo Libre"!
If Michael Jackson had gotten all his plastic surgery to make concrete balls instead, this would have been his biggest hit."
Watch "Flamingo Libre" below.
TROLLFEST single Jostein "Trollmannen" Austvik on "Flamingo Libre":
"Flamingo libre is a fairly unknown substance favored by dictators and mad people alike. No one knows exactly what it is or what it does, but a lot of people have radically changed their outlook on life after contact with it. The song flamingo libre is, to date, the most in depth study of this concoction we have. It is by no means complete, so caution is advised whenever approaching any and all things looking like or otherwise connected to this elixir.
Watch the previously released "Pi'ña Colada" below.
Also watch the previously released "Dance Like a Pink Flamingo" and "Twenty Miles An Hour" below.
Pre-Order Flamingo Overlord AT THIS LOCATION.
Trollfest previously announced they strive to compete at this year's Eurovision Song Contest. 
Vocalist Jostein Austvik says:
"Our song is a fine piece of music and we just had to share it with as many people as possible! Pretty please with three cherries on top, help us spread our tiny tune to infinity and beyond this upcoming Saturday by voting in the last semi-finals!!!"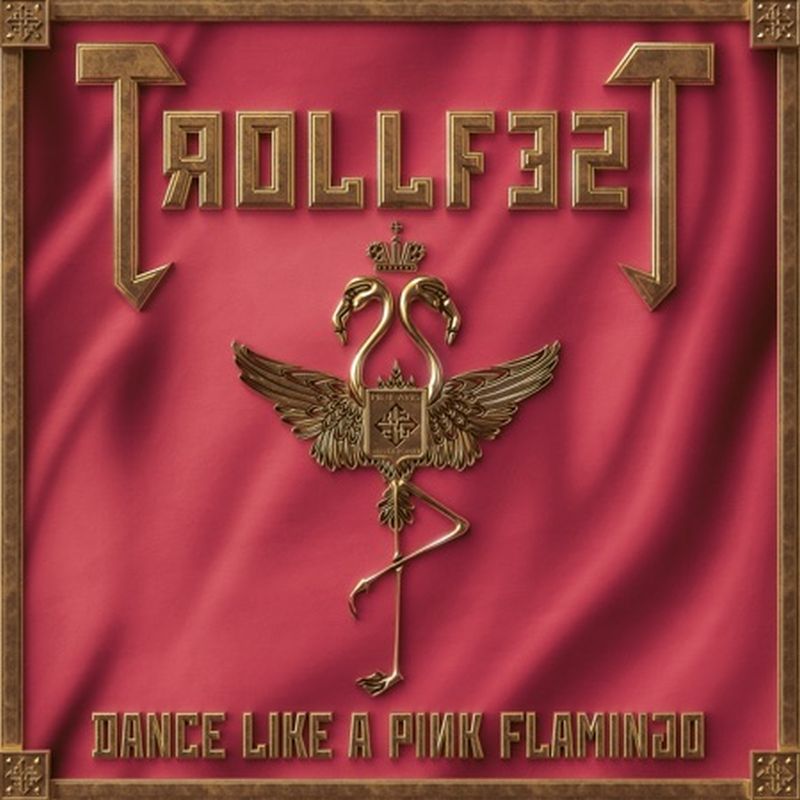 Flamingo Overlord track listing:
1. Dance Like a Pink Flamingo
2. All Drinks on Me
3. Flamongous
4. Twenty Miles an Hour
5. The Flamingorilla
6. Flamingo Libre
7. Piña Colada
8. Rule the Country
9. The Way You Earn Your Drinks
10. Overlords Have Feelings
11. Bob Venke
'Flamingo Overlord' will be available in the following formats in various territories:
-1-LP Gatefold PINK
-1-LP Gatefold MARBLED PINK/WHITE (limited to 300)
-1-CD Digipak
-1-CD Digipak + Shirt Bundle
-Digital Album
Catch TROLLFEST live on tour in Europe:
05.05 The Tivoli, Helsingborg SE
06.05 The Gimle. Roskilde DK
14.05 Lid Ar Morrigan, Vallet FR
09.07 Masters of Rock, Vizovice CZ
15.07 La Guerre Du Son, Landresse FR
28.07 Vagos Metal Fest, Vagos PT
23.09 Ovenpaa, Kopervik NO
30.09 Gregers, Hamar NO
TROLLFEST is:
John Espen Sagstad (Mr.Seidel) – guitar
Fabian Jiru (Grimdrap Glutenfri Fleskeng) – guitar
Jostein Austvik (Trollmannen) – vocals
Eirik Renton (TrollBANK) – bouzouki, vocals & DJ
Kai Renton (Fjernkontrollet) – synth, accordion
Dag Stiberg (DrekkaDag) – saxophone
Øyvind Erik Strønen Johannesen (Lodd Bolt) – bass, vocals
Bjørn Dugstad Rønnow (Kjellkje) – drums, vocals